Properly feeding an electronic fuel injection system is paramount to both an engine's performance and the success of the car as a whole. While carburetors only require low pressure and low precision with mechanical pumps and forgiving filters, a fuel supply package for EFI calls for a bit more care in selecting a group of components that all work well together.
"Just think about fuel being the blood that supplies the heart. The lack of fuel pressure or flow will result in the system not working properly. Same goes for over pressuring a system. Fuel injection has to rely on pressure to perform as designed," says Mike Wahl, Sales Manager at FiTech. To help their customers accomplish that goal, FiTech is now offering three types of systems as part of the newly-minted Go Fuel series: in-tank, inline, and the Force Fuel.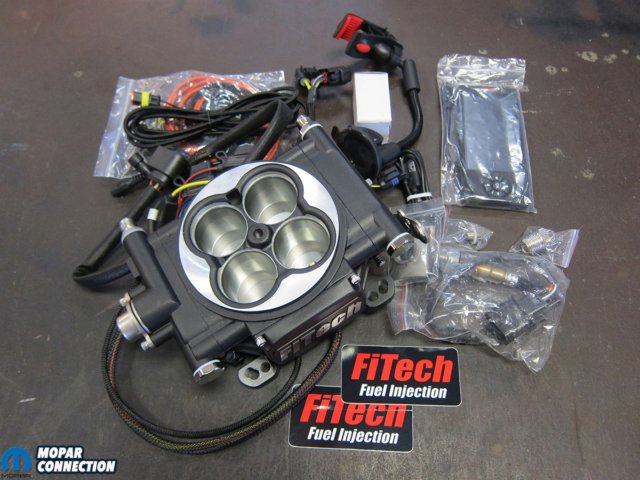 In-Tank Solutions
The vast majority of modern gas-fed cars and trucks feature an in-tank high pressure electric fuel pump. Specifications vary between manufacturers, but they generally supply fuel somewhere in the 50 – 65 psi range with internal regulation and, sometimes, a return line back to the tank for excess fuel. Whether the incoming fuel is going to injector rails or through a direct injection booster pump depends on the engine, but they all move gasoline from the back to the front in similar fashion.
The reasoning behind widespread OEM use of in-tank pumps is two-fold: noise control and reliability. It's worth mentioning that since the muscle car days, vehicles have become considerably quieter. "Noise pollution" was a popular EPA phrase in the early 1970s as factory exhaust systems were the first to be hushed. When fuel injection started to become more prevalent in the 1980s, it didn't take long for manufacturers to figure out that a pulsating 12-volt pump mounted to a frame rail wasn't exactly a whisperer. Dropping the pump inside the fuel tank added two layers of sound insulation in the form of the tank's steel skin and the gasoline inside.
As an added bonus, isolation from outside elements ended up being a huge boon for reliability. While the sealed-off container keeps an in-tank pump's internals away from dust and road debris, it also keeps it safe from any automotive component's worst nightmare: heat. Submerged in gasoline, the pump can easily expunge parasitic heat without the need for elaborate heat sinks.
Following the lead of thirty-plus years of OEM fuel supply success is FiTech's new Go Fuel in-tank module (P/N 50015). Designed for depths of 6" to 15", the assembly is low profile with integrated pressure, return, and vent ports in the billet top mount. The pump itself is a 340 liters-per-hour unit capable of supporting up to 800-horsepower of naturally-aspirated engine.
Two methods of installation can be accomplished with either an EFI-ready tank or a modified stock, non-EFI tank. The first and easiest option is an EFI-compatible tank with with pre-made provisions for the Go Fuel module. Working with TANKS Inc. made the whole setup possible with Mike saying the partnership was a no-brainer because they "noticed how nice of a tank TANKS Inc. makes, the wide variety of tanks available, and the affordable price that made this a option in the EFI conversion game."
Tanks for A-, B-, and E-body applications are ready for injection with recessed areas for both the sending unit and pump modules. On the outside, they look deceivingly stock. On the inside, they're hiding EFI-style baffling with a fuel tray to prevent fuel starvation. "The complete tank option doesn't require any cutting of holes in tanks and tends to be easier and makes for a cleaner install," comments Mike. In most cases, trunk floor modifications are not necessary and users are even able to reuse stock tank straps.
For those that aren't lucky enough to have a TANKS tank accessible, a non-EFI tank can be modified to accommodate the Go Fuel too. A six-bolt mount and cut-to-length draw straw make customization for almost any vehicle's tank simple. Although installation in a stock tank is a bit more involved, every Go Fuel kit does include two sock filters, push-lock AN fittings, gaskets, and wiring terminals to make it as pain-free as possible.
Inline Solutions
Inline electric fuel pumps were the first staple of retrofittable EFI kits. Easy to install and cost-effective, inlines have been universally used as a quick way to come up with high pressure fuel, regardless of application. Designed for flexible mounting and versatility, inlines are generally compact with adaptable inlet/outlet fittings to accommodate a multitude of line sizes or fittings.
FiTech's 255 LPH inline pump (P/N 50101) packs up to a 90 psi punch, yet is small enough to easily mount on the inside of most frame rails. An 18mm x 1.5 inlet and a 12mm x 1.5 outlet direct flow. Conversion fittings in -8 AN and -6 AN sizes are included or you can pick up your favorite tube adapter to fit the need. A complimenting mounting bracket kit (P/N 80110) can cut down on vibration to increase the lifespan of the pump while also decreasing noise.
As part of their Go Fuel series, FiTech recently released an inline pump package (P/N 50001) that includes the aforementioned 255 LPH pump along with 40′ of high pressure hose, pre-pump and post-pump filters, fittings, EFI hose clamps, and a bracket. In one fell swoop and one single part number, FiTech has really simplified the pump shopping process.
Force Fuel
FiTech's proprietary Force Fuel module (P/N 50004), also a member of the Go Fuel family, is the perfect mix of the reliability of an in-tank pump and the unobtrusiveness of an inline. It's basically a self-contained surge tank. The way it works is simple: a stock, low pressure mechanical or electric pump can feed the Force Fuel, then its internal electric pump feeds the throttle body to the tune of 58 psi and 340 LPH.
Some early FiTech patrons may recall the original Command Center, a precursor to the Force Fuel that was very similar in method of operation. "The Force Fuel takes every complaint that we received about the Command Center. We removed the needle and seat, removed the float, and made it a return system so the fuel would stay cooler and eliminate vapor lock. We also made a mounting bracket that can be utilized in a few different positions for easier install," says Mike. In the process, the Force Fuel has also become the ideal solution for off-roaders because it eliminates fuel sloshing and starvation in extreme tilt situations.
A return line from the Force Fuel back to the stock tank is required to make sure the Force Fuel canister doesn't become overfilled or overpressurized. However, FiTech has even made that part of it as easy as possible. "These kit comes pretty complete with fittings, filters, and an 'easy return bung' to tap into your filler neck or tank for a fuel return line to be plumbed. Installation for a novice on this kit is straightforward."
With a half-gallon of fuel on tap, the internal pump stays submerged, cool, and out of the elements, just like an in-tank pump would be. Because it's such a compact package, mounting is a cinch, just like an inline would be. "This unit is also able to be installed straight up and down, on its side, or flat on its back (any way but upside down) and it will not affect performance," Mike remarks of the unit's versatility. Any way you flip it, you'll be getting the best of both worlds.
Master Kits
FiTech's Master Kits are truly the pinnacle of bolt-on EFI. With one single part number, a plethora of combination kits can be had with every single component to make the switch from carburetor to fuel injection. Each of the previously-mentioned fuel supply methods, in-tank, inline, and the Force Fuel, are available to be purchased as a package with a multitude of  throttle body top ends including Go EFI, Go Street EFI, Easy Street, Mean Street and more.
We went with the Go EFI 4 Master Kit (P/N 35202) for our recent conversion of a street-driven 1970 Charger and were blown away by its completeness. Not one surprise trip was made to the local parts store as the whole gambit shipped to our door in two easy boxes. We didn't need to shop around, we didn't need to guess, and we didn't need to select; FiTech had us taken care of with one simple part number that put the carburetor under cobwebs for good.
Components
For the utmost customization, individual Go Fuel components are available as well. Regulators can be had in both single-output (P/N 54001) and dual (P/N 54002) varieties. Adjustment range is 30 – 70 psi and the billet aluminum bodies can flow enough fuel to support up to 1,000 horsepower. With -6 O-ring boss (ORB) ports and a provision for a gauge, adaptation and adjustment are simple. Boosted applications will be happy to find that they also incorporate a vacuum/boost reference port.
Filters aren't all that exciting, but they are yet another critical component of EFI fuel delivery. Debris in pumps, throttle bodies, or injectors always ends up popping up at the wrong time, so FiTech came up with a couple of easy-to-main filters for protection. The 100-micron version (P/N 80111) is designed to be used before the pump to keep out any big tank contaminants. After the pump, a 10-micron unit (P/N 55001) is recommended for ultra-fine filtering before the precision components of the throttle body. Both feature a billet body and the 10-micron piece has a serviceable magnetic element. Lastly, a universal check valve (P/N 55002) will make sure fuel keeps flowing forward.
Special fuel hose that is rated for high pressure EFI use can be had in -6 (3/8") sizes and lengths of 5′, 10′, 20′, or 25′. For the big boys, -8 (1/2") is available in 5′ sections. Similarly, stainless steel line kits are great for the more demanding applications. Black (P/N 51002 or 51004) and natural (P/N 51001 or 51003) finishes in lengths of 20′ or 40′ ship with a 40-micron filter, check valve, and -6 AN fittings. A 0 – 100 psi oil-filled pressure gauge (P/N 80117) can keep tabs on it all.
In summary, whether its feeding your heavy-drinking Hemi or coaxing a sewing-machine-like purr out of a 318, EFI needs quality fuel supply from quality components. Like blood in a vein, the confluence of pressure and flow aren't easily visible, but are still vitally important to the livelihood of the machine. Having FiTech's finger on your car's pulse is a sure-fire way to keep the high-octane flowing to your high-performer, so give them a call to get fueled up!