Nashville, Tennessee's schizophrenic weather is the hardest challenge when it comes to scheduling an event (it also makes tuning a carburetor a chore as well). So when Goodguys announced its long awaited return of the Nashville Nationals after a two year hiatus, show goers in Music City were equally eager and a little cautious to return to Nissan Stadium.
As expected, unexpected rain cascaded on Friday's 15th BASF Nashville Nationals – on and off – for much of the day. This put a bit of a dour on the pre-show cruises, but clear skies (albeit unseasonably cold temperatures all day Saturday) welcomed spectators and attendees throughout Saturday and Sunday.
The western lots surrounding the home of the Tennessee Titans quickly filled up, as well as along the riverfront. The vendor lot typically filled with vendors' tractor trailers was unusually sparse this year as the smaller vendor area made way for more hot rod parking.
Impressively, the turnout of Mopars was considerable with quite a few factory original and cloned Hemi cars – GTXs, Road Runners and even Mopar Connection's own "Comeback 'Cuda" '70 Hemi convertible 4-speed Barracuda. Even Chet Biggar's immaculate '70 Plymouth'Cuda AAR, which we featured in MCM before made the list, even taking home the Billet Specialties' Muscle Car of the Year award.
Speaking of show-stopping Hemis, Goodguys rolled out its Nitro Thunderfest exhibition, firing up a trio of open-header rails, their blown alcohol-burning elephants cackling into the brisk air. And of course, it wouldn't be an event in Music City without live music on the Hunter's Customs entertainment stage. That is, of course if you could hear the band over the squealing of tires coming from the the Nashville CPP AutoCross Series course.
It was, per Goodguys' reporting, the largest contingent of racers to date this season, with closed course action happening throughout the weekend. While the only two Mopars on hand – a black '72 Barracuda and a (*gasp*) LS-powered '64 Dodge Dart – didn't earn any class wins, they did draw plenty of looks.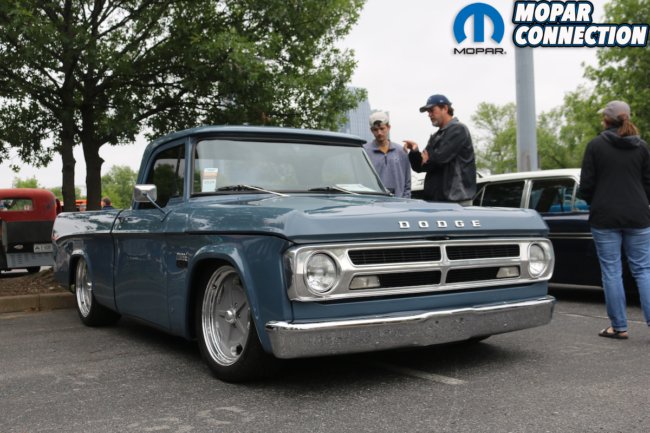 As to be expected the ratio of GM to Mopar was something like 20-to-1, so most of the classes and awards went the way of the Bowtie, but we were happy to see a good variety of street-driven machines and eye-catching customs. From vintage D100 Rams with Winchester's hanging in their back glass, to Hellcat-swapped A-bodies, there was something for everyone.
Super clean B5-blue Darts and Demons, bright red first generation Chargers, and even an air-bagged '67 Coronet 500 wagon with it's own patina'd custom ice chest on the roof rack drew onlookers. Even a spot-on "Christine" replica Fury sat menacingly beneath the shade of a tree.
This year's Goodguys show included one of the most-anticipated events, the Tanks, Inc. Hot Rod of the Year competition. Beginning with a "reliability run" on Friday, entries had to take to the streets, which during Friday's summer shows, proved a little more memorable than usual.
By midday Saturday, a Top Five had been selected from the 15 contenders. The award was given to a very clean '32 Ford. Others were welcomed into the Builder's Choice parking lot. Per Goodguys recap, "Builder's Choice selector Bobby Alloway said he easily could have chosen 30 worthy vehicles. He managed to whittle it down to 10."
All in all, the turnout was solid; folks were happy to be able to mingle with fellow car fanatics breathing in fresh air and the scent of premium fuel; to listen to the sounds of thumpin' camshafts and crackling exhaust notes; and best of all to enjoy one another's company – just like God intended.
Despite some wonky weather, this year's Goodguys Nashville Nationals were a hit and we're glad to welcome the event back to Music City. Hopefully next year we won't need to pack an umbrella, a parka and sunscreen all for one weekend.