Mr. Norm's GSS King 'Cuda. The name sounds intimidating, and it should, because this is no ordinary, run of the mill Challenger. Powered by a Mr. Norm's Signature Kenne Bell Supercharged 6.4 Hemi, this SRT-8 powered muscle car is one step away from Hell on Wheels. Sure, you could drive it like a little old lady, but why would you?
The King 'Cuda is a no BS car that makes absolutely no excuses for what it is; rather, it nearly demands that you exercise it vigorously, and on a regular basis. There are women like that, but the question is, do you have the stamina to keep up with them? With the King 'Cuda, stamina is no problem.
This car has performance in spades that will keep you coming back for more, over and over again. Worried about fuel economy? Then get a hybrid. This is one muscle car that should come with a bumper sticker that says "I would rather push my King 'Cuda that drive a Prius." Yeah, it's that kind of car.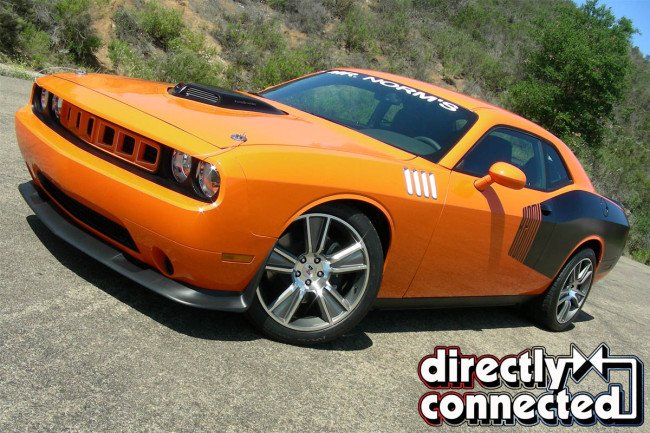 Above left: Satin black Hemi Billboards scream 1971 and provide the perfect contrast for the Header Orange paint. Above right: Mr. Norm's 'Cuda tail panel with air brushed details set of back of King 'Cuda. Note use of original 'Cuda tail panel emblem.
So what's the scoop on the King 'Cuda? We went straight to the source, Mr. Norm, for the lowdown on what make this car tick, and by the end of the conversation, we realized that it wasn't just about the car; rather, the car is an extension of who Mr. Norm is. Can you say bad to bone?
Well, you better, because the King 'Cuda is just one in a long line of tire smoking, asphalt shredding Mopars that Mr. Norm has created. Not only that, but he has a long history of creating vehicles for enthusiasts that are hands down better than what the competition offers, and for a lot less money.
Can you say GSS 440 Dart or Supercharged Demon from back in the day? Not good enough? Then how about blown Hemi powered, acid dipped, altered wheelbase Dodge Coronets that ran a nitro load that would make your eyes water all night. When Norm showed up with the Coronet, most of the competition would have rather gone home early than face this man and his machine. It was the kind of car that would make a grown man quake in his boots. Got the idea?
Above left: Hurst Stunner alloy wheels complement the muscle car theme of the King 'Cuda. Above right: Hemi 'Cuda gills are stamped into the fenders just like the factory did it in '71. Chrome gill trim are excellent reproductions of the original items.
Unlike the old days, when men were men and cars were cars, the Mr. Norm's GSS King 'Cuda certainly defies stereotypes. You don't have to be Captain America to "bring it on" with the King 'Cuda, because when you're behind the wheel, there's nothing you can't do. Think of Sam Colt, who invented the Peacemaker. The saying "God created all men, but Sam Colt made them equal" is the equivalent of Mr. Norm's creating GSS King 'Cuda. No matter what your size, strength or sex, the King 'Cuda is the Great Equalizer.
So, what's it like to drive? With 650 horsepower on tap running on just 91 octane, the Mr. Norm's GSS King 'Cuda was born ready for life on the wild side. Equipped with the Kenne Bell 2.8L Twin Screw Liquid Cooled Supercharger, it's the equivalent of bringing a gun to a knife fight. So much power and torque that the big 275 /40ZR20 BF Goodrich g-Force Sport Comp-2 meats on the back simply cannot put all of the power to the pavement when things get frenetic.
Honestly, nothing less than a good set of street drag radials, running low tire pressure and heated up so that they're good and sticky will put this kind of power down to the pavement with any degree of effectiveness. Going up in smoke may look exciting on a magazine cover, but it's not the fast way down the track, or wherever it is that you're holding court.
Above Left: Shaker, functional hood pins and lanyards and saw-tooth grille on the King 'Cuda all echo the 1971 Hemi 'Cuda that inspired it. Above Right: Functional hood pins and lanyards are an exact replica of the 1971 originals.
Bangin' gears with the Mr. Norm's Pistol Grip Shifter is great fun, and certainly the fast way to row through six speeds of sheer nirvana, thanks in part to the leverage provided by the long chrome arm. Between the seamless gear changes, the ever rising and falling crescendo of the big, bad blown Hemi and getting thrown back into the seat every time you crack the throttle wide open after a gear change, I can't think of another car that offers so many thrills regardless of price.
The interior of the King 'Cuda is simply sumptuous. It features glove soft Katzkin Leather, neat Barracuda perforated inserts and of course, the Mr. Norm's Hemi 'Cuda logo embroidered on the seat backs, just in case you go brain dead and forget what kind of car you're driving.
Trust me, that guy with the rice burner is not gonna' think he accidentally got in the wrong car by mistake after he loses his shirt going toe to toe with this bad boy. He's probably getting into the King Cuda on purpose hoping that you'll forget what car you're supposed to be going home with after you took his money, and if it was for pinks, his car too.
Above left: Mr. Norm's Katzkin custom leather interior features glove soft leather accented with orange top stitching and logos. Above center: Close-up of Mr. Norm's embroidered logo. Above right: Mr. Norm's Pistol Grip Shifter provide accurate shifts for the six speed manual transmission.
Outside, the King 'Cuda leaves no doubt as to its intentions. With its Shaker style hood and 'Cuda Gill stamped front fenders, along with a '71 style 'Cuda saw tooth grille and '70 style tail panel, if you haven't figured out the pedigree by this time, the big bold, in your face Hemi Billboards will shake the cobwebs from that thing between your ears. Functional Hemi 'Cuda Hood Pins and Lanyards, and Hurst Stunner Wheels add to the image and the impression the King 'Cuda makes when it shows up for the party.
At the end of the day, if you haven't made up your mind if you're ready for the King 'Cuda, just ask yourself this; When it's time for your next class reunion, what do you want to show up in? As far as I'm concerned, make mine a King 'Cuda.
"Mr. Norm's GSS King 'Cuda: It's Rad, It's Bad, and It's Just What You Would Expect From Mr. Norm." was written and photographed by Marv Herbert, and was first published in Pentastar Power in May 2014, and can be read in its entirety HERE.