The 2022 Easter Jeep Safari was held in Moab, Utah on the weekend of April 8-10, bringing thousands of off-roading Jeepers to the legendary desert playground. While the main attraction for attendees are the endless miles of stunning landscape to cross in their chosen SUV, the Jeep brand always uses the event to introduce a handful of new concept vehicles that showcase modern technology and the latest in Jeep Performance Parts catalog options.
Grand Cherokee Trailhawk PHEV Concept
The Jeep Grand Cherokee 4xe is the first hybridized version of their legendary large SUV, with the Trailhawk model offering never-before-seen levels of all-electric off-roading in comfort.
While there are far fewer Grand Cherokees at the Moab Easter Jeep Safari than say, Wranglers or Gladiators, the newest Grand Cherokee is a surprisingly capable off-road machine from the factory.
The Grand Cherokee Trailhawk PHEV Concept is a modified version of the production model, showing how much the large SUV can be transformed into a more off-road-ready rid with some basic upgrades.
On the outside, this concept sports a unique Industrial Blue paint scheme with Lagoon Blue tow hooks, a glare-proof hood decal, a custom roof rack, a roof painted in Rhino liner, Mopar rock rails, custom fog light bezels with quad LED projector fog lamps and unique vinyl side graphics.
'41 Concept
The Wrangler 4xe is the latest incarnation of the original Jeep military vehicle from back in 1941. To commemorate the original Jeep with the newest, highest tech SUV, the '41 Concept was introduced in Moab.
On the outside, the entire '41 Concept is painted "olive D.R.A.B. '41 matte green finish" with black painted steel bumpers, a Warn winch, a JPP bumper hoop, a tan soft top, JPP half doors and a unique graphics package.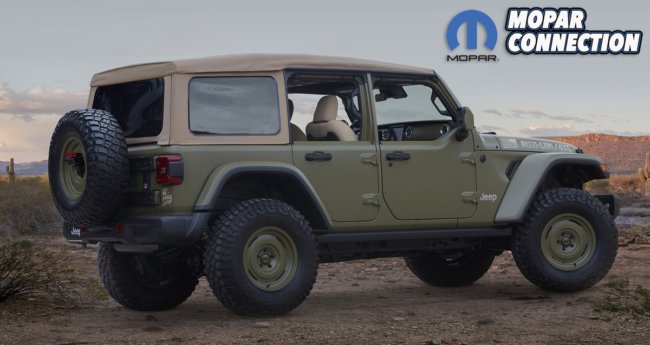 Inside, the '41 Concept has more olive drab on the Rhino-lined floor and the interior panels, canvas-covered seats with camouflage inserts, classic graphics and a customized shift knob from the Jeep Graphic Studio.
Wrangler Rubicon 20th Anniversary Concept
The first Wrangler Rubicon was introduced back in 2002, so to celebrate two decades of off-road excellence, the Wrangler Rubicon 20th Anniversary Concept debuted at this year's Moab Easter Jeep Safari.
It is based on a standard production Wrangler Rubicon 392, but it features an array of modifications to make for an even more enjoyable off-road rig.
The Rubicon 20th Anniversary Concept starts on the outside with a matte Granite Crystal exterior vinyl wrap, gold tow hooks, a package-specific hood decal, custom half doors, steel bumpers, American flag decals on the fenders and a Mopar swing gate air compressor.
On top of the high performance suspension setup of the standard Rubicon 392, this concept features a 2-inch JPP lift kit, 17-inch beadlock wheels wrapped in 37-inch off-road tires, a Warn winch and a steel belly pan.
D-Coder Concept
There will be thousands of Jeepers on hand at the Moab Easter Safari and many of them will want components on display on these concept vehicles. The D-Coder Concept is designed to make finding these parts nice and easy for attendees.
This Gladiator is fitted with 35 aftermarket upgrades from Mopar and Jeep Performance Parts, each of which is painted Maraschino Red and fitted with a QR code.
Attendees who see things that they like on this Jeep concept can scan the code decal with their phone and immediately be taken to a website with all of the information on the item in question.
We won't list all of the items on this Gladiator concept, but the D-Coder will feature things like aftermarket bumpers, off-road lights, a Warn winch, a lift kit with Fox shocks, beadlock wheels, a snorkel intake system, a Mopar cat-back exhaust system, rock rails, tube doors and much more.
Birdcage Concept
The Jeep Birdcage Concept transforms the Wrangler 4xe into a unique, open-air off-road toy. They started by removing the windshield, so when the top is removed and the windows are down, it is a true open-air vehicle. Next, the JPP 2-inch lift kit, designed specially for the 4xe models, is added to provide more ground clearance.
Other features of this concept include a custom rock slider, custom rock rails, a skid plate with two rounded 2-inch support bars, a recessed Warn winch, closed-hoop tow hooks, JPP beadlock wheels wrapped in 37-inch BFGoodrich tires, flat fender flares with integrated LED daytime running lights, custom taillight spacers with aluminum guards and an array of off-road lighting.
On the inside, the Birdcage Concept features Tobacco Leaf and Cocoa Brown leather seats with Surf Blue accent stitching, a custom JPP accessory rail and a unique Add-A-Trunk decklid panel that turns the rear cargo area into a secure spot when the top is off.
Bob Concept
"Bobbing" a truck is to shorten the box to improve off-road abilities and the Jeep Bob Concept applies that approach to the new Gladiator. The doors and B-pillar are gone and the normal roof has been replaced with a canvas unit.
The bed has been shortened by a foot, custom steel bumpers have been installed and custom wheel flares leave plenty of room for the 40-inch tires on 20-inch wheels tires to travel.
In addition to the body and chassis changes, the Bob Concept sports a custom 3-inch lift kit with King coils and bypass shocks, Dynatrac Pro-Rock 60 axles and a custom carbon fiber vented hood to help the 3.0-liter EcoDiesel engine breathe easily.
Jeep Magneto 2.0
Finally, the come to the most powerful concept to debut at the 2022 event, the Jeep Magneto 2.0. The original Magneto Concept debuted last year in Moab, showcasing an electric motor system mated to a 6-speed manual transmission. The Magneto 2.0 Concept follows that same pattern, but this version is bigger and far more powerful.
The heart of this Jeep is a custom-built axial flux electric motor that is fed by four battery packs, yielding a total output of 70kWh at 800 volts. The system uses a DC-to-AC power convertor from the EV racing world and at full power – which is available from the second you hit the throttle – this Wrangler packs 625 horsepower and 850 lb-ft of torque.
That much power allows the Magneto 2.0 to sprint from a stop to 60 miles per hour in just two seconds, but for someone digging through the mud or sand, this drivetrain will deliver up to 10 seconds of full torque at a time.
The power from that monstrous electric motor is sent through a unique 6-speed manual transmission with a first gear ratio of 3.36 rather than the standard 5.13, as the instant application of torque doesn't need as much torque multiplication through gearing on the low end.
Next, a pair of Dynatrac axles with lockers and 5.38 gearsets move the power out to the 20-inch wheels wrapped in 40-inch off-road tires.
Finally, like all good Moab concept vehicles, the Magneto 2.0 has a 3-inch suspension lift, but more significantly, the wheelbase has been stretched a full foot in order to make room for the electric drivetrain components.
The resulting length of this two-door Wrangler is similar to that of the 2004-2006 Wrangler Unlimited, with unique sheet metal, bumpers and carbon fiber wheel flares completing the exterior package.