2022 has been another crazy year, but good news is that the Mopar community has been given some attention. Normally we see all sorts of new products for the other vehicle brands and all of us Mopar guys are just sitting on the sidelines. Well, with the popularity of the Gen III Hemi increasing drastically, a lot of companies have taken note.
Now, our whole list is not just Gen III Hemi swap parts, but it easily could have been. We are very excited for Holley, Mancini Racing, USCT Motorsports, and other companies that are making Gen III Hemi swaps easier and easier. Our goal was to highlight the 10 best new products we have seen for Mopar vehicles.
We will start with Bergman Autocraft's Mopar OE Brake Upgrade. Too often we see big brake kits that change out the calipers, rotors, and hubs. These kits are great, but come with a hefty price tag. So what about those guys looking for better stopping power, quiet operation without a ton of work?
Well, that is where Bergman Autocraft has developed a complete Carbon Kevlar brake pad kit to upgrade your existing brakes. The kit replaces your front pads, rear shoes, adds new stainless brake hoses and even comes with high temperature brake fluid.
One thing that we have heard many Mopar enthusiasts complain about is the lack of an affordable mid-sump Hell cat pan for Gen III Hemi swaps. Well, the wait is over and now you can order Holley's Mid-Sump Hellcat Pan. It is designed for classic Mopars and comes in black or natural cast color combinations.
The pan is designed to fit A-, B-, C-, and E-bodies. It has a 6 qt capacity with a low profile for ground clearance. The built in windage tray will accommodate up to 4..060 stroke crank and has Cast bosses on front corners of pan can be tapped for oil returns, if needed.
As each year goes by, rust on our classic Mopar projects continues to worsen. Somestimes that rust can be in an area where no patch panel is available and need to replace the whole quarter, door, cowl, etc. Luckily AMD has came to the rescue of E-Body owners with a new inner E-Body Door Rust Repair Panel.
This panel allows you to save your existing door by cutting out that rust on the botton of your door and replacing it with a complete patch panel. We are glad to see that many E-Body doors will now be saved and not just used for scrap.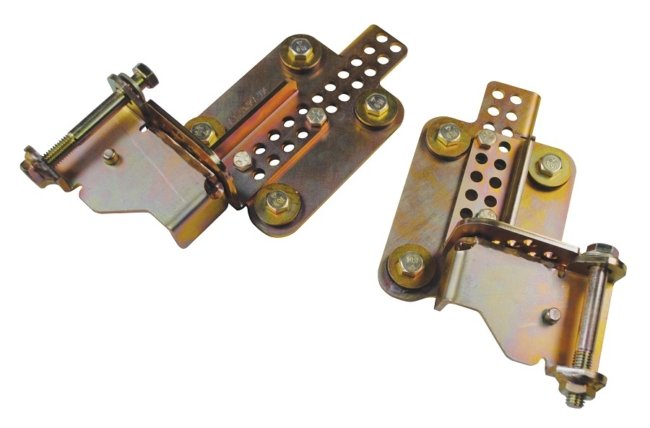 As the Gen III Hemi swaps have became more popular, there are times that someone might be looking for more adjustment on where exactly the Hemi is positioned in the engine bay. Most motor mount kits for Gen III Hemis place the motor where that company wanted it. Sometimes the accessories you choose do not play well with the motor mounts and placement of the motor.
USCT Motorsports ran into this exact situation too many times. They decided to build their own Gen III Hemi motor mount kits that are adjustable. Their kits fit 1962-1972 B-body, 1966-1970 C-body, 1970-1974 E body and can adjust the Hemi upwards as much as 2″ for k-frame and oil pan clearance along with a move forward by up to 2.5″ for transmission tunnel and header clearance.
Proform Parts released their Tundra Series fluid coolers recently. We got to check them out in person earlier this month at the PRI Show. These coolers can help keep your transmission, power steering, engine oil and other fluids nice and cool. They are quality built and come in multiple sizes for any application. They even offer one with an electric fan for super easy remote mounting.
We can all agree Dodge did a great job of recreating the Challenger and Charger. For those that want to take the 70s vibe just a bit further, Year One has the wheels you need. This year Year One released 20″ Rallye wheels in silver and black.
The best part is the new Rallye wheels use the Acorn or standard style Rallye wheel center cap just like the 70s. They also released center cap R/T and Charger decals for the center caps. This all adds up for a very custom and 70s styling on your modern Charger or Challenger.
This may have also made our Christmas wish list, but Speedtech's Extreme Track Time complete handling kits for E- and B-bodies are a work of art. They come at a price, but it is money well spent and will completely transform your classic Mopar.
Their kits include the ExtReme front sub frame paired with either IRS or Torque Arm rear suspension. We have seen so many other brands building kits for other makes and Speedtech finally stepped up to the plate and knocked one out of the park for Mopar and we do not think they are done.
Many times we get focused on making horsepower and then find out that our poor transmissions cannot withstand it. TCI decided to build a fully serviceable Triple-disc Converter for the 8HP70 to go behind the Gen III Hemi. These converters can withstand over 1000 horsepower and the abuse of continuous slip lock-up control.
Silver Sport Transmissions has been embracing the off-road community and released a TR-4050 5-speed swap kit for Jeep Jks. The TR-4050 is geared for highway cruising and with a super low 1st and reverse gear for off-roading. You get the best of both worlds, a nice overdrive gear for better milage and low gears to crawl over obstacles.
It will also withstand 600 lb•ft of torque, which is perfect match for Gen III Hemi swaps. The kit is complete for everything you need to swap in the TR-4050 into your Jeep JK.
Proform Parts released quite a few new products this year. Although their Mopar branded engine dress up kits was a close second. We had to give the last spot to their Gen III Hemi Oil Pump primer. With the increased amount of Gen III Hemi builds we see, this is a great way to prime your motor with an aftermarket oil pump.
No one else offers such a simple tool to prime your Gen III Hemi. No more worry about dry lifters or cam during your first startup.
There were a lot of other Mopar specific parts that could have easily made out list, but we wanted to keep it to 10. It was a big year for new Mopar parts and we are glad to see so many manufacturers still trying to build new parts so we can enjoy our hobby. From what we have heard, there should more new stuff in 2023 too.