This year has been a roller coaster and no one could have predicted the craziness in 2020. To say the least, it has really stunk for the automotive world. With many events and races canceled, many of us did not have anything to look forward to. Luckily, Holley prevailed and was able to hold their inaugural Holley Moparty at the Beach Bend Raceway in Kentucky…and it was epic.
We all know that being a Mopar lover we tend to get put on the back burner when it comes to parts and events. We assume many of you have heard about Holley LS Fest and how everyone raves about the event. We have waited for Holley to layout a similar event for Mopar. And Holley's Moparty was just that, a giant party for everything Mopar and it was a success, even in the middle of a pandemic.
Hopefully each year we catch the same weather, because it was a perfect three days at Beach Bend Raceway. There was no rain and low-70 degree temperatures with almost zero humidity. Spectators and racers both benefited from the perfect weather. We were glad to be apart of the first one and plan to be back every year.  
The Holley Moparty had something for everyone. Besides maybe having a mud bog for 4x4s, there was nothing else that could have been squeezed into the weekend. There was plenty of racing and special events for spectators and racers to enjoy all weekend. If you could not attend this year, put it on your calendar for next year now.
As you enter the event you start through the show fields of cars. The fields were a little light compared to some other Mopar events, but talking with Holley officials they said the turnout was much larger than expected. Given the circumstances for everything going on, that is a huge win. 
The show field might have been light on volume but man was it packed with some heavy hitters. There were not rows upon rows of Hemi 'Cudas but just about every combo of Mopar was in attendance. We saw many rare Hemi, 440 Six Packs and plenty other motor combinations. If you wanted to see something specific, it was probably there if you looked hard enough.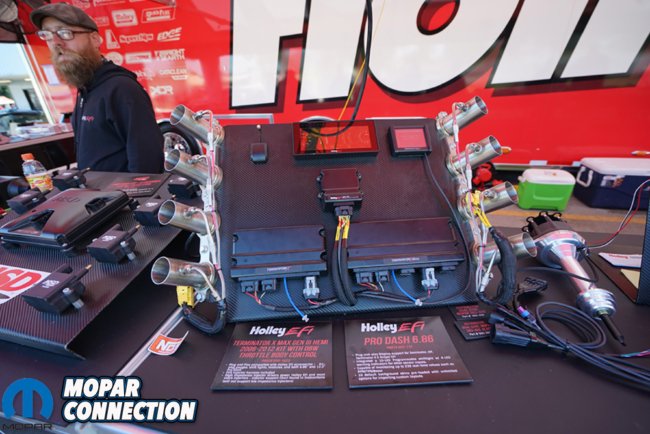 Holley is on the gun as we speak developing new Gen III HEMI swap parts for many popular Mopar models. Although many enthusiasts are waiting for parts to be developed, there were plenty of Gen III HEMI swapped Mopars. We even brought Project Orange Crush with its new 6.4 HEMI under the hood with a plethora of Holley parts to make it run. Unfortunately, we did not get to participate in any events because there was still some tuning needing done on the car.
As you made your way through rows of cars, you come up on the racetrack. The track was able to hold an autocross challenge as well as a drag racing all weekend. The drag strip is separate from the autocross area. If you were there to drag race, it went on all weekend nonstop. Anyone with a Mopar could sign up and take a run down the track at certain times. 
The autocross challenge was only running during certain times throughout the weekend. For those of you that might not have heard of autocross, it is a timed lap around a course of cones normally held in big empty parking lots, or a big paved circle track like Beach Bend Raceway offers. If you wanted to try your hand at maneuvering around a few cones all you needed to do was sign a waiver and get a quick safety check. 
We talked with multiple participants in the autocross and they were all very pleased with the course and how it was put on. Some participants were very new to what autocross was and surprised that an event like that happens. A few newbie drivers were getting more hooked with every lap. The other seasoned drivers were having just as much fun racing each other and looking to increase their times.
On Sunday, the autocross participants had a little change. Instead of the normal autocross course, it was changed to the 3S challenge. The three S's stand for stop, speed and steering. Similar to autocross but in this challenge you line up against a competitor with a mirrored low speed course. The course is a down and back style with a 180º degree turn and specific area that you have to stop within at the end.  
Sharing the autocross area was Dodge Thrillrides. Dodge have been campaigning the Thrillrides for few years now and this event had to be one of the fastest and best courses we have seen. We are not sure of exact speeds, as we did not have time to get a ride, but wow did hear the cars shifting multiple times and plenty of tire squealing. Some of the rides were a complete drift through the course with tire smoke filling the track. The smell of burnt rubber and the sound of the whining Hellcat superchargers is heavenly.
On Saturday night the autocross course was cleared out for a special appearance. Holley was able to sweet talk the right people into bringing the jumping General Lee. This normally can only be seen at an event which a cast member is attending. With everything going on has prevented any of them attending shows, but did not stop the General doing what it does best. If you have never seen a General Lee jump in person, you are missing out. 
The other great surprise on Saturday night was getting to watch Bobby Isaac's K&K Insurance 1969 Dodge Daytona drive around the track. If you do not know the car, we highly suggest Googling it. The car now has a 528 cubic inch Hemi and did it sound good. The car rumbled the whole track and they barley got on the throttle. We can only imagine what that thing sounds like at 200mph on the salt flats.
Prior to the General Lee jump and Bobby Isaac's Daytona, Holley held a Mullet contest. We are not sure if the '80s are back or if COVID caused everyone to grow mullets, but it was extravagant. There were a group of fake mullets, real mullets and child mullets. One of the ladies belted out an incredible performance of the National Anthem, and all the kids won a ton of stuff from Holley. The adult winner was a perfect mullet at every angle and look forward to growing field next year. 
Beside the autocross course was the drag strip. Now this is where Mopar has always flourished. The lanes were packed all weekend with everything and anything. From daily driven trucks to 1700 horsepower monsters and everything in between. So many unique and fascinating cars lined up to try their hand at the quarter mile. 
Shows like this is also a great opportunity to talk with different vendors and learn about new products. Holley offered multiple seminars about whats coming in the future and what is out now. The big push currently is Gen III Hemi swap parts. Form motor mounts to brackets for accessories, wiring harnesses, dress up and performance. They are dumping products out every month. 
Holley had a few of their in-progress vehicles on display. If you own a Jeep, E-body or A-body, looks like there is going to be plenty of parts heading your way soon. Holley is dedicated to making a Gen III Swap effortlessly in any popular Mopar platform. We did see the new Dodge Dakota and D100 swaps and they looked right at home. Very clean and plenty of room. 
Among Holley, there were plenty of other vendors in attendance. American Powertrain was there to answer all your questions and take orders for your next overdrive. Trick Flow had their new small block heads on display and few other Mopar parts. Arrington Performance had their SEMA built Rampage on display for the first time ever to the public. The mid engine 392 Gen III Hemi was a wild site. 
There was also Summit Racing, Edelbrock and many others that showed up. Most of the vendors offer show specials so it is best to buy at the show. Whether it is free shipping on large items or an extra percent off or both, come prepared and your parts list on hand. It is also a very good time to talk one on one with some of these vendors about technical issues.
We were setup in a tent with both the Project Orange Crush and the Comeback 'Cuda. It was a first for us to have our own tent and not one but two project cars running and at the same show. Both cars support Hemi motors  but one might be a little larger than the other. Such a large contrast in projects but look great sitting side by side. We plan to be there every year so if you did not stop by this year, please stop next year.
We could go on and on about the Holley Moparty. There was so much going on all the time that we missed plenty of stuff and left some out. We had no idea what to expect and we were blown away. There is so much to do and something for everyone. This is not your average car show. There is a reason it is called Moparty and you better not miss it next. Enjoy the massive gallery and plan to see you there next year.