The Super Stock class was one of the big highlights of 1960s drag racing. You had drivers like Butch Leal, Dave Strickler, Al Joniec, Bill Jenkins, and Al Eckstrand, just to name a few. Everyday grocery-getters were hopped up, and homologated to meet specifications to run in this class. Normal bias-ply tires were swapped out for 7" "cheater slicks" in the rear, which was the only legal tire for the Super Stock class, up until 1968.
In 1968, the two hot cars for the Super Stock class were the 1968 Dodge Hemi Dart L023, and the 1968 Plymouth Barracuda B029. Cars like these were raced by drag racing greats, such as Shirley Shahan, Dick Landy, and Ronnie Sox. These cars were known to face off against opponents, such as "Dyno Don" Nicholson, Gas Ronda, and Al Joniec, all three of who were racing Ford Mustangs, powered by the 428 Cobra Jet V8. It was an incredible battle between Ford, General Motors, and Mopar, watching these two go head to head. Cheater slicks were then replaced with Goodyear "Blue Streak" Dragway specials, but the front tires were the same, regular bias-ply tires from the beginning of the Super Stock class.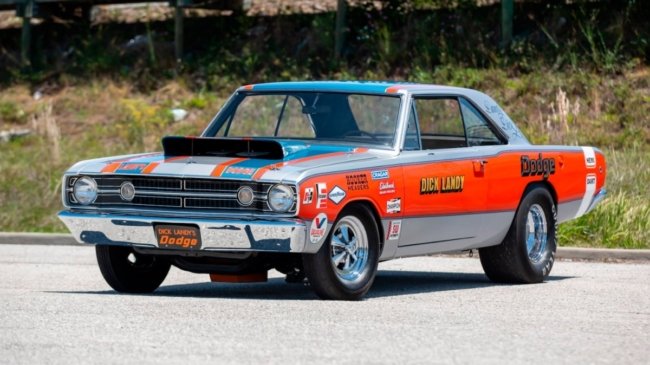 Historical footage from the 1968 U.S. Nationals can be found on YouTube, featuring super stock all stars, which include Shirley Shahan's 1968 Dodge Hemi Dart L023. Shahan could be heard giving a brief interview about her passion for competing in the class. As a well-known drag racer, Shirley Shahan was nicknamed the "Drag-On Lady".
The 1968 L023 Dart was one of the top cars of the Super Stock class in 1968. These were seen charging down drag strips, in the hands of drivers like Paul Richardson, Larry Hart, and of course Shirley Shahan. The L023 Dart always came in primer grey with black gelcoat front fenders and hood. When they were purchased, often times, the cars were painted by their owners, and then raced. Very rarely do you see a 1968 Dart still in its original primer grey with black gelcoat front fenders and hood.
Most of the restored L023 Darts have been painted to how they looked during their racing career. These cars can be found occasionally at Mecum auctions. If you want to see one of these special Darts up close, you will have to attend the Muscle Car and Corvette Nationals (MCACN), or attend one of the highly anticipated Mecum auctions.
Not a whole lot is known about the 1968 Plymouth Barracuda B029, since the most famous Barracuda drag car at the time was the Hemi Under Glass, and that car was an exhibition wheelstander. Like its counterpart, the 1968 Dodge L023 Dart, the B029 Barracuda was also delivered in primer grey with black gelcoat fenders. These cars were then sold to racing teams across the country, and raced extensively.
The most famous B029 'Cuda was the car driven by Ronnie Sox, of the Sox & Martin Drag Racing team. Their cars were known for their red, white, and blue paint jobs, and were seen competing at drag strips. In fact, their B029 Barracuda was used to boycott the rule changes from Super Stock to Pro Stock, which is a very popular drag racing class to this day. Gone are the 7" "cheater slicks", which were replaced with Firestone Drag 500 slicks, which became the signature tire for the Sox & Martin team.
The original B029 Barracuda that was campaigned by Sox & Martin was owned by collector Todd Werner, who also owned two Sox & Martin cars, and also Dick Landy's 1968 L023 Dart. Werner sold off his prized collection at a Mecum auction in 2019.
Another famous B029 Cuda was the car driven by Don Grotheer. Grotheer competed with this 'Cuda in 1968, and even won the Pomona Winternationals in 1969, driving this car. The 'Cuda was purchased by a private collector, who had the car restored. In 2016, Don Grotheer's B029 'Cuda was a main attraction at the 2016 Mecum auction in Indianapolis, Indiana. For the model car fans, decals are available from Slixx Decals to re-create a 1/25th scale model of this storied 'Cuda.
Today, the legend of the Chrysler Super Stock program lives on. Relics of this great advancement have found their way in the hands of private collectors, auctions, museums, and can even be seen at some of the most prestigious muscle car events, such as the Amelia Island Concours d'Elegance in Florida, or the Muscle Car and Corvette Nationals, held every year in Rosemont, IL. Some of these cars may still be hiding in barns, or wrecking yards, just waiting to be unearthed from their tombs.