Sprint Car racing has been around for a long time. You could say its as American as apple pie. The first sanctioning body of this form of racing was the International Motor Contest Association (IMCA) founded by J. Alex Sloan in 1915.
The IMCA sprint cars, then called Big Car circuit became very popular in the 40's, 50's and 60's. The state and county fairs became a large part of their schedule, which saw racing as many as 100 times a year.
Other associations came into being such as the AAA (AAA Contest Board), and later the United States Auto Club with the USAC Sprint Car series being the stepping-stone to the Indianapolis 500 back in the 50's and 60's.
Certainly, after World War II the predominate engine in this type of motorsports was the Offenhauser with its unique engine pitch. Other types of engines competed off and on including such engines as the Ranger, which was basically an aircraft engine. The Offenhauser dominated until the 60's when the Chevrolet engine took over the sprint car world.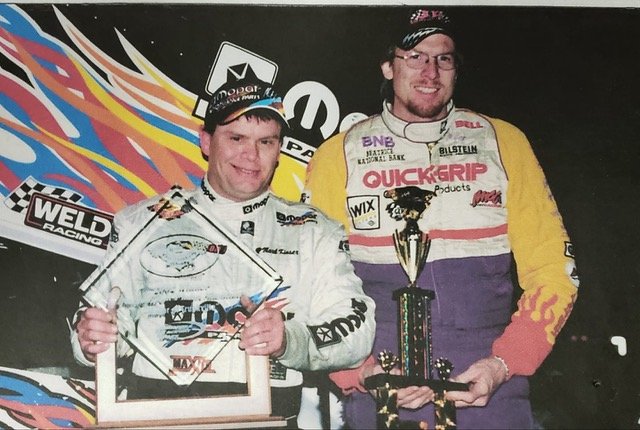 Outside of these sanctioning bodies there were other unsanctioned races called "Outlaw races", many times featuring a "run what you brung." But by the late 70's even the Outlaws decided it was time to have some rules.
After a series of meetings a gentleman by the name of Ted Johnson formed a group called "the World of Outlaws." The rest is history as they say and over the years the World of Outlaws became the most recognized group in sprint car racing.
Their schedule carried them from coast-to-coast, but those darn Chevrolet power plants continued to dominate. Then, two groups got together and decided it was time for Mopar to take over the World of Outlaws.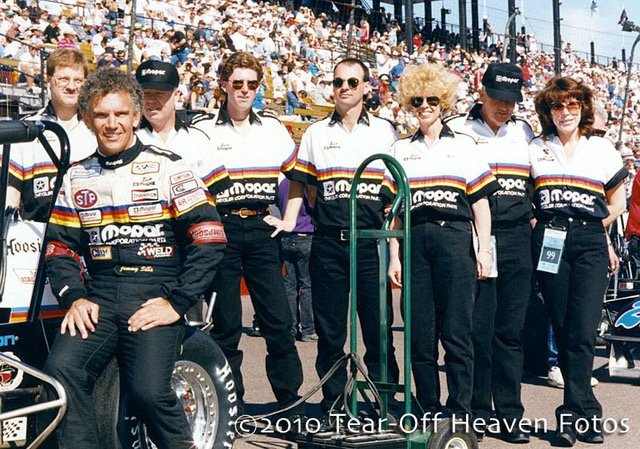 Those groups included long-time engine builder and car owner Gary Stanton and Karl Kinser racing. Stanton's relationship with Chrysler began back in 1995.
In 1995 Stanton had teamed up with driver Jimmy "Buckwheat" Sills and won the United States Auto Club (USAC) Silver Crown Championship with a Stanton engine/chassis combination.
The following year they partnered with Mopar, and Stanton embarked on a year long development program on a new aluminum engine. Stanton and Sills repeated their previous year feat, capturing the USAC Silver Crown owner and driver titles again.
This led Stanton to team up with Karl Kinser Racing and see if he could add a World of Outlaw Championship in 1999 using Mopar power. Karl Kinser Racing had already done everything there was to do in Sprint Car Racing and the World of Outlaws.
The former drag racer had teamed up with his nephew Steve and ruled the World of Outlaws since its inception in 1978. They won 14 World of Outlaw Championship and ten Knoxville Nationals (the premier race in Sprint Car racing) before the pair split up in the mid-90's.
Steve started his own team and Karl put his son Mark in the Karl Kinser seat and they won the 1996 World of Outlaw Championship along with the Knoxville Nationals.
Despite posting a lot of wins the next two years, Mark was shut out of the series championship with Sammy Swindell winning the title in 1997 and Steve Kinser winning it again in 1998.
Then in 1999 Mark and Karl Kinser partnered up with Gary Stanton. The Mopar powered team won 19 features, 30 fast time awards, and the World of Outlaw Championship. At the World of Outlaw banquet, Mark Kinser reflected on the change to Mopar power.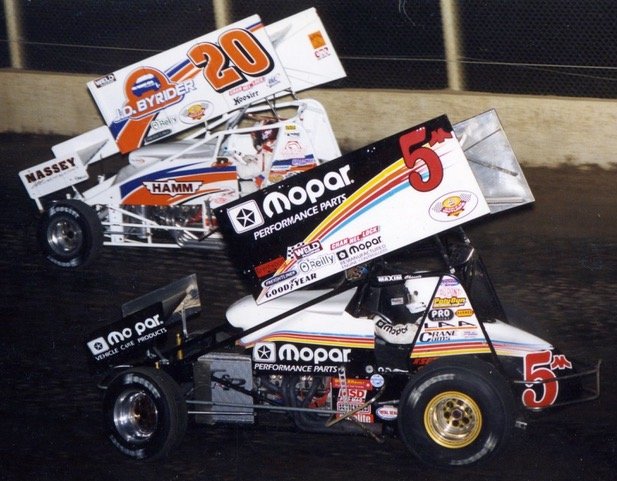 "The championship does mean a lot – it actually might even mean my feature as far being involved with Mopar." said Mark Kinser. "It's a big step in the right direction for Kinser Racing and giving Mopar a championship for the first time probably holds a lot of water.
Kinser said the decision to switch to the new Mopar powerplant wasn't all that difficult after paying a visit two years earlier to Mopar's headquarters in Center Line, Michigan.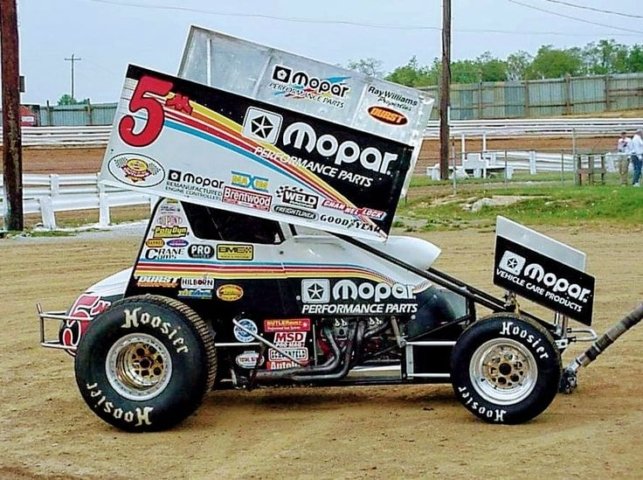 "We took our best Chevy (engine) and they basically just dragged one of their motors off the floor and we dyno tested them, one-on-one," Kinser recalled. "They beat us in every aspect on the dyno, which sent us home with our tails between legs and very impressed."
"That was two years ago," continued Kinser. "We tried to nudge our way in there and we finally got in late last year. Mopar's biggest problem in the past was they either had a good driver and no mechanic, or a good mechanic and no driver. They always had the substance to win, but they didn't have the right combination. We just stuck together and really came together as a team. It was a total team effort."
Certainly, the highlight of the season for Kinser Racing was once again winning the most prestigious race in Sprint Car racing, the Knoxville Nationals. It was accomplished by a combination of Mopar power and the skill of car owner Karl Kinser.
"We won't starve if we don't win the $100,000 (first place money at Knoxville in 1999), but I'm sure hungry for that 13th trophy." said Car Owner Karl Kinser before the championship feature.
One thing the competition knowns about racing against Karl Kinser at Knoxville, don't give him a red flag and time to work on the car. That is exactly what happened after 17 of the scheduled 30 laps.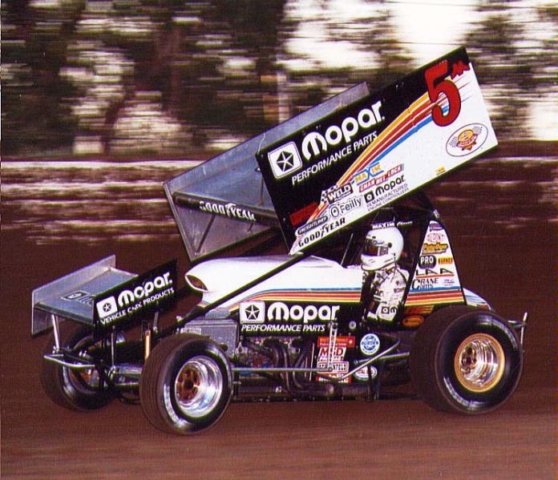 "He (Karl) changed three shocks, the right rear and the two fronts." Said Mark. "That gave me what I needed to pass Danny (Lasoski). Danny ran the bottom all race long, and I wouldn't have been able to get around him had Dad not changed our setup."
"Give Karl Kinser a red and he's lethal." said defending Knoxville Nationals Champion Danny Lasoski after the race. It's a lesson that the competition experienced many times during Karl Kinser's time as a car owner.
The Stanton/Kinser team finished out the 1999 World of Outlaw season by posting 19 A feature wins and 30 fast times on their way to winning a championship for Mopar. Mark Kinser was named driver of the year in the National Sprint Car poll.
Karl Kinser Racing the team of the year and Lee Carducci, formerly with MOPAR Performance Products and Gary Stanton of Stanton Racing Engines were named recipients of the Builder/Manufacturer of the year award.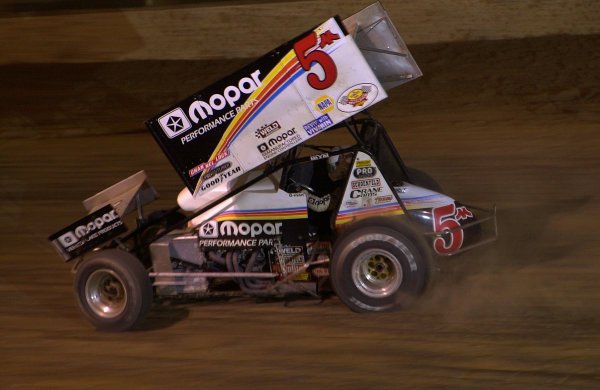 As for Gary Stanton and his years working with Mopar and helping them to win a championship on the tough World of Outlaws circuit.
"We won championships and developed a lot of parts for them (Mopar) and it progressed from there." recalls Stanton.
"A lot of engines and parts that were in their catalog we developed and designed. When Mopar went back to running in NASCAR, they hired us, and we actually won their first race for them in NASCAR with Bob Keselowski (Brad's dad) in the truck series."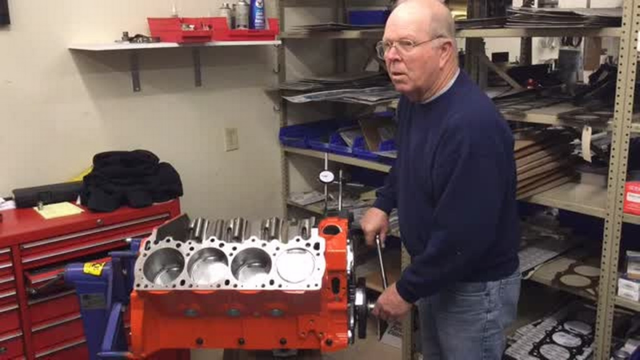 Former Sprint Car driver Brad Doty probably sums up Stanton's abilities when he said, "Gary Stanton can build or create anything in a shorter period of time than anybody I've ever seen."
At the 22nd Annual World of Outlaws Awards Banquet in Las Vegas in November 1999, Mark Kinser once again stated what an honor it was to have won the championship. "We're really proud to win this championship for Mopar," said Mark Kinser.
"We knew the car would have a lot of power before we ever ran it. With them never winning a race, we knew we had our work cut out for us though. This year rejuvenated my father (Karl)." It was Karl Kinser's 16th World of Outlaw Championship.