Dakota Digital has expanded its RTX instrumentation lineup, this time bringing 1971 to 1974 B-bodies into the fold with yet another fantastic gauge panel. For those unfamiliar, RTX clusters were designed with retro styling that looks close to stock but features completely new gauges with modern internals.
Redline Gauge Works got the word out on Facebook and we were quick to click after a terrific experience with our own RTX installation in a 1969 Dodge Super Bee. This '71-'74 B-body Rallye gauge set is along those same lines; the layout and look are close enough to stock that many a passerby wouldn't even notice the upgrade with a quick glance in the driver's side window.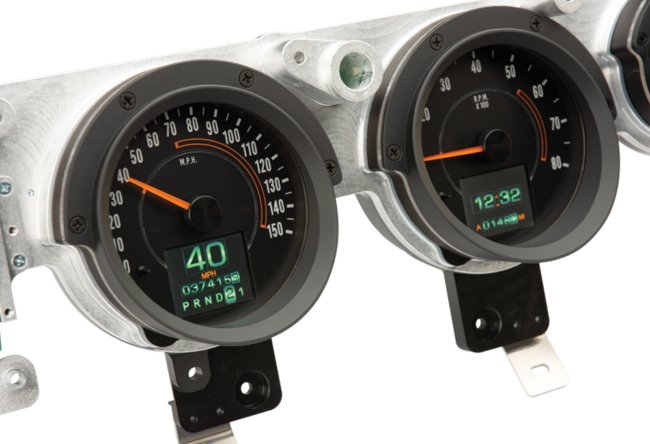 Hiding behind the almost-factory face is a CNC-machine aluminum housing, LED backlighting, TFT message center, integrated headlight and wiper switch circuitry, and electronic gauges that are both reliable and accurate.
Installation almost couldn't be any simpler. The RTX assembly fits in a stock steel Rallye dash frame and an original front bezel can cover it all up. A remote central control box can be hidden out of sight and features no-crimp connections.
Kits include the instrumentation, sensors, a cable-driven speed signal generator, a control box, and wiring. The end result is fully customizable with twelve different backlighting colors, performance meters, and a number of different displays on the TFT. Visit Redline Gauge Works or give their experts a call at (661) 259-8891 to get your RTX revitalization revved up today.