The announcement of the Dodge Demon 170 was pretty awesome. We have multiple articles covering the details about the Demon 170. What you might wonder is how the Demon puts the 1,025 horsepower to the ground. Well, Dodge partnered with Mickey Thompson to offer a sticky solution.
Working closely with Dodge engineers, Mickey T developed versions of its ET Street R and ET Street Front tires just for the Demon 170. You can get the same grip and performance for your car that Dodge relies on with a set of Mickey Thompson's ET Street R and ET Street Front tires from Summit Racing Equipment for your car or truck.
With just enough tread to get DOT approval for street use, ET Street R Radial Tires are as close to a street-legal drag slick as you can get. Traction at the strip is where they really excel. The tires have Mickey Thompson's R2 rubber compound—proven in pro-level drag radial racing—for superior traction at the strip with little or no burnout required.
The tread design has shallow voids to provide a wider contact patch. Thanks to their radial design and stiff sidewall, the ET Street Rs can absorb more horsepower at launch for better starting line traction, especially for big-horsepower cars or when track conditions are less than ideal.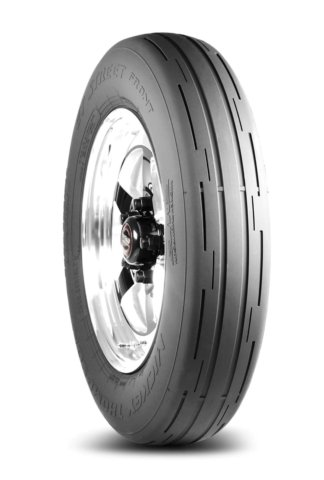 Jumping to the front tires, the DOT-approved ET Street Front Tires have a radial design that's a perfect match for the ET Street Rs as well as Mickey Thompson's ET Street S/S and ET Street Radial Pro tires. The narrow tread width minimizes rolling resistance to help reduce elapsed times, and the stiff sidewall provides excellent stability at high speed.
Mickey Thompson ET Street R Radial Tires are available In 15, 17, and 18 inch diameters to fit just about any car that you'd want to run down the quarter- or eighth-mile. If you are ready for a new set of tire for the upcoming race season, head to your local Summit Racing Equipment store or online to order your's today.