We are sure all of you have been waiting, watching, and reading what you could leading up to the announcement of the Dodge Demon 170 last week. If for somehow you missed the big announcement, you can check out all the details of the Demon here.
The Demon 170 will be the last of the current Challenger production forever. This also includes the Charger and Chrysler 300 which are made at the same facility. Sadly, the Hemi and Hellcat era is coming to a close. The new drag strip-dominating Demon comes with a hefty price tag, starting at just shy of $100K. Many dealers are already "promising" to keep the mark-up to only $100-$250k.
Maybe you don't have the coin to drop on this car or maybe you do, but can't find an allocation for one of the 3000 being made for the U.S. What if you are just drooling over the Demon's power plant and want to stuff it in your A, B, or E body. There is a silver lining here for us facing these scenarios.
Dodge has not announced the availability of the the new powertrain being available as a crate kit like the Hellcat Crate or Redeye Crate, yet. We have not got word that they will or won't. The good news is there are some things that have us excited about this new monster.
Cramming that much power into a production vehicle means that a significant amount of R&D was done into making sure all the components would stand up to the intense torture tests before it could go into production. When the 6.2L Hellcat came out at 707hp, we started squeezing out 1000 to the wheels pretty quickly, with great success!
When the Demon came out at 840hp, we started cranking out 1100 to the wheels even faster, still with great success. Since Dodge announced this bad boy at 1025hp, well, you do the math. We have a list of OEM ingredients that should easily handle 1200hp to the wheels. Even better, a lot of them are relatively plug and play for anyone with a 6.2L Gen3.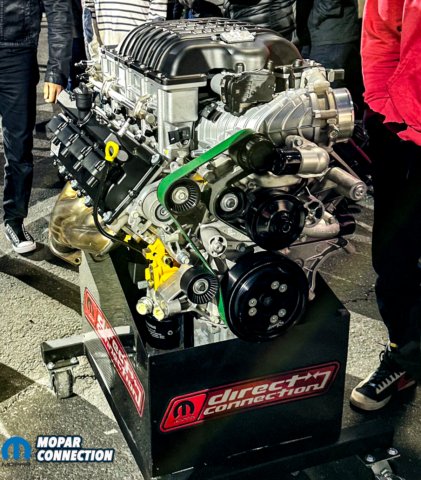 Now, understand there has been no official word on exact compatibility or availability. Dodge generally won't provide info on compatibility of components on a different application, but history has shown us you can mix and match a heck of a lot of things together.
It doesn't matter if you have a 6.2 Hellcat or a 6.2 Redeye/Demon 1.0 cranking out the ponies in your classic car or modern Mopar, these new components could potentially really beef up your machine. Of course, it would require a custom tune, but that goes with just about any mod on any project using a Gen3 Hemi.
Supercharger:
Dodge opted for a new 3.0 Liter IHI supercharger similar to the one used on the Hellephant. The new blower cranks out an insane 22psi of boost. The footprint is the same as any of the other blowers and will drop in perfectly in place of the 2.4L or 2.7L supercharger. It features a redesigned snout for more airflow, a larger 105mm throttle body.
Yes there are plenty of aftermarket superchargers out there capable of doing the same, but many of you like to keep it all OEM. It is also likely that the throttle body will bolt up to the 2.4 and 2.7L blowers if you just wanted to get a little more airflow on yours. It comes with a 3.02″ front pulley which will also fit the other blowers.
Fueling: 
The Demon 170 is setup to run full flex fuel and capable of running pump gas or E85, and a mix in-between. The flex fuel addition to this is really killer. We have been tuning these flex fuel  systems for several years now, but it hasn't always been the best means of doing it. The tuning did not use an ethanol sensor either. A mix of other data was used to estimate what the ethanol content might be without actually reading It from a sensor.
Along with an actual ethanol sensor, new fuel rails and bigger fuel injectors have been added. These injectors equate to about a 1700CC injector and would be great upgrades of the stock Hellcat or Redeye injectors if you want to go up in boost or change to race gas or E85.
Historically, the OEM injectors have been cheaper than the good aftermarket counterparts. They are also made to handle the ethanol content without getting funky.
Short Block:
According to Dodge, they machine the block slightly different to fit new head bolts. This could be done to your block, or, skip it and go with the standard ARP head studs we have been using for years now. The block is also said to be machined to accept some new very sexy billet main caps. This is also something you could have done locally or check into some aftermarket options.
New spark plugs sporting a colder heat range were thrown in to help keep detonation down. Some new rods, bearings, pistons, and a new forged crank were developed to handle the extra load. A silky smooth fluid damper sits in front to keep it all spinning smooth. These items will likely drop right in to your existing block with the exception of the billet main caps (without machining).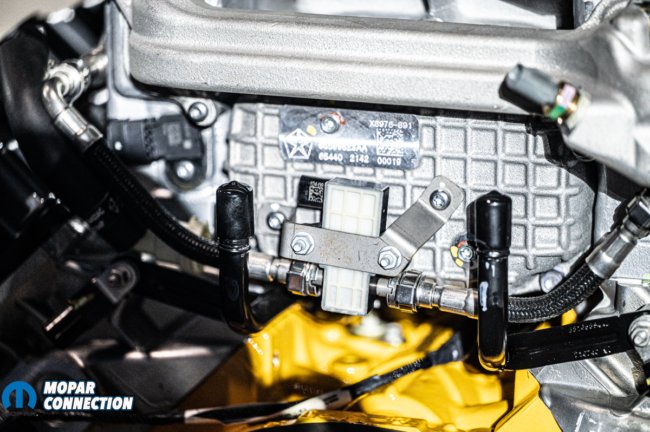 Heads:
The heads remain relatively the same with some slight revisions to the valve train to hold up better to the ethanol. While important for longevity of a production car, this isn't something that you typically see done aftermarket on these cars all these years. Most upgrades were to support higher RPM.
Drivetrain:
For those of you wanting to beef up your late model or happen to be utilizing a late model rear K-Member, we have an all new heavy duty LSD rear diff boasting 50% more capacity in torque. To go along with that you would need to throw on the new 43 spline rear axles (CV Axles/Half-shafts).
The new setup also makes use of a massively upgraded driveshaft and a revised transmission output shaft. We don't have a ton of info just yet, but we believe it will prove to be fairly simple to adapt the older ZF8hp90 8spd trans to fit the new driveshaft.
Suspension:
Again for anyone running late model OEM suspension, the new Demon sports a new set of electronically controlled struts that have been revised for more squat compared to the Demon. To go along with it are some softer springs and sway bar.
If the new Demon 170 only impressed you in performance and stats, keep an eye out here as we dig deeper into utilizing these new components in other applications. With 3300 units being made, and no other Hemi cars to follow (unlike the 2018 Demon) it may prove difficult to get your hands on these items. Production starts mid-summer so we should start to see some availability shortly after.