In today's world, it's quite a rare thing to see a classic muscle car still owned by the original owner. We here at Mopar Connection absolutely love to hear about classic Mopars that are still in the possession of the original owner; so when Brian Schmidt sent us an email recently sharing the story of his father Richard's 1970 Dodge Challenger R/T convertible, we jumped at the chance to tell their story to our readers. This Challenger is near and dear to the Schmidt family as not only did Richard purchase the car new but it's now a living memory to Richard's late wife, Kitty.
At the beginning of 1968, a young Richard was shipped off to Vietnam. "I was engaged to be married but received the ring back when I was coming from Germany and going to Vietnam. When I went over there as a young man with a break up from a high school sweetheart, it was almost feeling like your life was over with" says Richard. He continues to say, "My cousin knew about it and she asked a friend of hers to write to me. All of a sudden I get this letter and opened it up and it starts out by saying "Hi my name is Kitty and it would be nice to hear from you if you'll write back to me." We wrote back and forth together and sent a few pictures back and forth and she's what pulled me through that".
The very day Richard got out of the army, his mom took him to visit his aunt, uncle and cousin Laura. When they walked through the door, Laura quickly introduced him to Kitty. The two instantly hit it off and two months later, Richard asked Kitty to marry him. "She said, why don't we get you a car for your birthday. You can get whatever you want but it's gotta be a convertible. She knew I was eyeballing a Dodge Challenger because it was the first year it was coming out so we ordered one", recalls Richard. The car was a 1970 Challenger R/T convertible in B5 Blue with black interior and a black convertible top. Under the hood sat a 383 Magnum backed by an A833 Pistol Grip 4-speed.
When the car showed up, Richard and Kitty quickly started putting miles on and enjoying their new car. In 1970, they took it down to Florida through the Smokey Mountains all the way to Daytona and eventually to Miami. "With the power it had and the fact it was a convertible, going through the country; it was a fun ride" says Richard. After six years of daily driving it, the Challenger was starting to show some wear and rust was starting to pop up. With around 27,896 miles on it, Richard decided to tear it apart to redo it. However, with having three kids and working all the time, the Challenger was never finished. It would end up sitting for 40 years.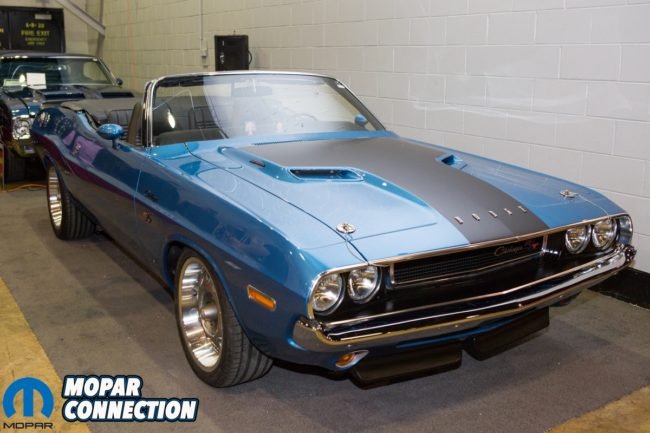 Richard tells us, "She knew I wanted to work on it and that someday I would get around to doing it but unfortunately, she didn't get to see that". In 2008, Kitty was diagnosed with stage 4 breast cancer and sadly in 2013, she lost her battle to the cancer. After that, Richard's son Brian came to him and told him they needed to get the car done. "My dad served this country in Vietnam and he served our family. This car really meant a lot to him and meant a lot to her and she would want it put back together" says Brian. He continues to say, "I always knew it meant something to him and just honestly really wanted to see him enjoy it again." At that moment it was decided; the Challenger would be sent to a professional shop to get restored. There was one stipulation though; Richard couldn't see the car until he could go to the shop, turn the key, start it up and bring it home.
At the 2015 MCACN (Muscle Car and Corvette Nationals) show, the family had a big surprise for Richard. When they got to the show, Brian brought Richard over to a crowd of people. "I made my way through this crowd to the front and this guy is standing there with a microphone. He goes "you sir, you with the hat; do you got any family here? I said "yes, my son's right here with me". As soon as he said that, a whole gaggle of people came out and when I seen them coming towards me, I looked at them and then looked at this car under this drape and said "you have got to be kidding me"" recalls Richard. At that moment, Richard's two daughters pulled the black drape off of the Challenger. "I couldn't even speak. It was awesome. It was one hell of a surprise" says Richard. Since then, the Challenger has truly become a family affair. The entire family cruises together through the country side in it and absolutely enjoy taking it to shows where the grandsons love learning how to clean and polish it.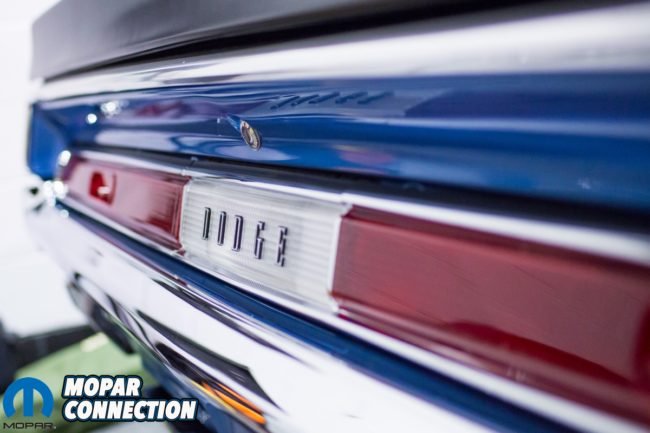 "I enjoy driving it; maybe on a nice evening or something. If we ever take it to any shows that are any distance, we trailer it but it's not really a trailer queen. It's one that you can enjoy on the road. Just seeing the car back together; I know that's what she would have wanted. I still can't believe its back together. The car is so much a part of her and she's there with me; I know that", Richard says in closing. We truly thank Brian for sharing his father's absolutely gorgeous Challenger with us and telling us the heartwarming story behind it. It's true proof that cars can become more than just steel; they become family.