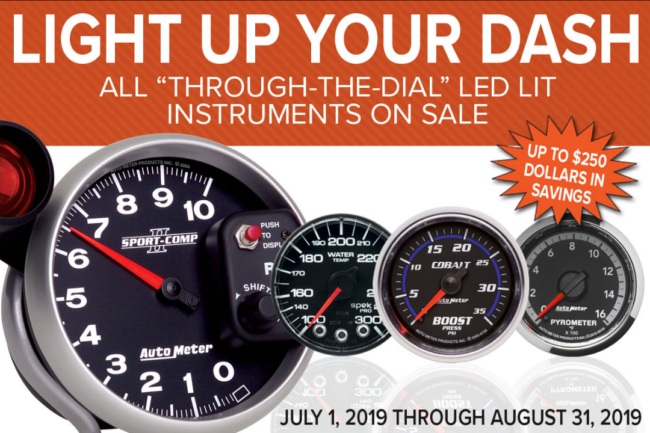 Tired of looking at your dull factory gauges while cruising home from the car show? Although the 70s offered some of the best body lines Mopar lovers would ever see, the electrical systems were less than desirable. Good news is Classic Dash and AutoMeter are here to help and until August 31st you can save up to $250!
Driving 70s era muscle cars can be cool, their interiors are not. From a design standpoint yes many of the 70s era vehicles offer some killer layouts and features. All of that vinyl and many offered without A/C, the interiors can literally be scorching hot to sit in during hot days. Evening cruising can cure the heat problems but replace it with low luster dash lights. Its no fun and not safe to be searching your dash for temperature reading or fuel level while driving at night.
In our article Overhauling Orange Crush's Dash, we cured one of our biggest beefs with our Dart's interior. From the lack of gauges, easy viewing and dull lamps trying to illuminate the stock gauge cluster, we now have an awesome looking dash that can easily be seen day or night. Currently Classic Dash is offering an incredible promotion to help you slide into a new set of AutoMeter gauges and dash panel while saving you up to $250.
All you need to do for Classic Dash's savings promotion is follow these easy steps.
1. Order a complete dash and set of AutoMeter LED gauge kit between now and August 31st. Once you make your purchase you will be eligible for up to a $250 mail-in rebate. 
2. Once you receive your LED gauge kit, submit your "Light Up Your Dash" mail-in rebate form to AutoMeter, along with a copy of your invoice and all the UPC bar codes on your gauges. (Please allow 6-9 weeks for processing).
3. Install your AutoMeter LED gauges and Classic Dash panel to become the center of attention of all of your Mopar friends.
4. Receive your rebate check and treat yourself or your vehicle to something nice, after all you deserve it.
5. As an extra bonus receive FREE shipping on your purchase within the contiguous USA.