Introduced in 1951, the Belvedere name was first used for the new two-door hardtop version of the full-sized Plymouth Cranbrook. The name would continue to be used along with the Cranbrook name until 1954 when it replaced the Cranbrook as the top trim level and became its own model line. For the 1962 model year, Plymouth downsized the Belvedere and built it on their unibody B-Body platform.
In 1964, the Belvedere hit a new level with its styling and performance. With its newly designed slant-back roof line, the 1964 Belvedere sold significantly more units than the previous model year, proving to be a massive hit with its aggressive but classy design. To make things even better, Chrysler used the 1964 Belvedere to introduce its brand new 426 Hemi engine to the public and entered a number of 426 Hemi equipped Belvederes into the NASCAR racing circuit.
During its NASCAR debut at the 1964 Daytona 500, three 426 Hemi equipped Belvederes took all three podium spots with Richard Petty winning it. Besides dominating in NASCAR racing, the 1964 Plymouth Belvedere made a number of appearances in NHRA Super Stock drag racing with cars such as Al Ekstrand's Lawman.
Dean Kallstrom's 1964 Plymouth Belvedere was sold new in Kelowna, British Columbia to a local woman. Optioned from the factory with a 318 automatic under the hood, the Belvedere would serve as a daily driver for her until 1969 when she traded it in at a local Chevrolet dealership.
The next owner decided that the 318 and automatic transmission weren't cutting it so he pulled them out and installed a 383 with a 4-speed manual transmission. Over the years, the owner would sell the car and then buy it back on and off. Eventually, it ended up sitting in a storage lot and then his barn un-used for a number of years.
In 2014, Dean purchased the Belvedere with the goal of making a Super Stock replica. "When I bought it, I had the idea to build it into a Super Stock from the get-go. That was my end goal with it. I didn't want it to look bone stock or be a highway cruiser. I wanted it to look like a period-correct race car and have the performance to match it; basically a Super Stock if you pulled it out of a barn."
Despite changing hands a bunch of times over the years and sitting in numerous storage spots, the Belvedere managed to retain all of its original Dark Blue paint. Since it had spent quite a bit of its life sitting, it also managed to stay rust-free.
"Unfortunately during its stint in the storage lot, a semi-truck backed into the driver side quarter panel and caved it in, also damaging the trunk lid in the process. I sent the car to my good friend Ken Haberman at Ken's Vintage reHAB in Cranbrook, British Columbia and he replaced the quarter panel with a brand new AMD piece. It was the perfect timing as AMD had just come out with reproduction quarter panels for these cars and there was just no way of saving the original," explains Dean.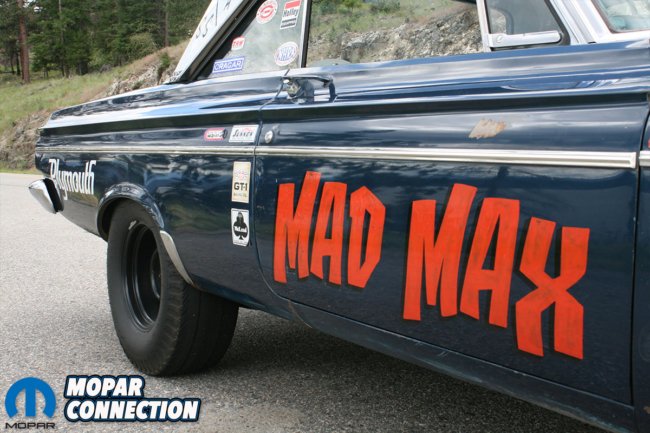 A replacement trunk lid was sourced out as well as a replacement hood. Dean explains, "Back in the day, the hood had an aftermarket scoop installed which eventually caused the hood and underside bracing to rust out around the scoop. It was beyond fixing so we just decided to go with another hood."
With the replacement parts installed, Ken perfectly color matched the quarter panel, trunk lid and hood to the original paint. From there, he hand painted all of the lettering you see on the car such as "Mad Max" on the doors, "Plymouth" on the quarter panels, "SS/A" on the sail panels and "425 HP" on the hood.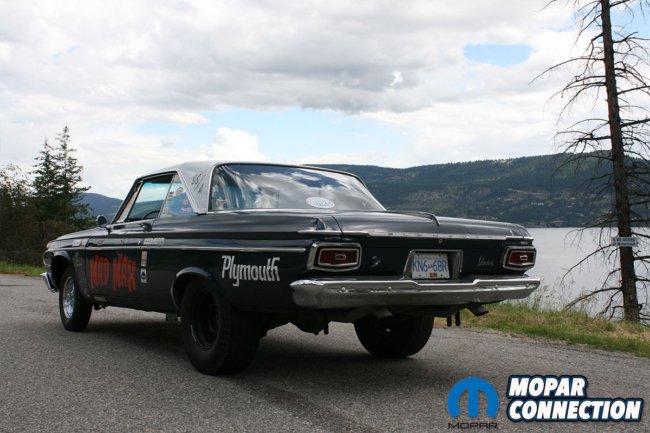 Period-correct manufacturer decals were also installed before everything was sanded and aged to give it the proper patina look to match the original paint. A period-correct Super Stock style hood scoop was installed to round everything up beautifully. "We really wanted everything to look like it came straight out of 1964. Ken did such an incredible job on it," shares Dean.
Under the hood sat a worn-out cast crank 440 so Dean pulled it out and sold it. He purchased a better short block 440 from a friend and built the engine you see. Producing 10-1 compression, the engine features a 440 bottom end, .675 lift roller camshaft, forged pistons and Trick Flow 270 Max Wedge aluminum heads. The Cross-Ram intake, carburetors, air cleaners and exhaust manifolds are all original 1963 Max Wedge parts.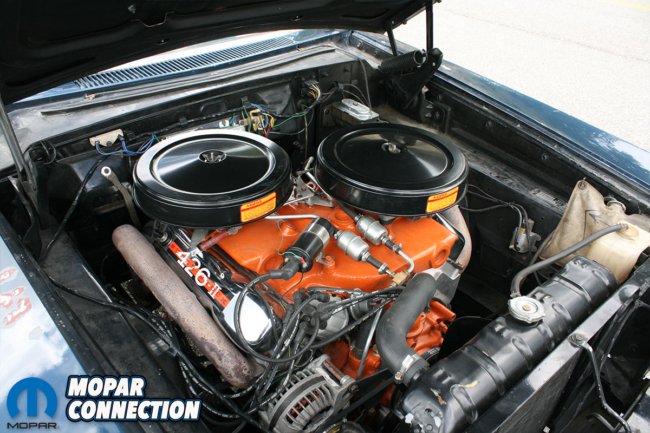 "Nothing Max Wedge wise under the hood is reproduction. I've collected a number of original Max Wedge parts over the years and have amassed quite the collection. I actually purchased a white '63 Plymouth that came with a bunch of Max Wedge parts as well including a Cross-Ram intake and carburetors.
The Belvedere was converted back to an automatic transmission so backing the engine is a fully built push-button Torqueflite fitted with a 3500 rpm stall converter and an 8 ¾ rear end fitted with 4:56 gears. Dean says, "When I built the drivetrain, I did it in a way where everything synced very well together with really good street drivability. Driving the car is remarkably easy considering it has manual steering and manual drum brakes on all four corners. Drag shocks were installed to allow the car to hook well but Dean says they do have their down-side when driving on the street.
The Belvedere rolls on period-correct Bias-Ply tires from Coker Tires. Out back is a pair of Firestone Dragster 8.20-15 Cheater Slicks mounted on black steel wheels and out front is a pair of Firestone Deluxe Champion 6.40-15 tires mounted on Cragar SS mags. "I really wanted the vintage look to match the rest of the car and these really suit it well. The only downside is those cheater slicks aren't cheap and I seem to wear them out fast!" he laughs.
Open the doors and you'll find a pretty bare bones Light Blue bench seat interior. Dean tells us that the seats have been recovered and the carpet was replaced but the rest of the interior is original. It even retains its original windshield! The interior was stripped down from the factory and was optioned with pure functionality over luxury. Note the radio delete!
Dean says, "I've always thought it would be cool to own a real Max Wedge car because of the pedigree and history but that's big money and you'd be hesitant to drive it. Although mine is a replica, I have a lot of fun with the car. I'm not afraid to beat on it and drive it like I stole it."
He continues to say, "I've taken it to the race track and run a best time of 11.71 at 116 mph in the quarter mile. I figure there's another couple tenths in there because the 60 foot times were a little slow. I think it could run 11.50s which is the maximum without a roll bar. I don't want to install a roll bar though as it's a street car and the kids enjoy riding in it as much as I enjoy driving it!"