If your in need of a big block Mopar bell housing, the options for purchasing one are limited. Finding a good stock bell housing is never easy. Of course you can purchase a new blow proof bell housing but comes at a high price. Fret no more, American Powertrain has announced their new Heavy Duty Mopar Big Block Bell Housings for A833 and TKO transmissions.
For the enthusiast that doesn't need a blow proof bell housing and looking for multiple transmission options, American Powertrain has what you need. Cast from thick-wall high titanium content aluminum alloy for excellent strength, CNC machined to a high standard of parallelism and pre-checked for concentricity, this brand new bell housing offers clear advantages over any new or used aluminum or cast iron offering at the swap meet.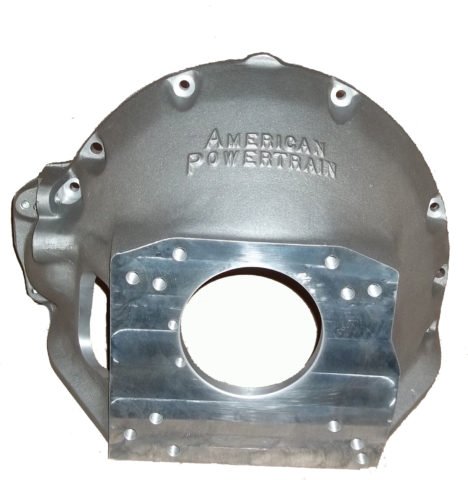 The American Powertrain Mopar Big Block bell housing is compatible with all B, RB and big cube HEMI applications and all 23-spline and 18-spline A-833 4-speeds along with the Ford version of the TREMEC TKO 5-Speed. Whether your want a hydraulic setup like the Hydromax or factory link clutch linkage the choice is yours. This bell also accommodates 130t and 143t flywheels, features dual starter positions and works with OE dust covers and mechanical clutch linkage.
The best part is the bell housings are in stock and waiting to be shipped to your door. Pricing starts at $439.00 and includes complete hardware kit, American Powertrain's Extended Hour Customer First™ tech support, and a two year limited warranty. So whats holding you back? Call now and talk with one of American Powertrain's specialist about what you need today.