Although Bill "Grumpy" Jenkins may not be a favorite of the Mopar faithful due to perceived (or actual) favoritism of his '70s Chevrolet Pro Stockers by drag racing sanctioning bodies, he had a two-year stint where he was deeply involved with Mopar.
Jenkins started drag racing in the 1950s in a Chevrolet, and he continued drag racing Chevys upon leaving Cornell University after three years of studying mechanical engineering. Although he did not complete college, he applied his education to his racing program.
Above: Holley's 1965 "Nobody Builds 'Winners' Like Holley" ad depicts Bill "Grumpy" Jenkins racing the Black Arrow Plymouth to his first NHRA win. 
At the end of 1963, Chevrolet withdrew from racing. It left Jenkins and other heavy hitters like "Dyno Don" Nicholson and Sox & Martin scurrying to find a manufacturer sponsorship deal for 1964. Nicholson and Sox & Martin moved to Lincoln-Mercury, and the Grump started building Mopar wedges for Dave Strickler, who had gotten a sponsorship deal with Dodge.
Above Left: Jenkins' involvement with Mopar started in 1964 due to Chevrolet ending its race program at the end of 1963. Jenkins built the engines for Dave Strickler. The two were known as "the Dodge Boys." Above Right: Strickler got a corporate sponsorship with Dodge. He purchased the Dodge race car from Chrysler for a dollar. The tow truck and trailer were pretty advanced for 1964. 
As part of the corporate deal, Strickler got the Dodge for $1. The Dodge was a '64 440 with a 426 Max Wedge V8, a 4-speed transmission, and an aluminum front end. Strickler and Jenkins were known as the "the Dodge Boys."
Right out of the box, the Dodge Boys hit it big by winning Top Stock eliminator at the American Hot Rod Association (AHRA) Winternationals. Although the two had a successful run, Strickler and Jenkins parted ways at the end of the season.
Above: Jenkins prepared and drove the Burgess and Spiedel owned Black Arrow during the 1965 season. The a990 Plymouth was a heavy-hitter in multiple drag racing sanctioning bodies in the Super Stock eliminator class. 
In 1965, Jenkins added driving duties to his busy engine building and tuning obligations. He wheeled a '65 a990 Super Stock Hemi Plymouth owned by Doc Burgess and Carl Spiedel. Jenkins had immediate success, earning the '65 National Hot Rod Association (NHRA) Winternationals Top Stock title.
Jenkins was immortalized in a Holley advertisement from a long-lost magazine source. However, the ad has been reproduced on an "aged" metal sign available at many retailers.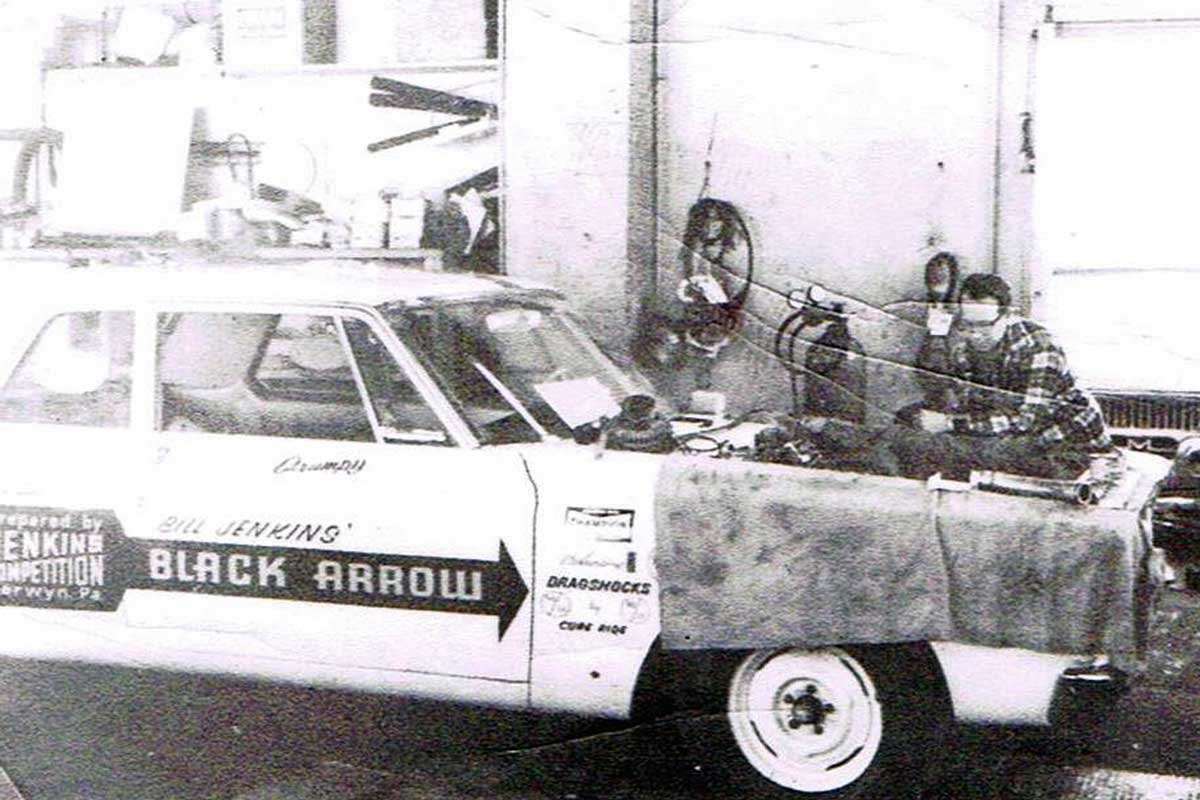 Above: The between race maintenance is being handled by the Grump in his Pennsylvania race shop. Jenkins meticulously tuned the Hemi for maximum performance to keep him at the top of the Super Stock eliminator.  
After a successful 1965 season with the Plymouth, Jenkins could not come to an agreement with Chrysler for corporate sponsorship for his own program for 1966. So, unfortunately for the Mopar devotees, Jenkins and Stickler, who had success in 1965 with the '64 Dodge in A/Modified Production and later a '65 altered wheelbase Dodge, returned to Chevrolet as independent racers without factory backing.
The rest as they say is history. Jenkins was one of several influential racers who petitioned drag racing sanctioning bodies for a heads-up, no index class running factory cars. The unlimited heads-up class became Pro Stock eliminator. Jenkins remained active in the class and several other engine-building programs until his death in 2012.
Above: The Chrysler Corporation took out several single-page ads in magazines during the 1960s representing the heroics of its racing teams. Jenkins built the 426 Max Wedges for Dave Strickler, and he added driving duties to his resume with the Black Arrow Plymouth. 
Fast forward to today. Although Holley has dramatically expanded its business from its carburetor roots, it still manufactures and sells carburetors under the Holley, Demon, Quick Fuel, and Brawler names.
Above: Holley has sold over 250,000,000 carburetors in its nearly 120-year history. The carburetors have been found on everything from Henry Ford's Model A to an extensive list of factory muscle cars that dominated the streets and tracks in the '60s and '70s. Holley carburetors are still found at the strip, and they are a mainstay fuel mixer for weekend car show cruisers. 
The Holley brand carburetors are offered in street, performance, race, and marine applications in a wide range of two- and four-barrel cfm ratings and quality finishes. In addition, Holley has engineered its carburetors to operate on alcohol (methanol), e85, or gasoline.
Above: In the last two decades, Holley has added or acquired several carburetor lines to meet the various needs of performance enthusiasts. To accompany Holley carburetors, Holley has the Brawler (left), Demon (center), and Quick Fuel (right) carburetors designed for street, race, or marine. Each brand has several options for finishes, and the carbs are designed for multiple fuel types.  
If it is time to update your Mopar that has dwelled in the back of a garage or beneath a tarp under a carport, consider Holley for fuel systems, ignition components, drivetrain pieces, lighting, brakes, wheels, engine tuners, and many other parts. The nearly 60-year-old article states, "Nobody Builds 'Winners' Like Holley," and that statement still rings true today.