When it comes to racing, there are a lot of areas that are sacrificed to save weight to go faster. Lighter is faster right? Some times you have crucial parts that cannot get any lighter. One of those areas has been an alternator. Luckily Proform Parts has changed that with their new Lightning-Bolt alternator.
Whether you are racing down the drag strip or running around a dirt track or any other race track, you need an alternator that can keep you system charged and running. The GM 10SI alternator has been the goto alternator for racers. It's easy to install, compact and fairly lightweight.
Proform Parts have been trying to find a way to design a lighter alternator that is just as powerful as the GM SI10 for almost 10 years and they have finally done it. The new Lightning-Bolt alternator weighs in at only 7lbs, yet still putting out 80+ amps at idle.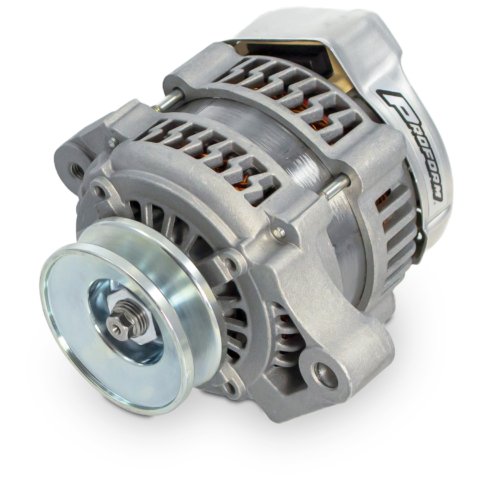 It is pretty often that you see fuel injection setups everywhere now, along with digital gauges, electric fuel pumps and more. These all require a lot of demand on the electrical system and need a good amp output to keep everything happy. The Lightning-Bolt's 80+ amps at idle and 100+ amps at the top end will be plenty for majority of racers.
The big improvement is that the Lightning-Bolt only weighs 7lbs. That is almost half of the weigh of the GM 10SI alternator. For a seamless swap, Proform Parts offers the Lightning-Bolt with a 10SI adapter. There is also a universal 93mm mounting option for those not needing the 10SI adapter.
Not only does the Lightning-Bolt perform, it looks good too. With lighting bolts carved into the aluminum housing and billet 10SI adapter (if needed), the alternator looks like it belongs on a show car.
Head on over to Proform Parts now and order yourself the game changing Lightning-Bolt alternator today. Loose some weight and keep enough amps running through the system for the street or the track.