Many of you probably noticed that Project Orange Crush has not made any appearances this year. The car is still around and not going anywhere, but it is difficult to do much when the motor and interior is stripped from the car. Call us crazy but over the winter we found the perfect power plant for Orange Crush. Unfortunately, it was not an LA or Magnum small block that would have been an easy swap. Knowing we could not do the engine swap alone, we called upon a few of our friends for help.
Many of you have seen the car transform a lot over the past couple years. Although Orange Crush started out with a lot of great parts, tracking the car brought some challenges that we never imagined. Luckily our sponsors over the years have helped us fix many of those issues.
The primary goal for Orange Crush from the beginning was making it handle and drive like a modern day sports car. When the car was built the suspension and transmission were the two main focuses of the car. We figured that one day we would build a stout small block and would replace our mildish 360 over a weekend. We wanted to make sure our suspension was dialed in and that we had a killer overdrive transmission. 
At The Start
Orange Crush's suspension needs were handled by Reilly Motorsports AlterKtion and Street-Lynx suspension systems. The AlterKtion allows use of coil overs and does away with the torsion bars. Coilovers allow us to quickly and easily change spring rates, ride height and make shock adjustments a breeze. It is supplied with a giant 1 1/2-inch sway bar, Flaming River billet rack & pinion and utilizes a double A-arm set up. While the TIG welded tubular K-member is lighter than factory, it is also stronger and more rigid. 
Moving to the rear of the car, the Street-Lynx suspension is a triangulated four-link. We had their original setup and recently had it overhauled by Bill at Reilly Motorsports. The new setup utilizes their new flex joints and adds a rear sway bar for better handling and traction. Reilly Motorsports offers new Moser Chrysler 8.75 rear housings. We told Bill what width we needed the housing and he placed the perches exactly where they needed to be. The Street-Lynx uses coilovers for the same adjustability and scraps the leaf springs. 
For the overdrive transmission, we turned to American Powertrain. We installed one of their Magnum 6-speed transmissions along with their clutch kit, billet steel flywheel, White Lightning shifter and Hydramax throwout bearing kit. They made the installation a breeze and makes cruising the streets with 3:91 effortlessly. 
Off To The Track 
Once we had the core of the car completed and started to put it through its paces. On and off the track we soon realized we needed some help. Stock pulleys, components and V-belts do not make a good match for quick RPM changes on the autocross course. CVF's Wraptor serpentine kit solved all of those issues. Better components and an eight ribbed serpentine belt gave us all the grip we needed for the sudden throttle changes on course.
We also found out that the original rack and pinion was over worked. The factory power steering pump was not designed for the abuse we were putting Orange Crush through. We turned to Flaming River for one of their billet rack and pinions, along with their aluminum power steering pump. Reilly Motorsports have since switched to the Flaming River racks for the same reason we did. They are manufactured in the USA and will withstand the abuse of racing with their Hi-Rev pump. Both are matched to work with each other for the perfect pressures at low and high RPMs.
Next we wanted a little more power but most of all we were tired of our car dying in corners or under hard braking. During the races our fuel was sloshing around violently in the carburetor. We tried a few tricks that made it better but nothing compared to the success of our Edelbrock Pro Flo 3 EFI system. The complete EFI system gave us better spark, constant fuel pressure at all times, instantaneous throttle response and better fuel efficiency. 
With all the new parts and rewiring that has been performed on the dash, we needed a new dash and gauges. The only gauge left working on the factory dash was the fuel gauge. We had a couple cheap water temperature and oil pressure gauges we threw under the dash for the time being, but it looked tacky and hard to view while driving. Classic Dash and Auto Meter stepped in and supplied Orange Crush with a complete dash and Phantom II gauges. The dash was easy to install and gave the interior a whole new look. We finally had functioning speedometer, tach and voltmeter once again.
Beginning of 2019
Each change on the car over the last couple of years made it better. Whether it improved the driving experience, the way handled on the track, or more efficient on the road; each part made a difference. Switching to EFI really opened our eyes to how well it worked, yet how simple it was to install. Over the winter we started to plan out a small block LA build. In the midst of the plans the idea was brought up about switching to a modern Gen III Hemi. We blew off the idea because we assumed the swap would be difficult. 
As we browsed the web for other motors, Gen III Hemi motors kept catching our eye. We soon realized that you could purchase a motor fairly reasonably considering the horsepower some of the factory Gen III Hemi motors made. We started to talk with the guys at Holley, Reilly Motorsports and Milodon about the swap and realized it would not be that difficult. With the popularity of these swaps, the aftermarket now has enough companies making swap parts for popular A, B and E-body cars that anyone can do it in their garage. You do not need to be a custom shop to install a Gen III Hemi in your classic Mopar anymore.
We started researching the different Gen III Hemis and what would be the best option. Of course a used Hellcat motor would be ideal, it was a little out of budget. We picked up a copy of CarTech's New Hemi Engines 2003-Present to help better our decision and answer any questions. We decided a 6.1 or 6.4 Hemi would be the best for Orange Crush. Both motors made good power and could be found from $3,000-$5,000 range depending on mileage.
After looking for a few weeks, we were surprised to find a 6.4 Hemi with low miles for $4,500. It was a low mile motor from a wrecked 2014 Challenger SRT-8. Not knowing what we needed, we made sure the price included the PCM, wiring harness, radiator and the stock manifolds. In the worst case scenario, the parts we did not use we could sell. All 485 horsepower and 475 ft-lbs of torque were ours. We were stoked and ready to start tearing Orange Crush apart. 
With the motor in possession, we would need help from our sponsors to shoe horn this thing in Orange Crush. We started by calling Bill at Reilly Motorsports. He offers Gen III Hemi mounts for all of his AlterKtion suspensions. The precise jigs at RMS would save us the headache of welding in some universal mounts. Bill threw together a new K-member for us with mounts and sent it our way. All motor options are available when you purchase the AlterKtion.
Many of you might not know this, but the Gen III Hemi motors in the Chargers and Challengers are equipped with a front sump oil pan. This obviously will not work with factory or aftermarket suspensions. Luckily, Milodon offers multiple oil pans for Gen III Hemis. We called Ken Sink at Milodon to see what he recommended for Orange Crush. He quickly rattled off a list of parts and numbers. Their Pro-Touring pan was at the center of the list of parts. The pan has been verified to work with the RMS AlterKtion and TTI headers. They sent us the pan, pickup, bolts, gasket and dipstick for the 6.4 Hemi. 
Our bell housing and TREMEC Magnum transmission would bolt up perfectly to the 6.4 Hemi. With more horsepower and torque than our previous motor, we would need some guidance to get the right parts. American Powertrain is going to brew up a clutch and flywheel combo for the new motor. They offer a multitude of clutch and flywheels to withstand anything from 200hp to 1000hp. Our previous bellhousing and Hydramax kit will still be used with the new motor.
Fitting the motor between the fenders will be tight but doable; our issue was how to make it run and feeding it enough fuel. A quick call to Holley solved all of our worries. They have multiple options for engine management (which we will dive into later) for the 6.4 Hemi. They also offer Sniper EFI tanks that are factory replacement fuel tanks retrofitted with EFI pumps and baffles. Since the tanks are factory tanks the installation would be straight forward. Holley also offers a few other parts for the Gen III Hemis that we will go over later. 
Since we needed a new wiring harness for the motor, we decided it would be a good time to rewire the whole car. Over the years we have spliced into the factory wiring many times and partially surprised we have not needed to rewire it sooner. We turned to the experts at Painless Performance wiring to see what they offered. They have a few different options for Mopars and were able to find a complete car harness. It would do away with our factory glass fuse block and give us a compact mini fuse block with plenty of fuses for all of our accessories.  
More power will push Orange Crush down the track faster which is great but, coming to a stop might be more difficult. We called the guys at Baer Brakes and they agreed that going fast is great but being able to stop is just as important. They recommended their 14" Pro+ kits for the front and rear of the Dart. They will bring Orange Crush to halt faster than ever.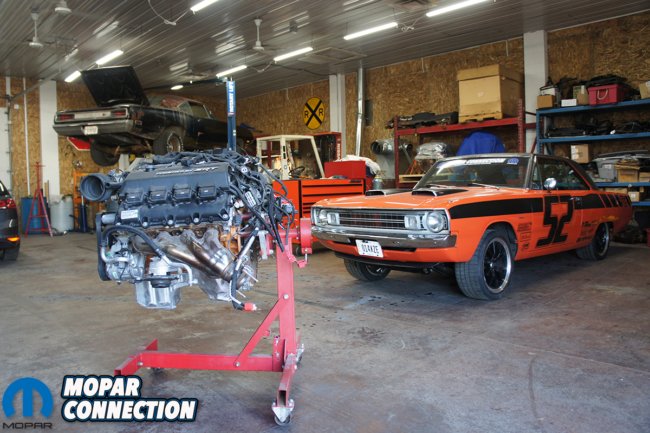 Along side all of the hard parts, Red Line Oil products and Meguiar's offered up some products for the overhaul. Red Line Oil engineers high performance fluids for everything under the sun. Orange Crush will be using only Red Line Oil products from the motor to the differential. We are excited to see the increased performance of switching to Red Line Oil. Of course we want to keep Orange Crush looking its best at all times and Meguiar's knows exactly how to do that. 
The popularity of Gen III Hemi swaps are starting to become the viable and cost efficient option. Just a couple of years ago you needed a dedicated custom shop to do the swap; now with the increased of aftermarket parts you can do the swap in your garage at home. Save that money from paying someone else and follow along as we give you the recipe for a home-brew Gen III Hemi swap.
Over the next couple months we will be diving deep into all aspects of the motor swap from suspension, wiring, fuel and more. With help from Holley, Reilly Motorsports, American Powertrain, Milodon, Baer Brakes, Red Line Oil, Meguiar's and more, Project Orange Crush will be better than ever. Start looking for your Gen III Hemi now because after we show you how easy it is, you will be yanking that ancient boat anchor from under the hood in a hurry.