Admittedly, updates on this project car ground to a halt around the same time we discovered that our 1970 Super Bee was so cancer-riddled that simply replacing some floorboards and patching a few panels wasn't going to return this B-body back to the road.
A lifetime of freezing Ohio winters and their salted roads had done in our Dodge. A final assessment showed the roof, doors, fenders and sub-frames were anywhere between salvageable to solid. But pretty much everything else was scrap. If you had asked, we would've told you that ZomBEE was a goner.
All but decided to part out what little we could, we put up a poll on our Facebook page: "Should we scrap ZomBEE or double down and rebuild it?" The answer, much to our chagrin, was a resounding save it! Unfortunately, such a task was well beyond our skill set and budget. We would need help.
Twice we put out the "cattle call" for any persons or shop skilled in heavy-duty rust and structure repair to give us a call. We had already reached out to The AMD Installation Center who simply couldn't tackle the job – at least any time soon. They were booked solid for the better part of a year.
Worst of all, the one-year styling of the 1970 Dodge Super Bee made finding new sheet metal all the more difficult. Auto Metal Direct reproduces pretty much everything for 1968 and 1969 Coronets, but the uniqueness of the '70 made finding quarter panels, a deck lid, and rear tail panel exceptionally difficult.
Thankfully, Bill Crabtree at AMD Installation Center and President of Classic Muscle Metal, offered a possible compromise: "Why not cut the side scoops and trailing edges from your '70 quarters, install a pair of new '69 quarters, and graft those parts in?" It sounded simple enough, we thought.
At the same time, an email came in from Dave Chamberlain of All Classics Restoration. Dave's name has been sprinkled throughout copies of Mopar Action over the years, having tackled near single-handedly the "Make a Wish Foundation '69 Charger" project, as well as decades spent bringing other cars back to life.
We got Dave on the phone and realized that he specialized in what he called "hopeless cases." He was perfect for ZomBEE. Admittedly, we tried to even talk him out of it but was adamant, "Yeah. It's doable. Just as long as you're not in a rush." We assured him that no we weren't, and we were good to go.
February was bitter cold and Dave's schedule made it too tough for us to drag ZomBEE out to his Statesville, North Carolina shop. In the interim, we tried our best to map out all of the sheet metal we'd need from Classic Muscle Metal. Gratefully, Bill was more than helpful.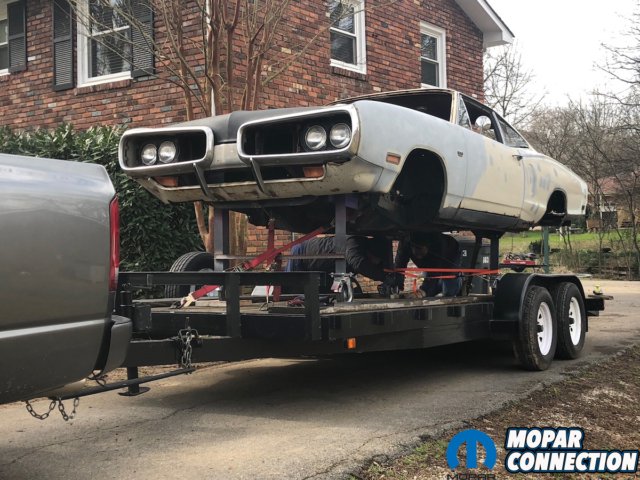 "You've got a new trunk pan, floors, a firewall and package tray; but you don't have trunk extensions, the Dutchman panel, rear cross member or quarters," Bill listed. "You also need both inner and outer wheel tubs to go with your US Car Tool mini tub kit." We were planning on running some wide tire, after all.
Months earlier, I had put out an SOS on the 1970 Dodge Coronet/Super Bee Group on Facebook looking for a replacement tail panel. The answer came back in less than 24 hours. "I'm parting out a 4-door. It's all yours. How much of the quarter do you need me to include with it?"
That's right. We'd have a new, rust-free tail panel already connected to several inches of 1970-specific quarter panel. Somehow, things were coming together faster than we had expected. Then came the call from Dave, "Hey, if you're ready to tow it over to my shop I just made room."
Temperatures were still in the high-30's when we loaded ZomBEE on Mopar Connection's Tech Editor Mike Wilkins' trailer. Riding high on angle-iron struts and solid-rubber 6-inch casters, the Coronet was a ungainly sight, particularly as its grille-less snout filled our truck's rearview mirror.
A lingering winter left the trees bare and the red clay muddy, but we wove through the grove to Dave's shop some 8 hours later. He greeted us with a big toothy grin from behind a salt-and-pepper mustache, slapping the dangling quarter skin as it flapped freely.
All too happy to get out of the driver's seat and stretch our legs, Dave already began digging through what we had. Besides the first wave of fresh sheet metal, he spied our flat VFN Fiberglass pin-on hood. "What do you want to do with that?" he questioned, thumbing at the hood from over his shoulder.
"We wanted to hold it down with factory A12 hood pins," presenting the rear brackets. "VFN provided a A023 Hemi Dart scoop to go with it, but there's another option," we teased. We had already talked to Charged Motorworks out of Irvine, California, about their aftermarket Demon hood scoops.
"What would you say about grafting a Demon hood scoop to a 1970 Dodge Super Bee fiberglass hood?" he questioned. Dave cocked an eyebrow. "Yeah," he commented, clearly thinking the idea over in his head, "That might work. It'll definitely be different…"
Unloading the Super Bee took far less than loading it, rolling it down the ramps and into an open spot on the driveway. The rest of the sheet metal was stacked neatly in a shed behind the shop. With that, Dave motioned across the yard to a gray primered '68 Coronet 500, and asked, "Wanna grab lunch?"
The primered B-body is a time machine back to the mid-1980s, replete with "bean hole" slot mags wrapped in white-letters-out Coopers and even a faded parking pass for a junior college Dave once piloted the Coronet to everyday for class. The new(ish) bumble bee stripe and dual scoops were its only flair.
Despite the cold air being left outside, the 500's 440 growled evenly as Dave rowed the manual 4-speed. He rattled off a Reader's Digest summary of the car's history, different engine combinations, aspirations for future upgrades, and even shrugged about its primered state, "Cobblers' kids go without shoes."
After a sandwich, Dave was intent on showing me around the nearby performance shops and restoration houses, many of which he either helped work at, pitched in time and again, or simply was on really good terms with the owners. This was going to be a whistle-stop tour of North Carolina's car scene.
First on the list was "Our Dream Restorations" out of Mooresville. Dave helped build the shop a few years back, having personally build and restored many of the late-owner's private collection. A blown Deluxe, a '68 Hemi Coronet R/T, and a Max Wedge Plymouth jumped out of the crowd.
Other notables included a ACR Viper, a wicked resto-mod '73 Challenger sporting a stroked G3 Hemi, a drop-top Barracuda and another '73 E-Body, a 'Cuda this time – the latter two being stowed outside beneath an open air shed.
Next, knowing that ZomBEE was destined to receive a full TVS kit from Hotchkis Sport Suspension, we skirted over to Hotchkis East. Hotchkis remains one of the only performance suspension component manufacturers that retain the factory Chrysler torsion bar/leaf spring configuration, which we appreciate.
Inside though, was mainly Chevrolet on tap. A fresh batch of laser-cut, TIG-welded control arms had just been completed. We also eyed their incredibly trick '69 Camaro SEMA build atop their chassis table. Lastly we scoped out a super-custom LS-swapped Checker taxi cab belonging to a foreign diplomat.
Although not our last stop of the day, our next was definitely the most significant. As we walked passed through the doors of Creations by Gemza, we stepped directly into a Mopar fever dream. The front office is plastered with framed reprints of magazine articles on Gemza-build cars and interviews.
Family patriarch, Mike Gemza was more than happy to give us the tour, and personally walk us through every inch of their Denver, NC facility. There was so much stuff to see that frankly, it wouldn't be fair to cram it into this story, so look out for a special feature article on our visit in the coming weeks.
It wasn't shortly after returning home from All Classics Restorations that we got the call from Classic Muscle Metal that all of ZomBEE's remaining sheet metal was ready for pickup. So only a few short weeks after leaving ZomBEE with Dave, we repeated our trip down to Cleveland, Georgia to see Bill.
Sharing the same roof with the AMD Installation Center, Bill helped load our ol' beater '05 Ram with boxes of freshly stamped steel. In less than 4 hours later, we were off-loading everything inside of Dave's shop, taking up pretty much all of his floorspace, unboxing each item and looking everything over.
And there it is; how ZomBEE went from nearly being sent to the scrapper to receiving the biggest comeback since, well…the Comeback 'Cuda! We'll be providing monthly updates on the build from now on, particularly as we slowly start to reveal future plans and bring on new sponsors.
More importantly, together with Dave at All Classics Restorations, we're going to document how the everyday car guy can perform pretty extensive metalwork without the use of big dollar tools, welders and a chassis table. It'll truly be a home garage build that should really help a lot of you working on a budget.