Ask anyone in the car hobby what their dream car is and they'll be able to tell you right down to the smallest detail. Some find their dream car quickly while others spend years searching for the perfect one; such is the case for Amar Sidhu. "I'd been searching for this car since 1996 with no luck. I had exactly what I wanted in my mind but couldn't seem to find it," says Amar.
Finally, in 2014; Amar found what he had spent 18 years looking for. He recalls, "It was exactly what I wanted. A numbers matching FJ6 Sassy Grass Green '71 Plymouth 'Cuda 340." The car was located in Reno, Nevada; quite the distance from his residence in British Columbia, Canada. The 'Cuda was sold new in Reno and remained in the original owner's hands for most of it's life. Over the years, the Sassy Grass Green paint had been changed to a more common E-body color; purple. After four or so decades of ownership, the original owner decided it was time for her to put the 'Cuda up for sale.
A flipper of sorts picked up the 'Cuda and gave it a complete repaint back to it's original Sassy Grass Green. The beautifully contrasting white bucket seat interior was also given a full refresh. Over all of these years and various repaints, the car has managed to retain it's original white vinyl top as you see it today. Once the paint and interior refresh was complete, it was once again put up for sale where Amar came across it and knew it was the one.
He says, "I knew I had to have it but I wanted to make sure it was legit. I left a strong deposit on the car while I arranged for Dave Wise to personally inspect and authenticate it before I completed the purchase. Since the car still has all of it's original sheet metal along with the original broadcast sheet and two fender tags; it made Dave's job a lot easier. The seller was fantastic with remaining patient while that process happened."
Once getting the car home, Amar got to work making some minor changes to better suit his liking. To make the Sassy Grass Green paint pop even more, Amar added white billboard decals which look right at home with the white interior and vinyl top. "I modified the car to make it more comfortable to drive while keeping it looking stock. I drive it whenever possible and use it as much as I can; on long distance road trips, to the gym, work; you name it." The suspension was upgraded with QA1 parts. Inside, a tilt steering column and six-way manual driver's seat were added to further add comfort. While most would have to add air conditioning, Amar's 'Cuda came factory with it so it was a huge bonus.
Under the hood, the original numbers matching drive train was pulled and tucked away safely to make room for a stroked out 340. A different '71 340 was sourced and has been stroked to 416 cubic inches, produces 10:1 compression and has been fitted with a COMP camshaft, hydraulic lifters, roller rockers and Edelbrock Performer RPM cylinder heads.
Up top sits a Quick Fuel Q-Series 850 CFM carburetor and an Edelbrock Performer RPM intake manifold. The stroker breathes thru TTI headers feeding into a full 3-inch TTI X-pipe exhaust and stock E-body exhaust tips. It's kept cool by a Be-Cool aluminum radiator and electric fans. Amar tells us that it produces around 500 horsepower and 540 ft-lbs of torque. Quite the rocket for a small block!
Backing the stroker is a 727 Torqueflite automatic transmission that has been upgraded with a Stage 2 shift kit and 3000 RPM stall converter. It's backed by a factory 8 3/4 rear end fitted with a Sure-Grip 489 case third member and 3.91 gears. It rides on 15×7 Rallye wheels on all four corners wrapped in BF Goodrich Radial T/As; 245/60R15 up front and 255/60R15 out back for a slightly staggered appearance.
With the exception of the added white billboards, the exterior of the 'Cuda is basically how it left the factory. Options include the color-keyed front grille, color-keyed dual racing mirrors, fender mounted turn signals and road lamps. It's actually refreshing to see the dual scooped hood versus the optional Shaker hood. Don't get us wrong, we love Shaker hoods but the bulk part of 'Cudas (and especially replicas for that matter) have Shaker hoods.
On the inside, you'll find the stunning white and black bucket seat interior that was re-done before Amar purchasing the car, as mentioned. The interior is pretty typical 'Cuda equipment with the exceptions of the optional Rallye instrument cluster and center console. Amar tells us that he is planning on adding a Rimblow steering wheel in the near future.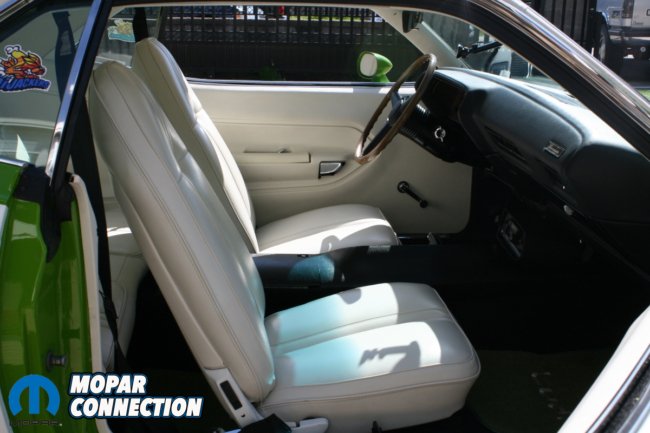 "I love the looks of the Rimblow, I always have. I managed to find a really nice condition original unit but it was missing the center cap. I ended up purchasing another Rimblow that wasn't in as-nice condition but had a mint center cap so I now have a really nice wheel for it."
He tells us, "They're built to drive so I do. I don't understand the point in just collecting them and staring at them without ever driving them. What's the fun in that? I'm not afraid of nicks or dings. It just adds to the history of the car. One of my friends had seen all of my pictures of me with the 'Cuda in various different places and said to me, "It's all about the miles and smiles!"; that really stuck with me."