Mopar's new Hellephant crate engine has put everyone into a drooling daze, but one thing a lot of people haven't thought about is how to get all of that power to the pavement. A run-of-the-mill 833 4-speed or 727 automatic is probably going to puke up a mess of metal-flaked fluid and chipped teeth the first time you put the hammer down on the Hellephant's 950 ft-lbs of torque.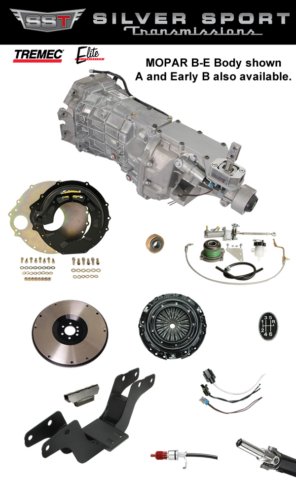 Silver Sport Transmissions (SST) can get your newfound pachyderm marching down the road with a Tremec 6-speed Magnum transmission package. Kits designed specifically for the Hellephant are in stock and ready to ship for Mopar A, B, and E-bodies.
Front to back, their kit is one of the beefiest and most complete available. A QuickTime SFI scattershield is included to safely enclose SST's Advanced Friction™ flywheel and Advanced Friction™ dual-disc clutch. Actuating that heavy-duty dual-disc is a hydraulic clutch kit with a Wilwood master cylinder.
The centerpiece, of course, is the Tremec 6-speed with an STX™ short throw shifter. And don't forget that their PerfectFit™ system means this kit will work with your factory floor console as well. Further back is an SST-designed crossmember that works perfectly with the stock torsion bar crossmember.
A Dynotech driveshaft gets it all to the rear wheels. Other kit components include a new pilot bearing, all of the necessary hardware, and complete instructions with step-by-step photos.
SST also offers pedals, shifter handles, shift boots, trim rings, and shifter knobs as options to complete your install. Be sure to call them at (865) 609-8187 before ordering to make sure you get everything you'll need to take the leap into the world of four-figure horsepower