When it comes to 1970 Dodge Chargers, it's safe to say Bill Woessner has the market cornered on them. With a large collection of 1970 Charger R/T's in his garage, Bill can admit he's just a little obsessed and he has every right to as his passion for 1970 Chargers dates back to 1978!
"In 1973, my father was graduating high school and purchased his first 1970 Charger. It was an SE model with a 383, B5 Blue inside and out and finished off with a black top. He traded up to the '70 SE from his previous '68 R/T 440 4 speed which was tired and suffering rust issues from the harsh Pittsburgh winters. My parents dated for years in this car and ended up getting married in 1976 using the Charger in the middle of a February snow storm. At that time, my father started his career with the local electrical company and as the money got better, he started looking for another Charger," says Bill.
He continues, "In 1978, Hemmings Motor News was the best resource to find a muscle car so every day on his lunch break, he would be talking with the guys about their findings in Hemmings. At that time, my dad was 22 and his first son (myself) was on the way and expected in early March so he knew he had to find a car before I was born or chances were slim of him financially being able to buy a car any time soon."
In February 1978, Bill's father came across an ad for a 1970 Charger R/T 440 4 speed for sale in Virginia. It appeared to be rust free and the seller stated he had bought the car from the original owner who was a technician at the local Dodge dealership in Lynchburg, VA. After a few phone conversations, Bill's father decided to book a one-way plane ticket from Pittsburgh, PA to Lynchburg, VA to check out the Charger. The seller met Bill's father at the airport and picked him up in a brand new 1978 Camaro Z-28 he had just bought. As it turns out, he only had the Charger for a short time and decided to part ways with it after he bought the new Camaro and a used Challenger R/T convertible.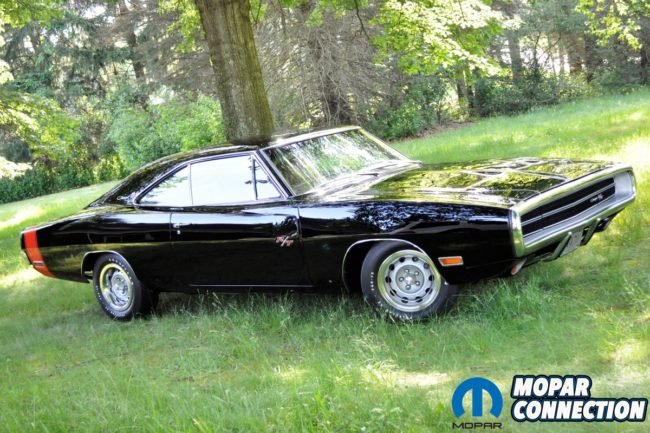 When they arrived at the seller's house, Bill's father quickly spotted the Charger sitting beside the barn wearing black paint and custom added gold accents. It had a flat front tire, dead battery and the headlight doors were stuck open. Following a quick inspection, Bill's father determined the body was super clean as advertised and once they jump started the R/T, the sound of the high compression 440 Magnum stuffed with an aftermarket camshaft and headers came to life. At that point, Bill's father was absolutely sold on the car so they filled the tire up, he paid the $1,000 asking price and he was on his way back to Pittsburgh behind the wheel of his new Charger. The 7 hour drive back to Pittsburgh allowed him to get familiar with the car and he didn't shut it off the entire ride due to the dead battery. According to Bill, his dad made it all the way home without any issues and as he approached his street, he apparently fell asleep and almost took out the neighbor's fence!
Shortly after in March 1978, Bill was born and the Charger would be used for just weekend joy rides and occasional summer trips to work. A set of Keystone Klassics were added in 1981 as well as air shocks and a Go-Wing from an E-body that his friend sold him at work for $5. "I have great memories of my brother and I in the back seat cruisin' and every time we would go for a "Charger Ride", we'd wear our General Lee T-shirts and have our cool "Bo Duke" sunglasses on. We went on many trips to the local ice cream stand and local parks to enjoy the beautiful weather while at the same time, my dad got to enjoy his Charger. Occasionally, Mom wouldn't want to go so it was just dad and I tearing up the streets in the Charger while I was sitting shotgun. After a while, I was able to start sitting on his lap shifting the pistol grip shifter but those stories were kept top secret from my mom!" recalls Bill.
"As the years progressed, life got chaotic and 3 more siblings were added to family in addition to a few other 1970 Chargers but the TX9 Charger R/T always remained my favorite. Sports, motorcycles, quads and other childhood activities couldn't come close to the enjoyment we experienced with the Charger. Not a year went by where we didn't at least fire it up and take it for an ice cream cone once or twice. The Charger got very little maintenance but growing up, I always kept it dusted off and I always made sure the L-60 tires were freshly Armor All'd before we took it out," says Bill.
Fast forward to 1994, Bill's parents got a divorce and at that point, he was in high school and beginning to drive. Bill tells us, "Dad let me use the Charger in a local 4th of July parade and at that point I was really transforming into a gear head. I would sneak the car out for an occasional joy ride not knowing it wasn't insured, inspected or registered. It didn't take long for Dad to hear from the locals that his Charger was out cruising the streets. One night shortly after, I came home from work and the car was gone; hidden away where I couldn't touch it. It was the last time it saw daylight for many years. This was a traumatizing event for me but life continued on. Around the same time, my grandparents gave me a loan for an '88 Shelby Z Daytona so I started modifying it with some wheels, window tint and a killer stereo system. That lasted a few years and I began taking it to local car cruises to temporarily appease my appetite for a '70 Charger."
In 1996, Bill graduated high school and his friends started buying V8 powered muscle cars. Knowing he had to have a V8 too, he jumped into the 5.0 Mustang scene and over the next several years while in college, he built a 10 second Mustang street car but the thought of having a '70 Charger never left his mind. "The Mustang served its purpose for the next 10 years while getting married, building a home and starting a family of my own. Finally in 2007, I began the search for my first Charger. My family dynamic with my dad wasn't the best over that last 10 year period but once he heard I was on the search for a Charger project, he jumped on board with helping me find one," shares Bill.
He continues to say, "We made several trips to surrounding Mopar shows looking at basket case Chargers that were in my price range but my dad thought I was crazy buying something in such poor condition. After we looked at a very rough Plum Crazy Purple '70 R/T with no floors, quarters and only half a roof, he told me to call him later that week to talk about what we were going to do next. At that time, Dad's Charger had been stuffed away in storage for 18 years and hadn't moved much. He had found other hobbies and didn't have much interest in the old B-bodies anymore but he was open to getting it out and running to make it usable again."
"In October 2007 on a Wednesday night, I stopped by after work to see if the old 440 would start. I primed the oil pump, checked the fluids, dumped 5 gallons of gas into the original fuel tank and primed the carburetors. With a turn of the key, the old 440 came to life and didn't miss a beat. The master cylinder needed to be rebuilt but overall, the car was as solid and together as the day he bought it almost 30 years prior. My dad's goal was to get the car road worthy and inspected but I had other plans with it and the money I saved to purchase a Charger for myself. Dad was heading out of town for work for 4 weeks so before he got back home, I had the Charger stripped down in my garage and a refresh was under way," recalls Bill.
To make sure it went back together properly, Bill bagged and tagged every single nut and bolt. The factory undercoating was scraped off by hand and not a spot of rust was found on the entire undercarriage. The numbers matching 440 was removed and rebuilt to factory specifications by a local machine shop with the exception of having a mild camshaft and ported 906 heads added. The added Six-Pack carburetors were restored by Scott Smith and once returned, Bill assembled the entire long block in his garage. He also went to work resealing and detailing the original A-833 4 speed and original 3:54 Dana 60 axle; both of which were still in excellent shape. Each part was detailed to original specifications and all of the hardware was redone to replicate the way they looked when they were installed on the car in the St. Louis assembly plant back on April 13th, 1970. The underside and engine compartment were sprayed in a fresh coat of PPG TX9 Tuxedo Black and then followed by a meticulous assembly over the next several months.
By Spring 2008, the R/T was up and running again and sounding better than ever. A set of Magnum 500s and BFGoodrich Radial T/As were installed and the car was enjoyed that year wearing the original mid 1970s era black and gold paint job that was done by the original owner who was a huge Pittsburgh Steelers fan. The car made its debut at the Mopar Nationals in 2008 and was a huge hit with that paint scheme. By winter that year, Bill decided it was time to get serious about painting the car back to it's original style finish and wrapping up the other odds and ends that weren't previously touched. The R/T was disassembled and stripped to the bare metal where only a few minor dings and dents were found. Bill is proud to say the Charger retains all of its original sheet metal and has never had any rust or patch work performed!
Dave Zang, a local retired body shop owner took on the job of respraying the Charger in a fresh coat of TX9 Black. Ten days later, Bill got the car back and immediately began assembly. The original stainless was quickly polished and re-installed, the original glass was re-used and all of the original interior was re-installed with the exception of new carpet and a new driver's seat bottom. Bill meticulously detailed the heater box, gauge cluster, pedal assembly, steering column and so-on. All the factory markings were retained and replicated and by the end, every component was restored to show quality and the car was once again ready to hit the road by the Spring of 2009.
In closing, Bill says, "Over the next 7 years, I've continued to perfect the restoration as this '70 R/T has a huge spot in my heart and will be with me forever. It's not very often where you find a muscle car in as good of shape as this car was. I have friendships with all of it's previous owners before my dad and many great stories have been shared highlighting the cars history. I restored it back to it's original condition and options. It came from the factory wearing TX9 Black paint with tan interior and a red bumblebee stripe. A rare combination for sure! Options included power disc brakes, power steering, AM/ 8 Track radio, A33 Track Pak, A01 Light Group, center console, front bumper guards, 15" Rallye wheels with F-60 Goodyear Polyglas tires, 3-speed wipers, hood pins, woodgrain steering wheel and a Tic-Toc-Tach. According to Galen Govier, non-vinyl top Chargers were unique in 1970 and only two other black examples have been documented besides mine. It's also the only documented 1970 TX9 Black, 4 speed non-vinyl top car with saddle interior in Galen's registry."
"Regardless, it's not going anywhere and will eventually be handed down to my son. I just hope he appreciates and respects it as much as I have. This restoration was completed on a tight budget but the end result was far more than anyone had ever expected. I'd like to give a special thanks to my dad for saving the car from the harsh NE winters for all those years and for the help my brothers provided in bringing it back to life. It was a true family affair and since this one has been completed, I've added 4 others to the garage so now we have a mix of survivor and restored cars including R/Ts, S/Es, 4 speeds, automatics, Six Packs, a sunroof and even one with A/C!"