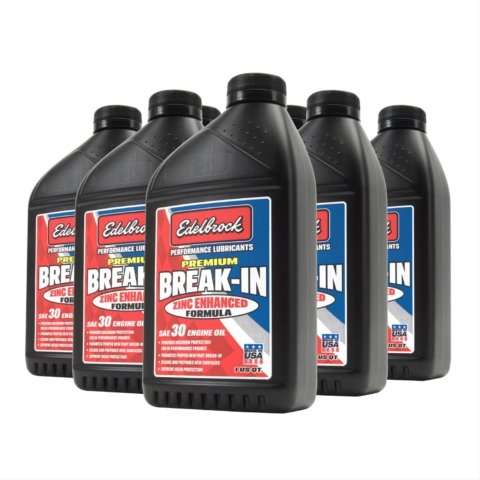 You might have guessed but Edelbrock knows a thing or two about engines. Whether its fuel injection, carburetors, valve train, crate engines, etc. They understand that the bolt on parts will make you go faster but proper break-in and Zinc content could limit the longevity of your engine. To help their customers during engine rebuilding and start up, they have formulated a break-in oil, oil supplement and gasket sealer for maximum performance.
Firing up that newly rebuilt motor and hearing unwanted noises really sucks. With Edelbrocks 30w Break-In oil offers high zinc content to ensure proper separation of all critical mating surfaces providing a protective layer for camshafts and valvetrain components during the break-in process. The most important moment of any engine is when its first fired up.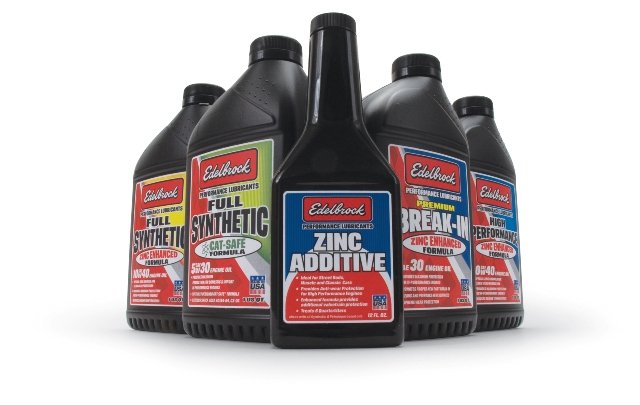 Once your engine is properly broke-in and it's ready for your favorite brand of oil, don't forget to add in Edelbrock's Engine Oil Supplement with Zinc additive. Safe to add to any motor oil, the special formula includes zinc, phosphorous and moly for extra wear protection. The additive is ideal for classic cars with flat tappet camshafts.
Whether your rebuilding an engine or just installing your favorite Edelbrock manifold, be sure to have a can of Edelbrock's Gasgacinch handy. Gasgacinch assures proper sealing of water pumps, oil pans, manifolds and other components. Its oil and water resistance is perfect for all your sealing needs during a rebuild or installation of a new oil pan or manifold.
Quit guessing at what oil to use or trying to find the best gasket sealer and head over to Edelbrock's website. They have done all the r&d only for us to benefit from. You didn't cheap out on performance parts or machine work so why should you try and "get by" with inferior products. Give your engine what it deserves and use what the pros use.