It was February 2006 and Michael Matteson from Wisconsin set out to purchase a rust free 1970 Dodge Challenger SE with a 318 that he had come across that was for sale. The car had been sitting since the '80s with a blown engine and was perfect to build a Hemi clone out of as Michael wanted to do. He shares, "It was an interesting trip. I purchased the Challenger but also came home with two 1970 Plymouth Barracudas that I couldn't turn down. I soon realized that I had to decide which was going to be the next project."
However, before he made his decision, he attended the Car Craft Nationals in St. Paul, MN in July 2006. As fate would have it, during a discussion with a friend that he bumped into, his friend mentioned that he had another friend who had a 1970 Challenger sitting behind his shop that he might sell. He told Michael that this Challenger was a factory U-Code 440-4 speed Dana Track Pak car and that it was FE5 Bright Red with black bucket seat interior and it was a stripe delete car.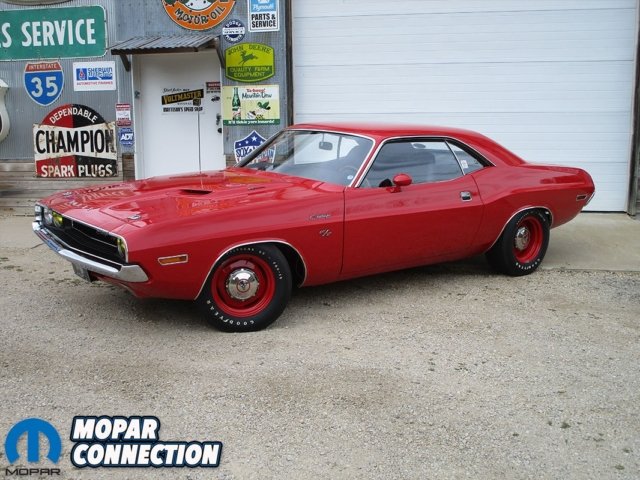 "I was told that it was one of 916 built and it had less than 50,000 miles. The Challenger was torn apart to fix a valve problem in the engine before getting put on the back burner. I decided to go take a look at it and had to have it so a deal was made. After multiple trips to get all of the original proper parts to go along with it, my decision on which car to restore was made. I would restore the Challenger R/T using the rust free Challenger SE for parts and sell the two 1970 Barracudas," he says.
The Barracudas were quickly sold and Michael got to work restoring the Challenger. The SE donated the doors, fenders and everything else needed for the restoration right down to the bolts, screws and clips. As an auto body shop owner of Century Ave Collision in St. Paul, MN, the body and paint tasks were no problem for Michael. Once the body work was completed, the Challenger was sprayed a fresh coat of PPG FE5 Bright Red. All new glass with correct date coding was installed and all of the stainless bright work was polished and restored.
The numbers matching 440 was bored .30 over and stroked to 512 cubic inches by Wheelers Engines in Blaine, MN. A Melling hydraulic camshaft and Manley Performance platinum series pistons were installed and the factory 906 cylinder heads were upgraded with hardened seats along with JPW and Melling parts. Providing fuel to the engine is done with an Edelbrock 800cfm carburetor and a Mopar electronic ignition provides the fire. Everything breathes through factory HP exhaust manifolds that run into a factory correct reproduction exhaust system from ECS.
Backing the 512 is the numbers matching 18-spline A833 Hemi 4-Speed that has been rebuilt and fitted with a McLeod clutch. The 3.54 geared Dana 60 was also rebuilt to factory specifications. Underneath, the factory suspension has been rebuilt with PST bushings and the factory power steering was rebuilt with Firm Feel parts. Braking is done with upgraded power front disc brakes and factory drums out back.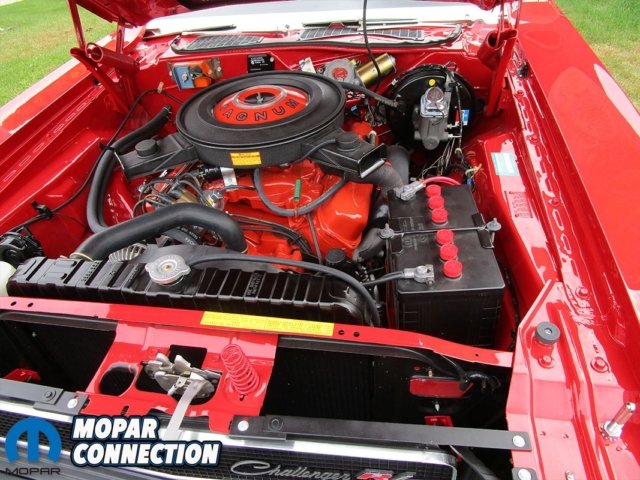 The original 14" steel wheels were upgraded to 15×7" out front and 15×8" out back. The wheels are wrapped in Goodyear Polyglas GT tires (F60/15 out front and G60/15 out back) and the original poverty dog dish caps were restored. On the inside, the black bucket seat interior was fully restored with fresh parts and the gauges were restored by APT Instruments.
Michael tells us, "As my plan from the start was to drive this car, I decided to do a few drivability updates during the restoration such as upgrading the front brakes to disc and installing the different carburetor and electronic ignition. That being said, there is not a nut, bolt or screw that I did not remove and restore during the restoration. Honestly, I over restored it. I used to work at White Bear Dodge back in the day so I know how these cars came from the factory. The doors, windows, hood and trunk were never aligned properly and the paint quality was nowhere near this nice however I built the car like I would have built it back then. I have to give a special thanks to Billy Tucci and the rest of my crew at Century Collision. Billy is my go-to Mopar guy when my memory evades me."