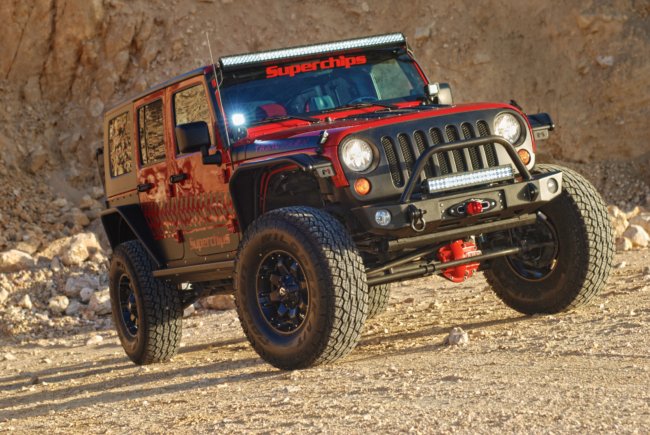 There is one thing that you grab every time you leave the house, and it is not your wallet or purse. Our phones have become the number one thing that we grab before leaving the house. We are guilty of this and often forget our wallet, but be assure we have our phone in hand.
Since we already have a phone with us all of the time and often use it for music and GPS, why would we want to carry another device to calibrate our Jeeps? Owning a Jeep Wrangler or Gladiator, you know that space is very limited. That is why Superchips Flashcal+ is the perfect calibration tool for your 2007-2023 Jeep Wrangler or Gladiator.
The Flashcal+ uses the latest in Bluetooth technology to connect their small OBDII dongle to their Flashcal+ app on your smart phone, The Flashcal+ app is available for both Android and Apple devices.
Once the Flashcal+ dongle is paired with your phone, you will be able to make on-the-fly adjustments and see live data right from your smart phone. The Flascal+ app will also give you access to Superchips CRAWL screen where you can adjust idle rpm, lock and unlock sway bars, adjust TPMS points and much more.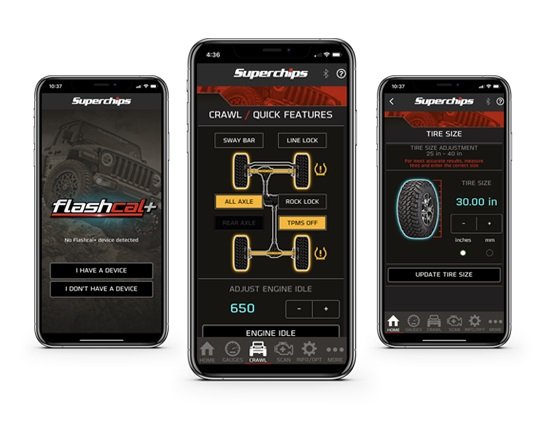 You will be able to calibrate your Wrangler or Gladiator for tire size changes, TPMS threshold, Auto Start/Stop disabling, customize gauges for live data, adjust daytime running lights, and much more. You will even be able to read and clear Check Engine Lights with the Flashcal+.
Whether you are putting on larger tires, disable the Automatic Start/Stop, or just want the ability to read and clear Check Engine Lights, the Superchips Flashcal+ is for you. This is one accessory that every Jeep Wrangler and Gladiator owner should have.