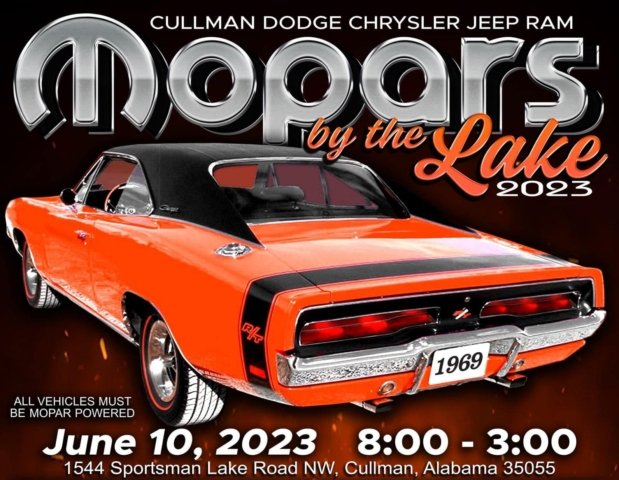 Car show season is in full swing, although some of us have not gotten our precious Mopars out of storage yet. This week would be a great time to dust that classic Mopar off and get ready for the weekend, especially if you are anywhere near Cullman, Alabama.
This weekend, starting Friday night, the Pentastar South Car Club and Cullman Dodge Chrysler Jeep Ram will present Mopars by the Lake. The main show is all day Saturday June 10th, but you are welcome to also attend the pre-party at Brenda and Robert Allison's home Friday.
The show is located on the edge of Sportman Lake with nice big shade trees to keep cool. The forecast is showing no signs of rain and will make for a beautiful weekend. We cannot think of a better setting for a day of fun with Mopars.
The main event is held Saturday June 10th, 2023 from 8am to 3pm. You can still early register for $25 or pay at the gate for $30. You can also pre-order your event t-shirt for $15 or pay at the show for $20. It is required that your vehicle is Mopar powered to get in the show.
There will be an unveiling of Bobby Allison's Airplane and a chance to meet the Alabama Gang. The show will be part inside and outside with American and Cajun food on the premises.
The show will offer 50 top awards for show attendees. If you are unable to attend the show during the day, feel free to come join the Saturday evening cruise in and concert at the park.
The Pentastar South Car Club and Cullman Dodge Chrysler Jeep Ram help put this show on because they love Mopars, but also to help benefit Secret Meals For Hungry Children. All of the proceeds of the show will be donated to help kids eat.
You can find all of the details on the flyer. The show will take place at 1544 Sportsman Lake Road Northwest, Cullman, Alabama 35055. The pre-party will be at a different location and that info is on the flyer. If you have any questions about the show or attending, please reach out to Brenda at 256-590-2949 or Robert at 256-734-1064.