The year was 1972 and Dodge had rolled out their latest model year refresh of the third generation Charger. Down on performance and lacking heavy hitters such as the 426 Hemi and R/T trim package, the marketing folks at Dodge were working hard to sell cars. Hoping to help continue the solid selling trend of the Charger, they decided to once again roll out the "Topper".
The ad in the magazines were simple; "Since no car can top Charger for looks, we topped it ourselves with a free vinyl roof." It goes on to say "Dodge Charger Topper. Specially equipped with hidden headlights, side paint stripe, contour moldings, and bumper guards. Rallye dash with security inside hood release. And for adding these beautiful touches, your Dodge dealer can offer you a vinyl roof free, because Dodge gives it to him at no extra charge."
One day in February 1972 at the Hamtramck, Michigan plant, a particular GA4 Light Gunmetal Poly 318 powered 1972 Charger Topper began life. Once it was built, it was shipped to Lexington Dodge in Lexington, Kentucky where it was sold to a gentleman in May of that year. Twenty years later in 1992, the original owner decided the car needed a refresh so he sent it to a body shop to have some minor rust repair done as well as a full repaint in it's original Light Gunmetal.
Unfortunately, before he could get it home, he unexpectedly passed away and his wife was later tasked with bringing the Charger back home. From there, the Charger remained in the ownership of the wife and spent its days sitting in a house garage with the exception of an occasional trip down the road. After a few years it became too much of a chore to keep the battery up and the carburetor tuned and it sat for the next decade on flat Kelly Springfield Charger tires.
"During the childhood years of my life, I dreamed of owning a Mopar. More specifically I dreamed of owning an E-Body; a 1971 Challenger. Perhaps this affection for Mopars was born through my father owning a 1964 Plymouth Fury, 1969 Dodge Monaco and a 1971 Dodge Polara. However, life never presented the opportunity for the dream to be fulfilled. Finally, in 1999, I broke into the Mopar family by trading a Chevrolet truck for a 1967 Dodge Coronet two door hardtop. That Coronet was restored, sold and an A-Body was purchased. The little Plymouth was restored and sold and even though those two cars were nice they did not scratch the itch," shares Darrell Flannery of Kentucky.
In June 2007, a co-worker of Darrell's son introduced him to the owner of the '72 Charger. Darrell recalls, "The first impressions of the car were not great but after seeing how solid and original the car was, with 68,000 miles, I could see a lot of potential. Though it was not the E-Body I had always sought after, the price was much less than a hulled out Challenger; so we struck a deal and the Charger changed hands for the first time since it was purchased new. After replacing the battery, cleaning up the carburetor and airing up the old flat spotted Kelly Springfield Charger tires, I drove it home."
Darrell's vision for the car was to build something that he would have wanted in his teen years hanging out and running around with his friends. Although, he did not want to just stick air shocks, Cherry Bombs and M50s on it. Instead, the plan was to use aftermarket modifications to bring the look closer to the new millennium. The process began first by wet sanding and buffing out the 15 year old paint and hoping it was going to be nice enough to prevent another repaint. After many hours of work the old enamel paint came out brilliant.
That put the project way ahead so the next task was helping out the tired 318 after years of neglect under the hood. "I planned on driving it a lot so it had to be road worthy. The gauges were rebuilt by Auto Instruments and the clock was replaced with a tachometer from Charger Specialties. From all the years of sitting, a brand new fuel tank and sending unit was installed with parts from Dante's Mopar Parts," says Darrell.
Next up was the tires and wheels. He says, "The original pizza cutters had to go but I knew I did not want another set of Rallye or Magnum wheels. I wanted something different. My son had dealt with BOZE Wheels on a project of his own and so they were contacted to build some one off wheels for this Charger. I filled up the rear fender wells by narrowing the rear end housing 2.25" on each side and installing 18×10 two piece wheels under it with 295/45R18 Toyo Proxes mounted. For the front, 18×9 wheels were installed with matching 255/45R18 tires."
To give the Charger a more aggressive stance, a spring hanger and shackle kit from DoctorDiff was installed to lower the stance in the rear along with a slight adjustment to the torsion bars up front. A set of Sure-Grip 3.55 rear gears went in and the anemic 2.71 geared peg leg came out. A factory front sway bar was added as well as a Helwig rear sway bar. New rear springs from SD Truck Springs were installed and the entire front suspension was rebuilt with a full kit from Mancini Racing. To improve the steering, Steer and Gear rebuilt the power steering box and pump.
"During the Spring of 2008, miscellaneous mechanical items were addressed to get it ready for a trip to the Mopar Nationals. I had been wanting to replace the original front bench seat with bucket seats but factory bucket seats did not feel sporty enough. At the Nationals, I met with Rick Cheek of Pro/Fit Auto Interiors and we hashed out a design to install ProCar bucket seats with a custom covering in the style of the then recently released 2008 Dodge Challenger SRT8. The result was absolutely perfect and the back seat was covered to match. The dash pad and headliner still remain the original parts to this day however, the large original steering wheel was swapped out with a new leather wrapped Tuff wheel from B/E & A Restoration Parts," shares Darrell.
To further enhance the exterior of the Charger, an original R/T hood and tail lights were sourced from a 1971 R/T donor car in Canada. The hood was painted satin black and installed with lanyards and the tail lights went in place of the originals. Everything was finished off with a front chin spoiler purchased from Year One.
With the appearance of the Charger looking just right, it was finally time for Darrell to consider replacing the tired old 318/904 combination. To give the Charger more go, Darrell decided to go with a 5.9L Magnum built to appear very close to what an original small block would have looked like. A block from a 1995 truck was acquired then reworked, including a 0.04" over-sized bore. The block was filled in and finished out with parts all coming from Hughes Engines such as KB pistons, a Hughes .544" lift cam, 1.6" roller lifters and roller rockers. An Edelbrock Performer Air-Gap intake, RHS X heads and a Quick Fuel 680 CFM carburetor finished out the business end of the engine.
For the transmission, a donor A500 RE overdrive automatic transmission from a Dakota was procured to help hold down the RPMs since this build was meant to hit the highway for the Hot Rod Power Tour. The original air conditioning compressor was ditched and replaced with an upgraded unit from Classic Auto Air. This makes cruising home from the long hot Summer events much more enjoyable. After the drive-train build was complete, the car was put on a chassis dyno on one of the Power Tours and it pulled right at 300 horsepower and 350 lb-ft. of torque at the rear wheels. On the quarter mile, Darrell says it runs an average of 13.9 seconds and 100 mph.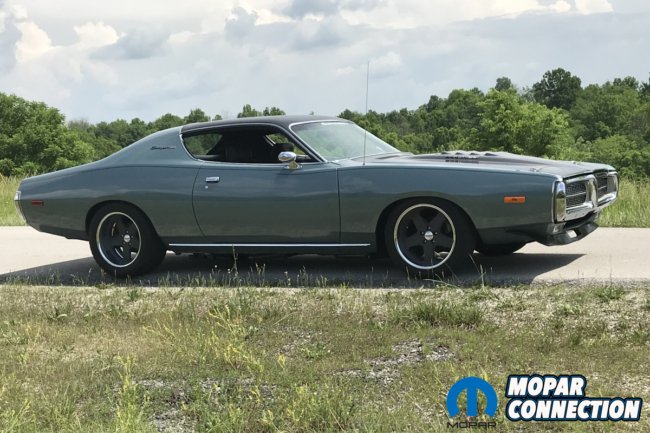 After driving the car for seven years without any change, the time came in 2018 to up the Charger's game and make driving it even more fun. The automatic Dakota transmission was yanked during the winter of 2018 and replaced with a Tremec TKO 5-speed manual from Silver Sport Transmissions. At the same time, Dr. Gas was contacted and a set of Boom Tubes were installed behind a set of cutouts made by DMH Performance.
Darrell shares, "Even though it is not the E-Body I've always wanted, I can truly say that my Charger has brought a lot of fun and excitement over the past 12 years. It is a great street car that has never failed to do what I have asked of it. It has been driven to seven different states and sometimes run down a track or put on the dyno once it has gotten there. According to the 1972 sales brochure, this Charger may have started life as a car for those "comfort-seekers" of the day. That may be true but this "family" car has been transformed to one for thrill-seekers. The future no doubt will bring more changes to this street cruiser but for now it has all the looks and attitude to appeal to most hot rodders."