With such enormous aftermarket support for the Jeep Wrangler JK, it can be hard to decide where to start when shopping for simple, performance-enhancing bolt-ons. ExtremeTerrain took some of the guesswork out in a recent edition of Throttle Out in which Merideth Evasew reviewed her top five first mods.
Teraflex 3" Base Suspension Lift Kit with 9550 VSS Shocks
Performance suspension with a touch of lift is at the top of the list. "The Teraflex kit is the perfect blend of off-road ability as well as being comfortable for on-road performance," says Meredith. An estimated 5-hour installation time makes it a perfect Saturday upgrade.
Mammoth Boulder Matte Black Wheels & Dick Cepek Fun Country Tires
Wheels and tires are the obvious next step after a lift. "This Dick Cepek Fun Country tire will have a pretty aggressive tread for an all-terrain, giving it an aggressive look, but it's going to have large lugs that are relatively close to that quietness and normal wear on the street," Meredith explains. Matte black rims from Mammoth look mean and should last for a long time with their powder-coated finish.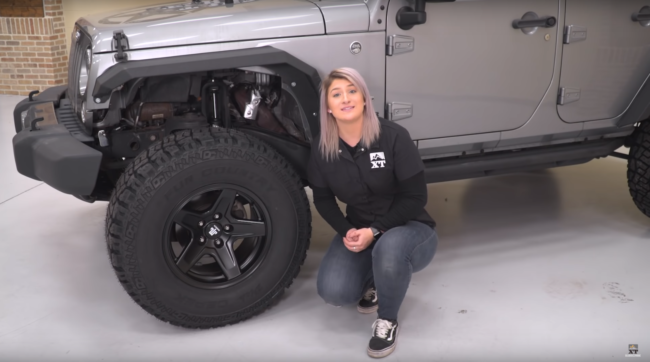 Red Rock 4×4 Side Armor
Increased suspension abilities and 35" tires are going to get you into some precarious situations, so side armor is sure to come in handy as protection while also acting as a step. "These specific steps will have some side and under-body protection for any of those lower obstacles on the trail and will really be able to protect your rocker."
Iron Cross Fender Flares
Fender flares also add both form and function. These, from Iron Cross, are made of durable 12 gauge steel with a powder-coated finish. "If this ever does take a hit, instead of the plastic fender cracking, bending, or breaking, these are going to hold their own."
Injen Evolution Cold Air Intake with Dry Filter
The added weight and big rubber will thank you for a little pick-me-up under hood. A cold air intake is a quick, easy way to get back a few MPGs as well as add few horses to keep those big Cepeks churning.