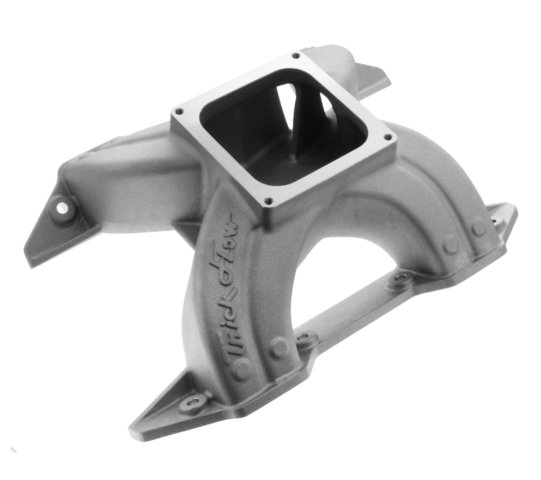 Get ready to unleash the full potential of your 440 engine with Trick Flow's R-Series Intake Manifold for Mopar 440-based engines. With its CAD-optimized design, you can expect nothing but the best when it comes to smooth airflow and equalized air and fuel distribution.
This high-performance manifold is specifically designed to make peak power in the 3,500-7,500 plus RPM range, giving you the ultimate power and performance you crave.
One of the standout features of this intake manifold is its aluminum construction which not only keeps the weight down but also ensures durability and longevity.
Trick Flow has gone above and beyond to eliminate excess material wherever possible, making this manifold as light as possible without sacrificing performance. However, there's still enough material around the port openings so that the manifold can be port matched and fully ported, giving you even more customization options to suit your specific needs.
The attention to detail in this intake manifold is truly impressive. Each runner is designed as a one-piece single plane runner, further enhancing airflow and optimizing performance. The integral bosses in each runner can also be drilled if desired, allowing for further customization and fine-tuning.
Whether you're hitting the track or just want to add some serious power to your Mopar 440-based engine, Trick Flow's R-Series Intake Manifold is a game-changer. Its CAD-optimized design, lightweight aluminum construction, and attention to detail make it the ultimate choice for those seeking peak power in the higher RPM range.
Take control of your engine's performance with Trick Flow's R-Series Intake Manifold. Don't settle for anything less than the best – upgrade your engine with Trick Flow's R-Series Intake Manifold and experience the thrill of unmatched performance. Find your's at Summit Racing Equipment today.