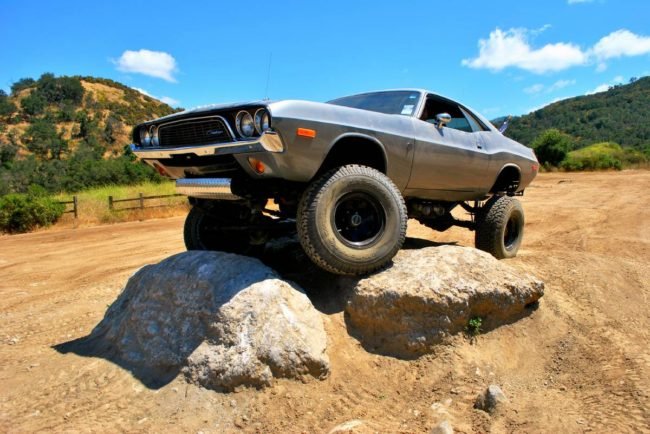 We've seen a lot of custom built 4×4 Mopar cars over the years; most of them done poorly. However, in the rare cases, we do come across the odd one that has been done pretty well and you can actually tell there were thought, talent and skill put into the build. We came across a 1972 Dodge Challenger the other day that caught our attention pretty quickly to say the least. This one isn't your ordinary E-body though. It's a bad ass 4×4 that not only performs quite well but actually looks cool too! A fellow named Brandon recently posted his Challenger for sale on Craigslist in the San Francisco Area of California and we thought it was pretty darn cool. Here's the ad:
"I have a 1972 Dodge Challenger 4×4 that is extremely well built. It sits welded on an M1009 military frame and chassis and is powered by a 5.7L with long tube headers and fully custom Flowmaster dual exhaust. It also has all brand new accessories on top of the engine; new four barrel Quick Fuel carburetor, new high rise intake manifold, new HEI distributor, new radiator, new alternator, new aftermarket Holley fuel pump, new plugs/wires, new air cleaner/filter.
Behind the motor is a brand new 4L60E automatic transmission electronically controlled by a US Shift Quick 1 transmission controller mounted in the cab. 2H, 4H and 4L gears are powered by a fully rebuilt and bulletproof NP205 transfer case with a front Dana 44 with locking hubs and rear Dana 60 straight axles. 33×12.5xR15 BFGoodrich KO tires have only 3,000 miles on them with plenty of tread left.
Inside the cab has been completely restored with all brand new panels, new headliner, new seats, new carpet, New B&M Quicksilver shifter, Custom built dash with all new gauges, new aftermarket stereo w/Bluetooth and two amplifiers powering 4 Kenwood speakers and 1 subwoofer. (This thing plays LOUD, crisp and clear music). Equipped with a backup camera and additional rear mounted LED light to assist in poorly lit conditions. Also comes with an externally magnet mounted CB Radio Antenna & Handheld device within the cab. The body and paint on this car are clean and straight with only minor issues (as any 45 year old car would have) but is definitely a show stopper.
The car drives incredibly well ON the road for short trips, and even road trips; I purchased it in Las Vegas and drove it home to the Bay Area, and does even better OFF the road. It has over $45,000 put into building this car with all documented receipts. The vehicle has only 3,400 miles on it since rebuild;
Asking price is $28,000; but I'm willing to work with someone who has an honest interest. PRICE LOWERED to try and sell FAST because my father has recently become ill with his health and finances and I told him I'd sell my car to help pay for some of the expenses; I can replace a car, I can't replace family. Yes I know it's a mutt-build; but I didn't build it, I bought it this way and don't want to have to sell it, but would rather keep my Dad around than the car."
Unfortunately for Brandon, although he loves his Challenger, as mentioned above, his father has recently become ill so he's selling it to help with some of the expenses. You're a good man Brandon. We hope you have no issues selling it and thank you for sharing this rad creation with the world.