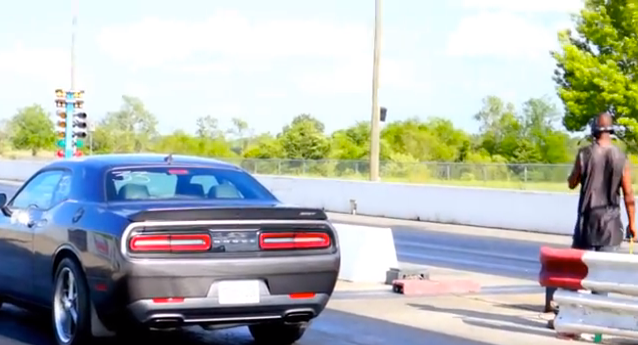 Love it or hate it, there's a lot to be said for the gobs of power that super- and turbocharged musclecars are making these days on E85. While the corrosive properties of the fuel have many concerned for the longevity of the engine's internals, the fuel's reception to boost is enough to shrug off the idea of regular ring and bearing swaps. But hey, that's another story altogether.
Right now, there's no shortage of Camaros, Mustangs and now Hellcat-powered Challengers using the homegrown ethanol-based biofuel to shred up the 1,320. The latest addition to this managere is Deldrick Ellsberry's video of a slightly modified '15 Hellcat Challenger equipped with 1,000cc fuel injectors and a new ECU tune to effectively run the corn mash. With a pair of MT drag radials, the big 4,000-plus-lbs. Mopar clicks off an impressive 10.71-second pass at 128.8 miles per hour.
Considering that all of this power is being processed by Chrysler's ZF-built TorqueFlite 8-speed automatic and through the Challenger's independent rear suspension (IRS), quite a few naysayers should have quite a bit of crow to eat (and makes our own Project Brazen feel abashedly antiquated). Of course, there's a lot of talk of other drag radial-equipped Hellcats running 10.40s a few months earlier, but this E85-fed Challenger is just the latest in Mopar racers venturing into a new frontier of performance.