The history of carbon fiber (composite) driveshafts can be traced back to the 1980s. Since its introduction, composite driveshafts have become increasingly common in automotive, industrial, and marine applications and vehicle racing. There are plenty of benefits to installing a composite driveshaft in a vehicle, and luckily for Chrysler enthusiasts, QA1 has its Custom REV™ Series Carbon Fiber Driveshafts for your Mopar.
Above Left: QA1 developed the Custom REV™ Series Carbon Fiber Driveshafts for muscle car era and late-model Mopars. Above Right: For the Mopars that employ U-joints, QA1 has the 1310 and 1350 options. 
One of the benefits of carbon fiber driveshafts is their lower torsional spring rates compared to metal (aluminum or steel) driveshafts. With a reduced spring rate, the driveline shock on other components is reduced, and traction is improved at the track. As a result, the traction will be enhanced, and the reduced rotational mass will allow the vehicle to accelerate quicker. In addition, unlike metal shafts, composite driveshafts will not break down due to continual torque-generated twists.
Carbon fiber driveshafts have a significantly high critical speed compared to steel or aluminum driveshafts of comparable diameter. Critical speed is the RPM at which a driveshaft becomes unstable. No matter the length or diameter of the driveshaft, all driveshafts have a critical speed point. A buyer must consider the driveshaft's length, tube diameter, and construction materials to achieve a favorable critical speed for their application.
Above Left: QA1 has an extensive list of measurements to ensure the customer receives a driveshaft that will fit properly and function flawlessly. Above Right: For the late-model Challengers, QA1 the Challenger REV™ Series Carbon Fiber Driveshaft, a one-piece carbon fiber driveshaft that dramatically exceeds the performance of the factory unit. 
Composite driveshafts have appreciably reduced torsional vibration or shaft whip. Whip occurs around the centerline of the driven end of the driveshaft at the transmission yoke and both driveshaft U-joints. The shaft whip causes the driveshaft to move side to side, which usually damages the U-joints. The vibration occurs every 180° of driveshaft rotation and only worsens with repeated use once the oscillation has occurred.
All QA1's high-performance composite driveshafts are wound in-house with 3M™ Matrix Resin. The Matrix Resin builds in strength and surface protection. As a result, QA1's one-piece bolt-in driveshafts are lighter yet stronger than aluminum, steel, or carbon fiber driveshafts made by other manufacturers. QA1 changes the weave or wind (or both) pattern to adjust for drag racing, circle track, or street vehicle usage.
Above Left: QA1 uses a 3M™ Matrix Resin for its high-performance composite driveshafts. Each driveshaft is wound to meet the needs of the application. Above Right: Each carbon fiber driveshaft is placed in an oven to cure. QA1 has developed its in-house oven to ramp up the temperature of the driveshaft, maintain it, and cool it in a controlled manner, all dependent upon the driveshaft's expected use.
QA1 has several lengths and slip-yoke options for muscle car-era Mopars. Each driveshaft comes complete with CNC-machined forged yokes affixed to the driveshaft with a special 11-step bonding procedure developed by QA1. Furthermore, the high-strength alloy U-joints provide robustness and a high-torque capability. Lastly, QA1 harmonic tests, torsion tests, and serializes each composite driveshaft.
QA1 offers two driveshaft arrangements. One driveshaft uses 1310 U-joints and has a power rating of up to 750 horsepower (hp) and 500 lb-ft of torque. The second driveshaft steps up to 1350 U-joints, which can withstand 2000 hp and 1500 lb-ft of torque. Each custom-ordered driveshaft will have a 3.2" diameter. The maximum length of a custom driveshaft is 65 inches.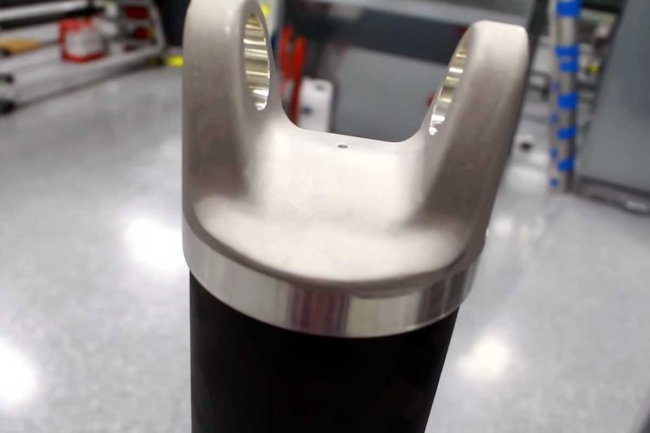 Above: QA1 uses an 11-step process to bond the CNC-machined yokes to the carbon fiber shaft. The process is a special in-house procedure developed by QA1.
The use of composite driveshafts has increased safety. For example, if a transmission or differential failure were to occur at the track and damage resulted, the QA1 carbon fiber driveshaft would come apart. It would turn into strands of loose carbon fibers rather than a metal driveshaft breaking and beating the vehicle's floorboard or entering the vehicle's interior, endangering the driver.
Above: The QA1 carbon fiber driveshafts are well protected for the trip to the customer. Upon opening the box, a customer can expect a superior quality driveshaft that will improve the on-track or on-street performance of their Mopar. 
While many advantages of composite driveshafts lend themselves to racing, street driven Mopars will enjoy a smoother ride, making the vehicle's occupants more comfortable. Additionally, the carbon fiber driveshafts will subject the drivetrain to less stress. And, lastly, the composite driveshaft will increase fuel economy while providing more engine torque to the drive wheels.
Whether racing or street driving, swapping to a composite driveshaft is a wise choice. Take the time to contact QA1 for more information about its line of custom composite driveshafts.