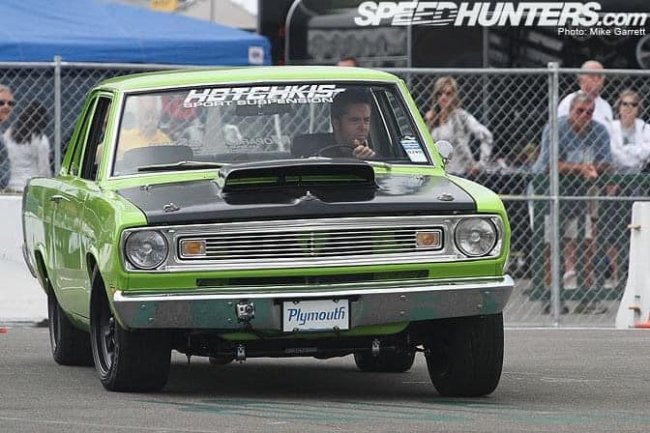 Chrysler's 3.6L Pentastar ain't your grandma's six-cylinder. Depending on application, this lively V6 has been available in varieties ranging from 283 to 305 horsepower since 2011. While its predecessor, the 225 Slant-6, became famous for bulletproof bruteness, a 145-horsepower factory rating was anything but overwhelming.
At just 220 cubic inches, its 3.6L grandson has basically doubled power output with a few less cubes and the same great dependability. Furthermore, a fully-dressed vintage Slant can push nearly 500 lbs as the Pentastar weighs in at a slender 330.
Aside from the horsepower and weight benefits, its tight packaging makes this virile V6 ripe for restomods; a 60-degree cylinder arrangement and integral exhaust manifolds shave excess width for plentiful piping and steering clearances, so the only real headaches involve some creative wiring.
Millions of Mopar models from trucks to Jeeps to Challengers have made good use of the spry six in the last decade-plus, which begs the question as to why the little engine that can cook never has quite caught on in classic cars.


Fortunately, a few brave souls are finally taking the Pentastar plunge with Redline Gauge Works' Shannon Hudson being the latest. His longtime project, a 1969 Plymouth Valiant, is freshly back on the road after a supercharged 360 got the hook in favor of a 3.6L screamer.
Two teaser videos posted to Facebook prove that even though it's two cylinders lighter, foot on the floor frolicking isn't going to be any less fun.
A soft, stock rumble from the single exhaust whispers sleeper deluxe with a seductive combination of attitude and economy.
Backed by a 5-speed manual transmission, this is the second Pentastar-powered A-body to irk the interwebs. Over on the ForABodiesOnly form, user myduster360 has a similar setup in his 1972 Dodge Dart Swinger.
Chronicled over a 20-page posting, his swap is further proof that it can definitely be done with some patience and ingenuity.
If it sounds like we're advocating for the aftermarket to step up and show the 3.6L some love, it's because we are.
Put together the mileage miser fuel economy of a Slant with the power of a ticked-off 340 and we'll take that over a cookie-cutter Hemi swap (almost) any day.
My Pentastar V6 swap in my 69 Plymouth Valiant is Alive! #mopar #redlinegaugeworks #plymouthvaliant @restocentric @jemfxmotorsports @thermal_rd @hotchkis @speedhut

Posted by Redline Gauge Works on Wednesday, January 19, 2022