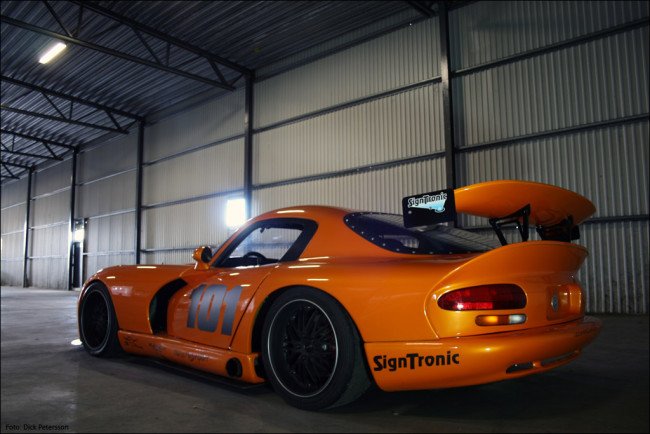 So a Viper body, a 427 LS engine and a C4 chassis walk into a bar. What madness is this? Well it is no joke. It's the brainchild (Franken-child?) of a crazy Swede by the name of Jonas Hallenborg. Jonas wanted a car that was completely different, of his own design and would put everything else on the road and the track on the trailer.
He took a C4 Corvette chassis – not our first choice, but ok. Then he had a Swedish firm do up a dead nuts replica of a Viper body in fiberglass which he stretched down over said chassis and a 427 cubic inch turbo-charged LS1. On 21 pounds of boost it makes 1048 horses at the rear wheels! This is some kind of big orange monster.
It all looks sorted out and very professionally done. Nice exhaust, nice wheels and an exhaust symphony that screams, "just try me." In the accompanying video, the car looks like it is trying to tear itself from the dyno hold-downs and bust out the back of the garage. Given it has that much horsepower and only weighs about 2400 pounds, it could probably make a pretty good run for it.
Hans has a website here with some more detail. It's in Swedish so just hit Google translate. We think it's a great build, albeit a little too much Chevy. It shows what your imagination and talent can do if you put your mind to it. So get out there and find your own recipe for building a monster. But just like Jonas did, remember to keep a little Mopar in the mix while you're shouting, "It's Alive!, It's Alive!"