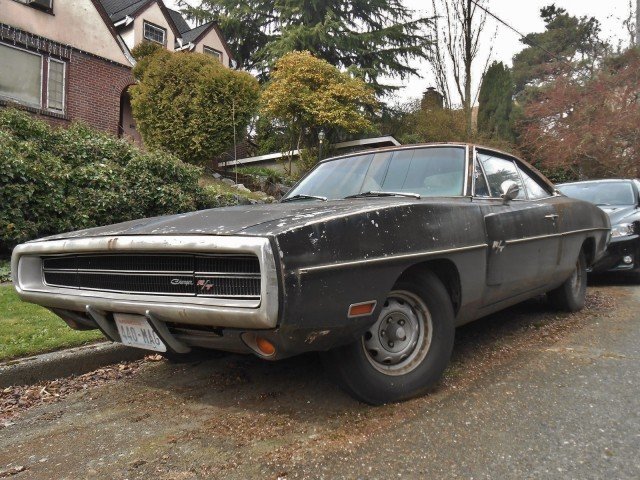 As we're sure you can tell; this 1970 Dodge Charger R/T has seen much better days. With its rotted vinyl top and faded black paint, it still shows tons of potential. Under that weathered black paint job, you'll see hints of purple paint peeking through. That's because this is a factory Plum Crazy Purple car featuring a black vinyl top, white R/T stripe and factory A/C. Somebody took a closer look at the Charger back in 2011 and shared the pictures with Carsinbarns.com:
"I came across this car sitting parked on the street in the Pacific Northwest. It's an original Plum Crazy 1970 R/T Charger, with what appears to be its original 440 engine. Some of the original paint is still visible under the tattered vinyl top. I talked to a neighbor who said the car has sat on the street for years, and no one lives in the house where it's parked. It's sitting on old bias-ply tires that are dry-rotted. Funny thing is that the registration is current, probably to keep it from being towed. I was able to open the hood and get a couple shots of the engine as well as the fender tag. The car is badly rotted, including the hood and deck lid. I was able to find contact information for the owner, and I plan to get in touch with them to see if I can buy the car,"
However, this is where the story takes a turn for the worse. Before anybody could restore this 1970 R/T to its former glory, it vanished. While some would hope it was put into a garage or purchased for a restoration project, we regret to inform that this Charger has been stolen. It appears the Seattle Police Twitter account for stolen cars listed this exact Charger as stolen back in April 2015. Unfortunately, as the Twitter account is only for stolen car listings, there have been no updates as to if the Charger was ever found or not. If we remember correctly, pictures of the Charger were shared around the Mopar forums and one Seattle local actually posted up where the Charger's exact location was including a Google Street View image. Scary stuff. We can only hope for the owner's and the cars sake that it is found and recovered in one piece.