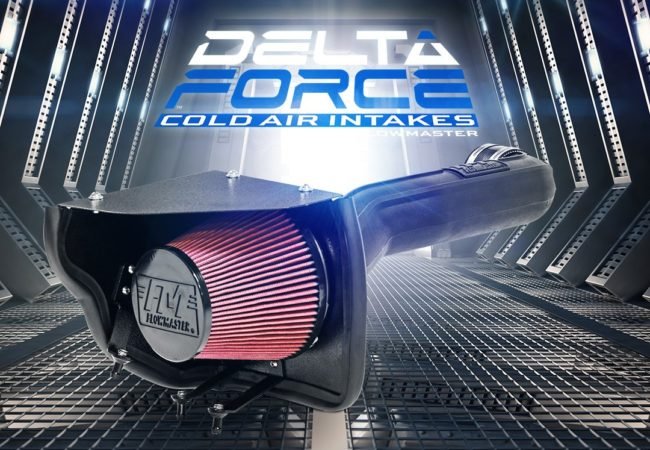 Flowmaster has been dedicated to delivering the best exhaust systems on the market, like the new FlowFX system, through innovation, advanced manufacturing, experience and backed by the best in customer service for over 30 years. They have taken those same principles and used them to create their newest product line of cold air intakes. Yes you heard right, Flowmaster has released a new line of Delta Force cold air intakes. In a recent press released, Vice President of marketing Dale Dotson explained their thoughts behind stepping out side of the box.
"Flowmaster has always been a performance oriented company, and has consistently offered 'State of the Art' exhaust products with leading edge technology. And it's no secret that the moving more air and fuel into and out of an engine, is the key to maximizing an engine's power. And since we already have the exhaust side of the equation covered, the most logical product expansion would addressing the getting more air in the engine. The factory air filter assemblies have restrictions, such as built-in silencers, tight and reduced bends, disposable cheap paper elements etc., so improving upon those limitations by offering less restrictive air intake designs just makes sense, especially when matching them with our proven cat-back exhaust systems to maximize the engines power and efficiency."
Flowmaster has reputation for quality parts made in the USA and they didn't cut any corners with their cold air intakes. The intake tubes are Roto-molded Cross-linked Polyethylene (XLPE) which creates a strong and durable tube that will withstand the elements with out distortion. Stainless steel hardware paired with powder coated heat shields are built for dependability while still keeping a great high performance look. More air equals more power and they achieve maximum air flow by their cotton filter. The filter is an eight layer cotton filter that traps the tiniest of particles from reaching the internals of your engine, all while being cleanable and reusable. All the systems are designed for factory replacement and use factory mounting points for easy installation.
The best part, some of the first Delta Force cold air intakes are only available for Mopar applications! Yes for once we are going to be offered new products right away and not wait for years later. Below is the current list of Delta Force applications.
Part # 615105 – 2005-2017 Dodge Challenger R/T, Charger R/T, Magnum R/T, and Chrysler 300C w/5.7L Hemi and 2006-2010 SRT8 models w/6.1L Hemi Engine
Part # 615111 – 2009-2017 Ram 1500 Trucks w/5.7L Hemi Engine
Part # 615135 – 2012-2017 Jeep Wrangler (2 and 4 Door) w/3.6L Engine
Part # 615139 – 2017 Dodge Charger SRT Hellcat and Challenger SRT Hellcat w/6.2L Hemi Engine
The Delta Force Cold Air Intakes are available for purchase and selling fast.  You can purchase one through your favorite authorized Flowmaster dealer. If you don't have a favorite dealer you can also order directly through Flowmaster on their website. As an added bonus they are offering 3 day free shipping on purchases over $25. So if you have been putting off ordering that new exhaust system or other parts for your ride, take advantage of their free shipping and don't forget to pick up a new Delta Force Cold Air Intake to maximize your performance.