You need money to make money; that's evident. Once that ball is rolling, you find yourself spending money to maintain making money. So, sometimes we have to ask ourselves: where is the money left over for a dream car? Well, therein lies the question, doesn't it? For the average enthusiast, a man like Don Wolfe for example, his dream of owning a classic Mopar didn't come true until nearly five decades later.
But while Don might be older than he once was when he originally owned his first classic (more modern) Mopar, his passion and his spirit for classic Mopar musclecars has only grown stronger in that time. Don considers himself more than enough proof that hard work pays off if you know what you're doing, so you should probably sit back and learn a thing or two from him if you know what's good for you.
Located out of Brentwood, Tennessee, Don has owned his fair share of Mopars over his lifetime with his latest collection being the most impressive in our opinion. Don currently has a pretty serious fleet, including a '16 Hellcat Charger, a Ram 1500, and a '12 Corvette Grand Sport. He's also owned a '71 Corvette in the past, as well as a '69 Dodge Dart Swinger back in '69. But while this collection is surely awesome, we're actually here to talk about Don's favorite vehicle today; the one that got away more than 45 years ago. Don currently owns a '69 Dart GTS, and it's his lifelong dream car as he details for us below.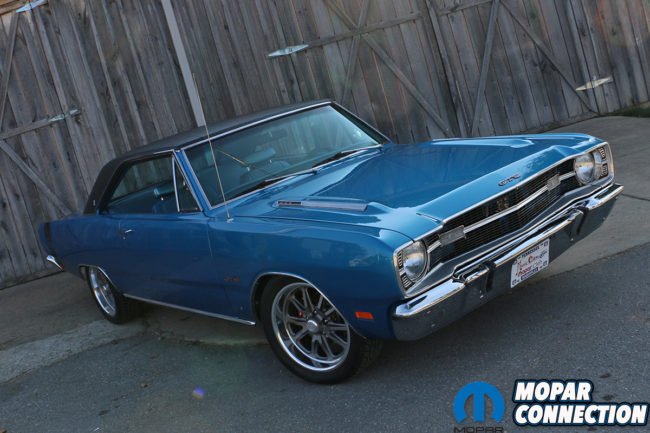 "When I turned 61, I told my wife that I was going to buy a 1969 Dodge Dart like I had when I was 16 years old," Don said. "I loved the 340 Swinger, but always lusted for the GTS. After joining the local Mopar club and looking for 6-to-8 months in the Southeastern states, I finally found the car about six miles from my house. The car had just been bought by a local Mopar guy from the original owner. The car was originally bought in California, and spent most of its light there [and in Nevada]. The car was in good shape, but needed some TLC."
Don said that because of some recent articles on the 340 engine, he was sure he could get more horsepower with a few modifications. But he was not so successful, and said it probably ran worse. "After a few stints with local garages, I decided to find an engine builder," Don explained. "Reed Grant Racing in Murfreesboro, Tennessee, was the recipient of the pulled out 340 engine. Much to my dismay, after a few weeks, it was obvious that the block and heads were scrap. I decided to have a 360 stroker built [stroked to 408 cubic-inches], with a Tremec TKO600 5-speed manual transmission mated to it. We swapped out the auto steering column, and added a hydraulic clutch line. The tunnel was modified for the TKO, so we built an aluminum/steel console with machined stainless steel shifter and ball."
"During the third year of restoring and modifying the car, we decided that it needed a really nice new B5 blue paint and clear coat," Don continued. "While the engine was out, we installed a new Gerst suspension tubular K-frame up front, and a four-link suspension in the back using Viking double-adjustable coil-overs on all four corners. Of course we had to change all of the brakes to Wilwood discs and master cylinder. Steering is power assisted rack and pinion, and the last touch was the addition of the US Mags grey/polished wheels. All gloss and rubber moldings were replaced, and all chrome was re-chromed and all aluminum and stainless parts were polished. The third year work was all performed at Crossthreaded Customs in Hendersonville, Tennessee."
It's obvious that Don's Dart GTS has come a long way in the last three years, so where exactly is it now? For starters, his Dart is now rocking that bored, stroked, decked and align-honed 408 cubic-inch stroker built by Grant's Racing & Custom out of Murfreesboro, Tennessee.
This unique power plant features a near-perfectly squared bore and stroke [4.030″ B x 4.000″ S] for gobs of torque, thanks to a 10.6:1 compression ratio. That perfect stroke is achieved thanks to a set of Scat I-beam forged rods, Icom forged pistons, and a Scat 4340 forged crankshaft. COMP Cams of course provided the bumpstick, with a stout yet streetable .522/.509 lift and 235/249 duration [both at .50]. The combination is good for 525 horsepower and 540 lb-ft of torque at the flywheel.
A matching pair of Edelbrock Performance 60199 aluminum heads which have been ported, polished and decked allows massive amounts of fuel and air from the help of PBM oversized valves and Erson double valve springs. COMP Cams once again supplies a crucial component for the build: a set of its shaft roller rocker arms and push rods, which completes the package with precision.
Speaking of suppliers making second appearances, Edelbrock once again provides some of its components as well. Don's Dart GTS uses an Edelbrock RPM Air Gap aluminum intake manifold, featuring a Quick Fuel vacuum secondary carburetor good for 780cfm. A MSD Magnetic distributor controls spark on this classic Mopar in conjunction with a MSD 6AL.
TTI long tube headers which step from 1 5/8 to 1 3/4 primaries, down to a 3-inch collector [and paired to a Dynomax galvanized 2.5-inch exhaust] helps every bit of exhaust gas flow out in the fastest way possible. And as we mentioned before, Don uses a Tremec TKO600 5-speed manual transmission, with a Centerforce clutch, a McLeod Racing flywheel, and a set of Wilwood hydraulic linkage.
For the rearend, Don chose to forgo the popular Ford 9-inch swap most hotrodders do. Instead, he decided to stick with the Chrysler 8 3/4 housing, Chrysler 489 differential, Chrysler 3.91 gears, and a set of Moser 29 spline axles. On the suspension side of the equation, Don mentioned that he's running a full Gerst tubular K-member, Viking double-adjustable coil-overs on all four corners, a power assisted rack and pinion steering, and the always popular subframe connectors.
While the car isn't rocking the original paint anymore, it does now sport an amazing shade of OEM-grade of B5 Blue paint and clear coat from Axalta. Crossthreaded Customs then fabricated the fan shroud, close off panels under the hood, battery relocation, tucked all of the MSD hardware under the seat, and cleaned up the trunk panels. They also completed all-new chrome plating, as well as polished the stainless steel and aluminum trim.
The final bits and pieces of the build included the incorporation of the aforementioned Wilwood four-piston 12-inch disc brakes on all four corners, matched with a set of U.S. Mags Rambler grey and polished wheels in a 17×7-inch sizing on all four corners. General GMax tires in a 215/50R17 can be found up front, with a set of 245/50R17 in the rear.
With so many custom touches like the engine, the paint, suspension, and even a custom fabricated console with a tachometer and a new steering column, it's easy to see why Don's Dart took more than three years to complete the build. In the midst of all of that passion and precision, Don said his project has been nearly a lifetime to complete-but still having a lifetime to enjoy.