Every now and then, we come across a project car that stops us in our tracks; something that breaks the level of normal and dives into the abyss of just downright cool and extreme. Very recently, we came across a 1970 Dodge Challenger called "Project Highway Star" which is being built for the 2020 SEMA and PRI shows. What makes this Challenger unique is it combines different Mopar vehicles such as the classic '70 Challenger, a Dodge Viper and a modern Hellcat.
Project Highway Star is being built by the Ellsworth family (Robert, Josh, Raymond and Ryan) along with Heather and Mitch Janusch. The idea behind their build is to create something that not only looks cool but performs well. The Ellsworth family is heavily involved in racing and they plan to take this Challenger to the track a lot as well as race the vehicle in the Ultimate Street Car Association series, and other timed events like Super Lap Battle, SCCA Time Trials and Pikes Peak for years to come.
Robert explains, "Our build really combines some of the best aspects of Mopar rides over the years. The timeless good looks of a 1970 Dodge Challenger, the sharp handling and robust chassis of a 1996 Dodge Viper, and the outstanding 6.2L Hellcat Hemi engine. It's almost what you would get if you wanted to dream up the Ultimate Mopar vehicle; in my opinion anyway."
Yes, you heard that right! They are grafting a classic Challenger onto a lightweight Viper chassis and then stuffing a Hellcat Hemi into it! The Viper chassis has been stretched almost 13 inches to match the Challenger body and the fenders have been widened more than 1.5 inches to bring the total added width to almost 4 inches! On top of that, a custom made hood has been built to clear the Hellcat supercharger. Once all of the in-house fabrication is complete, the fenders and hood will be sent out to be re-created in carbon fiber to save weight.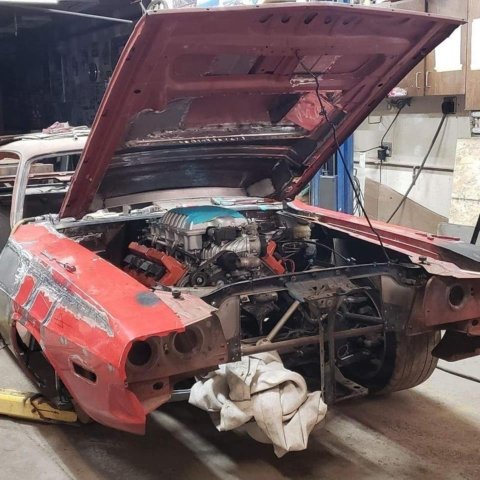 The interior will be stripped down like a race car and feature a full roll cage, front racing seats, a factory style dash with Stewart Warner gauges, six point harnesses and a fire suppression system. The plan is to have the Challenger roll on Viper-spec wheels with 295/30R18 tires up front and 335/30Z18 tires out back! It will also feature upgraded Viper coilovers, brakes, cooling and aerodynamic enhancements as well as a functional splitter, diffuser and spoiler. Their goal is to have a completed curb weight under 3,100 pounds! Once the build is complete, they intend to drive it over 1,400 miles to SEMA. They say, "This is going to be a real street driven race car, not just some show car that's built for SEMA; never to be seen again."
Recently, the Ellsworths were extremely excited to announce that YearOne had partner up with them for the build! They share, "As everyone knows, YearOne is THE parts source for classics and muscle cars! They carry a large variety of original style replacements, and aftermarket upgrades for some of America's coolest classic cars. Their wide selection of in-stock, and drop ship parts will help anyone's project go smoothly, including ours! Thanks Again YearOne! We are thrilled to have you on board!"
To follow the build, check out their Facebook page, Ellsworth Racing and of course, be sure to check out YearOne!