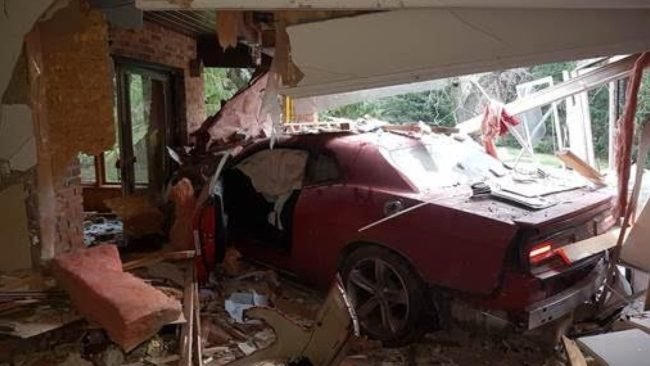 A lot of people can tell you a story about sneaking out as a teenager and borrowing their parent's car to go joy riding with their friends. However, one Sarnia, Ontario teenager may have taken it one step too far. The teen reportedly stole his parent's car and nearly destroyed a home after crashing through the front brick wall and ending up near the back patio. The result heavily damaged both the car and the house.
The teen's parents told Sarnia police they heard their 2016 Dodge Challenger leaving their home around 2:30 a.m. on Monday, December 5th, 2016 and called police realizing their car had been stolen. It's not been reported if they knew it was their son behind the wheel or not. Witnesses then saw the car a short while later and called it into police. Police said they tried to stop the 16-year-old driver, but they gave up shortly after because road conditions were poor and the car was going too fast to safely pursue.
Minutes after police gave up pursuit; the teenager lost control of the Challenger and crashed into the front of the home after driving across the front lawn and skimming by trees. "It's as if a tornado went through the residence," said Const. Giovanni Sottosanti of Sarnia police.
Luckily, no one was home at the time of the crash or it could have been a lot worse, say police. A structural engineer was called in to assess the excessive damage to the house. The teen was not seriously hurt and eventually turned himself into police that Wednesday. He was sent to hospital with minor injuries before being taken into custody. He's charged with theft, dangerous driving and fleeing from police. We like to think he won't be driving any time soon.