Ram Trucks have held one title longer than any other production pickup out there: the most off-road-capable. Engineered to conquer the great outdoors and everything Mother Nature has to throw at you, Ram Trucks have stepped up their game even more with the 2017 Ram 2500 Power Wagon. With the huge reception to their popular Ram 1500 Rebel, Ram Trucks decided to incorporate some of the Rebel's features to create in our opinion, the best version of the Power Wagon since it's re-birth in 2005.
Based on the Ram 2500 Heavy Duty 4×4 Crew Cab, the Power Wagon features a number of off-road-specific enhancements, including a unique suspension with more than two inches of lift, locking differentials, electronic sway bar disconnect and a 12,000-lb. Warn winch, giving this beast of a truck a huge advantage over all other production pickups. The Power Wagon truly has a lot of features that not a single other truck has.
"The Ram Power Wagon is an off-road, all-access pass, removing the limitations, instilling confidence and allowing owners to reach areas of recreation and lifestyle not attainable with any other pickup," said Mike Manley, Head of Jeep Brand and Ram Brand, FCA – Global. "The 2017 Ram Power Wagon delivers to those who travel into extreme terrain, while providing the towing and payload capability required in a heavy-duty truck."
The 2017 Power Wagon is powered by a best-in-class 410 horsepower, 429 lb.-ft. of torque producing 6.4L HEMI engine with FuelSaver MDS. The engine calibration is unique to the Power Wagon to enhance its off-road maneuverability and finesse. When driving in four-wheel-drive "Low," the throttle response softens and the idle speed increases by 100 rpm to provide you with added control when ascending and descending off-road obstacles at slow speeds. The 6.4L HEMI has been completely gone over for the Power Wagon's use.
Computational fluid dynamics was employed to optimize the cooling circuit in the block, heads and water pump. With upgraded valve-seats, the cast-iron block, aluminum cylinder heads and forged-steel crankshaft, the Power Wagon proudly boasts a five-year / 60,000-mile warranty. The Power Wagon is also equipped with a dual-alternator system (combining 220 and 160 amps for 380 amps total) and intelligent battery sensor technology, which continually measures the flow of current in and out of the battery. The system is an enabler for intelligent load shedding, systematically shutting off select electrical systems onboard the vehicle when the battery is running low, to help prevent further depleting the battery.
Backing the HEMI is a 66RFE six-speed automatic transmission and connects to a part-time, manual-engagement Borg Warner BW 44-47 transfer case. Hill-descent Control allows you to control the Power Wagon's speed down steep, rugged grades with just a push of the buttons on the shifter.
"Dating back to 1945, the Ram Power Wagon's heritage holds a distinctive position in the Ram Truck lineup as an example of engineering innovation and off-road capability," said Rob Wichman, Director – Ram Truck Engineering. "For 2017, the Power Wagon's best-in-class, can-do toughness is matched by can't-stop-me looks."
The 2017 Ram Power Wagon features a specifically designed suspension system, including Bilstein shocks and modified control arms. The Power Wagon's axles are the true definition of durability. Built by American Axle & Manufacturing, they measure 9.25 inches in the front and 11.5 inches in the rear and deliver power to the ground via a 4.10:1 gear ratio. The rear axle shafts have been upgraded to 38 mm and provide strong rotating force to the Power Wagon's 33-inch tires. Both axles include electronic-locking differentials driven by electro-magnetic actuators.
The Power Wagon's Articulink design incorporates high movement joints at the control-arm-to-axle mount, allowing for additional flexibility and axle articulation. Additional suspension flex is achieved via the class-exclusive electronic disconnecting sway bar, which allows the front axle to move more independently. The driver-actuated "Smart Bar" disengagement is possible in both four-wheel-drive "High" or four-wheel-drive "Low" at speeds below 18 miles per hour (mph). As a safety feature, the Smart Bar automatically re-engages at speeds above 18 mph.
The rear suspension also includes Bilstein shocks, and a Bilstein dampener links the top of the rear axle to the frame; bringing the Power Wagon far beyond what its competitors offer for axle control. The 2017 Power Wagon's combined axle and suspension package adds to greater suspension articulation, a determining factor when negotiating extreme obstacles. With Smart Bar engaged, the Ram Power Wagon reaches a Ramp Travel Index (RTI – a measurement of a vehicle's suspension articulation) of 510 (26 inches of travel).
Larger tires and the suspension lift contribute to the Power Wagon's 14.3-inch ground clearance, compared to 12 inches on the Ram 2500 Heavy Duty. The truck's approach angle is boosted to 33.6 degrees, the departure angle is increased to 26.2 degrees and the break over angle is enhanced to 23.5 degrees. This gives the Ram Power Wagon significant clearance for navigating a variety of severe inclines and declines, as well as providing up to 30 inches of water wading capability.
All Ram 2500 Heavy Duty trucks, including the Power Wagon, use a segment-exclusive five-link coil rear suspension system for best-in-class ride and handling. The exclusive five-link coil design provides better articulation over obstacles than a leaf spring system. Although the 2017 Ram Power Wagon is loaded with off-road components, future and current owners will appreciate a payload of up to 1,510 pounds and a towing capacity of up to 10,030 pounds with its standard Class 5 receiver hitch.
For 2017, the Ram Power Wagon looked to its little brother, the 1500 Rebel for some good genes in the looks department. Similar to the 1500 Rebel, the new Power Wagon has an all-new grille with a prominent Billet Silver "RAM" letter badge. The larger blacked-out grille is accented nicely by Black bezel bi-functional projector headlamps with LED marker lights. The vent-stamped hood also includes a Gloss Black graphic.
The colour you choose for your Power Wagon dictates the graphic features. For graphics, the 2017 Power Wagon pays strong homage to its late 1970s and early 1980s heritage with classic forward box striping and Power Wagon font decals. The optional graphics come in two slightly different colour variations, depending on vehicle paint. Bright White, Flame Red, Bright Silver, Blue Streak and Granite Crystal receive Gloss Black graphics, where Black Power Wagon's are covered in Bright Silver graphics for a slick contrast.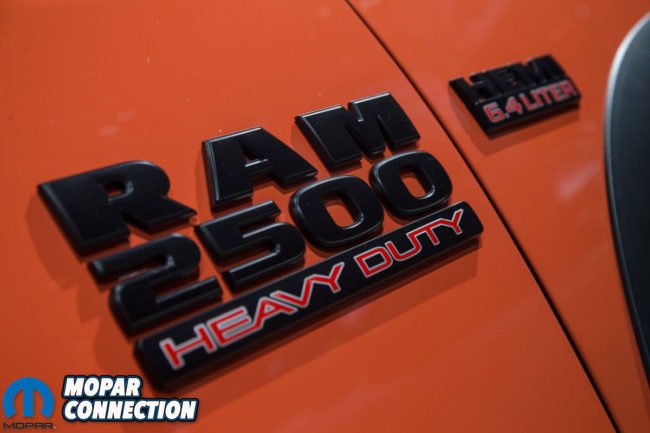 The Power Wagon's front and rear bumpers are powder coated for long lasting durability and the front bumper is home to a factory equipped Warn 12,000-lb. winch that features rollers and 90 feet of line. Besides the single heavy gauge steel cable and dozer-size hook that attaches to one of the two massive front tow hooks, nothing else on the winch is visible so it gives you a clean look. The blacked-out theme continues with black wheel-arch moldings, badges, tail lamp housing bezels, mirrors and lower body panels. The 2017 Power Wagon features all new 17-inch forged, multi-surface aluminum wheels with Silver and Matte Black accents wrapped in 33-inch Goodyear Wrangler DuraTrac tires.
The Power Wagon is available in a choice of two interiors and offers a uniquely designed cabin that focuses on function with flair. The interior has been upgraded with unique grain pattern seats finished in Diesel Gray and Black with Sedoso fabric inserts embossed with the Goodyear Wrangler DuraTrac tire tread pattern, matching the Power Wagon's actual footprint. Another styling que borrowed from the 1500 Rebel. The front seats with the heated option feature Light Slate Gray accent stitching and Ram logo embroidery on the headrests and Black with Light Diesel Gray Power Wagon nameplate affixed to the upper seat bolsters.
A premium trim option steps up to leather seats with Power Wagon and Ram logos tastefully embroidered on the bolsters and Ram logos on the sides of the headrests. Matching Slate Gray stitching gives the material connection points a clean, detailed appearance. Ambient lighting brightens overhead, door panels and foot wells to complete the upscale atmosphere.
The 7-inch center cluster uses "Power Wagon" start-up graphics, which complement the 8.4-inch Uconnect backdrop screen featuring an off-road theme. The center stack and doors are finished in Iron Gray Metallic paint, giving a cast-iron appearance and Satin Chrome vent rings outline air output points and the gauge cluster. The steering wheel is wrapped with semi-perforated Black leather and has an available heat feature. The upper glove box door and cluster are finished with a Power Wagon nameplate badge.
The Power Wagon also is available as a Tradesman Crew Cab 4×4 model. Although this option does not include the same interior and exterior design elements, it does include the same unique off-road equipment, including the winch, lockers, larger tires, electronic disconnecting sway bar, suspension and under-body armor. Monotone paint covers this package. The grille-surround and inserts are from the Tradesman model and are colored Black as are the headlamp filler panels and wheel flares. The 2017 Ram Power Wagon is available to order now and units are finally starting to hit the ground and local dealerships!