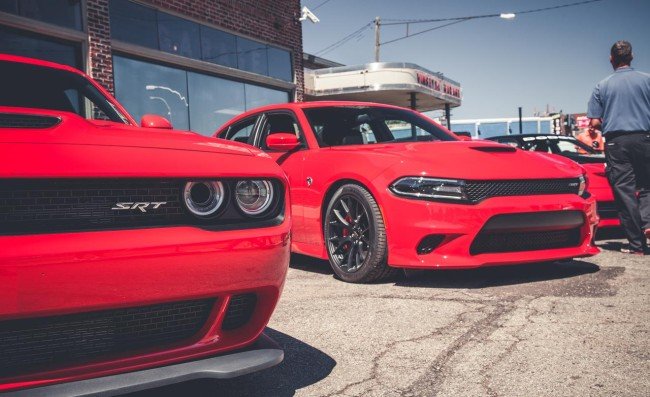 Well, the information all you Hellcat owners have been waiting for is finally here! Thanks to users "ResumeSpeed" and "PLMCRZY" (who are both VERY reliable inside sources in the modern Mopar world), full production numbers for the 2015 model year for both the Challenger and Charger have been announced over at Hellcat.org!
Both model's production numbers are fully broken down by color, transmission, sunroof, interior and more. Some of the option set-ups may be rarer then you think. It also seems the main unicorn of the bunch is a Challenger wearing Sublime Green paint with the A8 (8-speed automatic) and the Ruby Red/Black suede/Nappa leather. That one is a one of a kind!
Final production numbers for both Hellcat models totaled 8,502 for 2015. Information for the Challenger models is very detailed. More information for the Charger is supposed to be released in the next few coming days!
2015 Challenger Hellcat:
First retail model built: August 18, 2014
Start of retail volume production: September 17, 2014
Last day of production: September 18, 2015
Last model built: FH905657 at 11:02pm September 18, 2015 Redline 3 / 6-spd
Lowest retail VIN: FH700001
Highest retail VIN: FH932739
First retail model built with sunroof: July 2, 2015 (Canada model)
Second retail model built with sunroof: July 30, 2015 (1st U.S. model)
Base MSRP at introduction: $ 57,895 + $995 destination plus GG Tax of $1700
Base MSRP at end of model year: $ 58,295 + $995 destination plus GG Tax of $1700
Options totals
8-spd automatic transmission – 3,748 (52.29%)
20-inch X 9.5-inch Matte Black Forged Alum. Wheels – 6,130 (85.52%)
20-inch X 9.5-inch Brass Monkey SRT® Forged Wheels – 1,038 (14.48%)
275/40ZR20 Summer Performance Tires – 4,453 (62.12%)
275/40ZR20 All-Season Performance Tires – 2,715 (37.88)
Black Satin Hood – 1,099 (15.33%)
Engine Block Heater – 1,177 (16.42%)
Red Seat Belts – 2,641 (36.84%)
Sunroof – 140 (1.95%)
UCONNECT® 8.4A AM/FM/SXM/BT (RA3) – 765 (10.67%)
UCONNECT® 8.4AN AM/FM/SXM/HD/BT/NAV (RA4) – 6,403 (89.33%)
2015 Charger Hellcat:
First retail model built: January 12, 2015
Start of retail volume production: January 24, 2015
Last day of production: September 18, 2015
Last model built: FH927480 at 11:02pm September 18, 2015
Lowest retail VIN: FH722596
Highest retail VIN: FH928100
First retail model built with sunroof: January 24, 2015
Second retail model built with sunroof: January 24, 2015