Everybody has a dream car. For some, it's a Ferrari 458; others a lifted diesel pickup. For Elisa McLellan of Alberta, Canada; her dream car has always been a 1970 Dodge Challenger. "I have wanted a '70 Challenger since I was 15 years old but could never afford one. My dream was finally achieved when I finally bought my Challenger in April 2010 from a guy in Calgary, Alberta," says Elisa. The Challenger had been owned by the seller since 1999 and hadn't been registered since 2002. Over the years, it just sat in his garage; collecting dust.
Elisa tells us, "He said he had bought it from a guy east of Calgary that had kept it in a barn for at least 10 years. When I ran the VIN through the Alberta registries, it showed that it had been registered in Gem, Alberta up until 1999. From what I learned, I believe it was the original owner who had it up until that point but I do not know this for sure." She continues to say, "My good friend Kori Alexander (from Show and Go Restorations) came with us to pick up the car. Unfortunately the timing was bad and we ended up in the middle of a snow storm. The QE2 Highway was closed and the side roads were snow packed. We eventually made the short trip to Calgary in 4 hours (normally around an hour and a half!) and headed back with the Challenger in tow."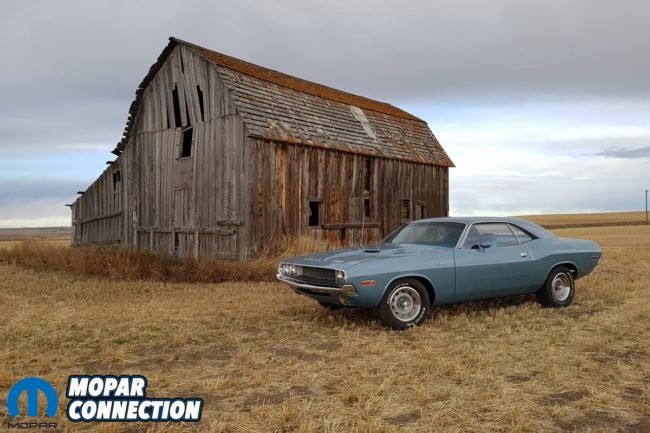 When they got the car home, Elisa and her husband Brent quickly start inspecting their new purchase. As it turns out, the car had been painted a few times in its day and was a funky mix of Dark Blue and Purple with black stripes over the top. According to Elisa, "it looked like a Camaro; ick!!" The Challenger had been jacked up in the back for a '70s rake and had American Racing wheels bolted on. Up front, the original fenders were long gone and fiberglass fenders were bolted on in their place. Besides that though, the Challenger's body was in amazing shape. Elisa was even able to drive it around a few times as-is.
It wasn't long though before Elisa and Brent started the restoration on the car. She tells us, "When I got it home after driving it, we took off the 700 cfm Demon carburetor as it was flooding out the poor 318. That summer, I tore out the interior as it was mice infested but the floor and steel were amazing; no rust at all. The original column shifter set-up was replaced with a floor shift set-up from a donor car and the steering column was rebuilt by Kori. I cleaned and scrubbed all of the interior soft items and re-dyed some of the interior parts with SEM paint from Caps. We also ordered new interior parts from Legendary. I recovered the seats and dash myself and had Arlo from Upholstery by Arlo install the carpet and headliner." Elisa was very excited when she found the broadcast sheet for the Challenger in the back of the driver's seat. Score! Since the Challenger was missing a radio and Elisa really wanted an 8-track player, Kori managed to source one out via Facebook and it was bought and installed into the dash.
With the interior done, Elisa and Brent then bought proper steel front fenders and Rallye wheels from their great Mopar friend Tom. Over the winter of 2010, Brent sanded the whole car down, repaired the replacement front fenders and then primed and painted the whole car in their garage; bringing it back to the original color EB3 Light Blue Metallic that it rolled out of the factory with. Since completing the restoration on the car, Elisa has been racking up the miles on it. "The car was going to be a driver and it turned out great for just that purpose. I drive the car a lot and I love it. I put between 6,000 and 10,000 miles on the car every year since we painted it."
It hasn't been all smooth sailing though. There have been a few breakdowns according to Elisa. In one instance, the timing chain decided to end its life one night after a cruise. On another occasion, the alternator fried itself and caused a small fire in the car. After that event, Elisa says she always keep tools in the trunk; along with an extra ballast resistor and a fire extinguisher just in case.
While Elisa's Challenger was originally a 318 car, the drive train did not belong to the car. Over the next few years of cruising, Elisa realized she wanted more power under the hood. "I really wanted a 340 and as we all know, they are hard to find. In 2015, I found an ad on Kijiji for a 340 for a good deal. Everyone I spoke to told me there was no way it is was any good at that price. I decided I would take a drive to get it and take my chances! I got up early and made the 4 hour drive to the guy's house. When I got there, it turns out that the engine was in great shape! The seller had bought a 1973 Challenger out of Grand Prairie, Alberta with a 360 in it and in order to buy the car, he also had to purchase the 340 with it. As it turns out, the 340 was out of a Dart and had been crated nicely for storage; thus keeping it in good shape.
That spring, Kori rebuilt the engine and a 727 transmission for the Challenger. He also worked hard finding some of the hard to find parts. He sourced out a fellow in Sundry, Alberta that had the correct exhaust manifolds so Elisa went and bought them right away. She also managed to find and purchase the correct air cleaner at the Mopars at the Strip swap meet in Las Vegas. In December 2016, the 318 was finally pulled out of the car. Unfortunately though, right before Christmas, Brent fell off the mezzanine in their shop and ended up in the hospital for 11 days. "He was not well and could not help work on the car. That left the work on the engine bay to me. I took all of the parts out of the engine bay and stripped all of the old coats of paint off first with paint stripper then masked off and sand blasted the whole engine bay. I also sand blasted every bolt and part and re-finished them. At the same time, I de-greased the whole underside of the car and undercoated it to preserve it. When Brent was feeling a bit better, he primed and painted the engine bay," says Elisa.
Once that was complete, the new 340 and 727 were installed into the car and Kori helped break in the engine properly. For a nice lope, brand new dual exhaust with Dynomax mufflers were also installed at the same time. The Challenger was complete by June 2017 and Elisa was ready to hit the road. She tells us in closing, "This past summer and fall were amazing with over 9,000 miles of fun. We drove the car to the big Montana Mopar show, as well as many other trips and shows every weekend. When we weren't at shows with it, we spent many evenings cruising Alberta in the fall with Kori and some of our other friends. The car is not numbers matching. It wasn't when I got it and it never will be but it is the way I wanted it to be and it is all date code correct. It's also not a full rotisserie restoration. It's a driver and most of the work was completed by us. It's truly a labor of love."
Elisa would like to give a huge thank you to the ever awesome Kori Alexander from Show and Go Restorations for all of the help and all the hours of bugging him for information. He is a tremendous help! She would also like to thank Caps/Ladwigs in Red Deer, Alberta, Red Deer Speed and Custom, Central Brake and Muffler and Upholstery by Arlo. Last but not least, she would like to thank her son for all of the help and her incredible husband Brent for all of the stress and hard work and for just putting up with her in the shop!