Things were a little touch-and-go in 2006 for then-Daimler Chrysler. The 1998 merger was considered a necessary life-saving evil by many diehard Mopar loyalists, others saw it as a way to revitalize the quickly dwindling brand. Only four years earlier had Chrysler completely revamped its entire lineup, introducing the famously tractor trailer-inspired Ram series and the cute Neon coupe and sedan. Larger passenger vehicles were moderately successful, and obviously, the Dodge Viper was the talk of the town.
Yet, by the early 2000's, the varnish had begun to fade. The first big move by Daimler Chrysler was to pour its efforts into a completely redesigned entry-level V8 engine; the Hemi 5.7L. For it, Dodge's Ram truck lineup was completely overhauled and entreated to the new engine. Next, the automaker revealed two five-passenger sedans; the Chrysler 300C (in 2004) and Dodge Magnum wagon (in 2005); both riding on a former E-class Mercedes-Benz chassis.
For 2006, Daimler was poised to reveal a traditional sedan version of the Magnum until a market research firm asked a segment of auto dealers if "Charger" would be a suitable name for the yet-to-be-revealed four-door. The name, heavily steeped in Mopar history, was the clear winner and last minute changes both to the marketing material and the car's design itself were rushed. Early images of the new LX-platform based Dodge Charger were polarizing.
Slab-sided, sharply angular and with a forward-leaning grille gave the car a brutish look. The C-pillars were rakish but nothing like the legendary second-generation Chargers and its "Flying Buttress" recessed back glass. A cross-hair grille carried the same family DNA look of all then-Dodge vehicles, and the exposed headlights had a scowling angle. Design cues between it and its more famous predecessors were non-existent but that didn't stop enthusiasts from flocking to the dealerships. The Charger was back and people were excited.
Producing a then-respectable 345-horsepower from a MDS (multiple displacement system) 5.7L Hemi, the new Chargers (and all Gen III-equipped vehicles at that time) were backed by a choice of 4- or 5-speed automatic gearboxes, much to the chagrin of more performance oriented-Charger buyers. Even the rowdier 425-horsepower 6.1L Hemi in the SRT8 went without a third pedal. Only two years later, when the wildly successful and heavily-retro '08 Challenger SRT8 arrived was a Tremec TR6060 6-speed made available the next year (in '09) – and at a premium.
Yet, for Charger owners, the manual option was still a no-go. That is, until now. Silver Sport Transmissions, the automotive aftermarket leader in factory-appearing Tremec transmission conversion systems, has done what no one (save for a handful of one-off custom shops) could do prior: offer a package that not only allows for a Tremec Magnum 6-speed manual transmission swap into all '06-to-'10 Chrysler LX-based cars (yes, that includes 300, Magnum, and Charger).
As an Elite Tremec Dealer, Silver Sport Transmissions (SST) was able to build up a data log of weakness and shortcomings of the OE TR6060, and create a kit using the aftermarket Magnum 6-speed exclusively. Mopar Connection spoke with Jeff Kauffman, SST's Vice President of Sales and Marketing, explained, "We are not using the OE Challenger TR6060, [nor] is it compatible at all. We use the Tremec Magnum 6-speed, which provides additional strength and performance compared to the OE TR6060."
Getting the SST PerfectFit Magnum Mopar LX Kit to work took quite a bit of engineering on Silver Sport Transmissions' end. Beginning in late 2016, SST put the feelers out for any Hemi V8-powered '06-through-'10 LX-based sedan (or wagon). Eric and Michelle Walker were quick to respond, offering up their Plum Crazy Purple '07 Dodge Charger Daytona (#1131 of 1400) as a guinea pig. The Daytona though is no garage queen, as Eric joked, "As you can see from the little nicks and scratches, we drive the car. We have driven the car to Florida and back with the family to visit Disney World and we have done two partial Hot Rod Power Tours with the whole family in his car."
Due to the Daytona's integrated wiring, simply removing the automatic transmission and swapping it with a new Magnum 6-speed would send the PCM into fits. This required an entirely new engine loom (without the automatic transmission harness) and PCM reflash, as well as a FCM tune. The hard parts, such as the pedal assembly with a clutch master cylinder, clutch housing, rear shift isolator assembly, hydraulic reservoir bracket, and cross member were all fabricated in-house. Other items required modifications like the concentric slave cylinder assembly, hydraulic tube assembly and hydraulic reservoir line.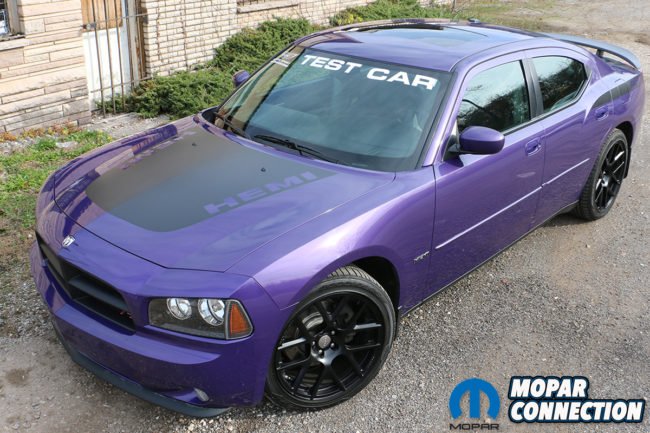 The final kit is extensively comprehensive and includes a bevy of components and hardware including a stealthy polished shifter handle, a reverse light switch and reverse lockout solenoid connector, a speed sensor connector, a complete shift lever hardware pack as well as one for the Magnum 6-speed bellhousing, all isolator to cross member and isolator and chassis hardware, the transmission rubber isolator mount, wedge adapter, isolator spacer, rear shift isolator assembly and the unique clutch alignment tool (26-spline, for Mopar LX 6-speed only). Silver Sport Transmissions notes that kit covers '06-'10 Dodge Charger, '05-'10 Chrysler 300, and '05-'08 Dodge Magnum, with 3.73 diff. ratio recommended for 18″ wheels, 3.92 for 20″ wheels.
Filling out the rest of the SST PerfectFit Magnum Mopar LX Kit is an aluminum driveshaft assembly (includes a 1350 slip yoke, solid Spicer or Neapco U-joints and high speed balance), a SST Advanced Friction 130-tooth billet steel flywheel (for Mopar 5.7/6.1/6.4 G3 Hemi engines), a flywheel bolt set, an ARP pressure plate bolt set, and a SST Advanced Friction GRP clutch set. The GRP clutch set measures at 10.75″ dia., is 26-spline and features a sprung hub disc design with Marcel cushion, is true dual-friction, full-face organic/segmented ceramic for minimal pedal effort and for smooth street use, and can handle up to 550 lbs. ft. of torque.
The final result is a package starting at $7,595.00, which knowing the cost many one-off shops poured into the various projects, is nearly half the going rate. Moreover, the finish product is absolutely stunning and would have any neophyte thinking it was a factory-stock option. We managed to convince Silver Sport Transmissions to let us romp on the Daytona for a day and the results nearly fooled us. The SST PerfectFit Magnum Mopar LX Kit replaces the factory auto shifter with a billet shift tower, stitched boot and polished white knob that speaks pure factory class. The short, concise throws of the shifter are taut but natural, never requiring little more effort to row than a push from the palm of the hand.
In fact, the behavior of the shifter was so uneventful it was almost boring. Having experienced lesser aftermarket conversions, we half-expected chatter, stiff shifts and the noticeable noises of an aftermarket swap. No such telltale signs were present. It truly behaved as if a short-throw shifter was installed on a factory-installed manual 6-speed Charger. In discussions with competitors, few felt developing the kit was folly; but the final result is staggeringly solid. Moreover, Silver Sport Transmissions includes industry's best 36-month warranty.
So to all of you full-sized LX owners begging for there to finally be a true manual 6-speed, your day has finally come. The SST PerfectFit Magnum Mopar LX Kit does everything you wished Mopar had over a decade ago. And best of all, it's stronger and more durable than the TR6060. We're definitely fans of the kit and are looking for ways to perform a swap ourselves. And yes, we did happily chirp the tires in the purple Daytona from first-to-second, and from second-to-third, although seeing that it wasn't our car and neither Mike or Michelle knew we had pilfered the keys for the day, we didn't feel right lighting up the tires any more than a few quick-shifts down the highway.