For Dave Moore of Virginia, a passion for finding and collecting true survivor status Plymouth Duster 340s is something that burns strongly inside him. Duster 340s, or any 340 A-Body for that matter are hard to find untouched or a "survivor" since they were cheap and easy to modify back in the day. Many were blown up or crashed and found their way to the junkyard where they met an early demise.
We originally met Dave over on ForABodiesOnly.com when we purchased a pair of 340 exhaust tips for our old 1973 Duster around 10 years ago. At that time, he had a beautiful white survivor 1972 Duster 340. Before that, he owned a 45,000 original mile Lemon Twist 1972 Duster 340 4 speed. He eventually sold the white Duster 340 and purchased yet another survivor Duster 340; an amazing black example that truly bumped the bar way up a notch; even over his previous two! As you can easily tell, Dave's art of finding survivor Duster 340s is unmatched!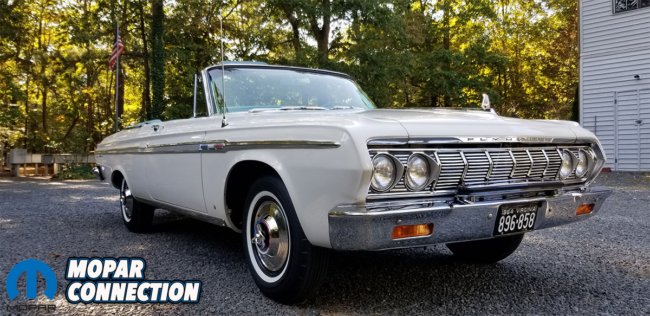 Recently, Dave reached out to us and shared his latest addition to his stable. While at first, you'd expect his latest purchase to be a Duster 340 based on his previous purchases, you'd be surprised to learn that it isn't. In fact, it isn't even an A-Body at all; it's a 1964 Plymouth Sport Fury Convertible 426-S!
Introduced in 1956, the Plymouth Fury was released as a sub-series of the Plymouth Belvedere before eventually becoming its own series of Plymouth for 1959 along with the Sport Fury. Many will also remember the famous red and white 1958 Fury from the movie "Christine". Like most cars designed by the "Big 3" in the late '50s, there was no doubt that these cars were big.
At the end of 1959, the Sport Fury name was dropped but the Fury continued on. In 1962, the Fury was given a full overhaul, downsized and ended up being released on Chrysler's new B-Body unibody platform. The Sport Fury name also made a comeback for 1962. Sales slowly began to climb with 1964 seeing the most solid improvement in sales numbers.
When you mention the B-Body platform, many automatically think of the more popular muscle car era Mopars like the 1968-1970 Dodge Chargers and Plymouth Road Runners. For years, the early-mid 1960's Plymouth and Dodge B-bodies have remained a somewhat niche market when compared to the late '60s Mopar B-Bodies. For most, these cars were a love it or hate it type of thing. However, in our opinions, the 1964 Plymouth and Dodge B-Bodies especially were truly incredible works of art and really are under-rated.
Dave's Sport Fury convertible was sold new in May 1964 at Bill Eger Motors in beautiful Denver, Colorado. It came from the Lynch Road, Michigan assembly plant equipped with a console shift automatic and a number of power options including brakes, steering, windows and convertible top. It would spend most of its early life in Colorado before making its way down to Texas sometime in the late 1990's. Once it arrived in Texas, the Sport Fury was treated to a full restoration which including a full rebuild of the drivetrain.
The original 426-S engine was bored .20 over, align honed and the block was decked. The rods were stress relieved and resized, the rotating assembly was balanced and then the short block clearances were blueprinted before everything was re-assembled. Only the best of the best internals were utilized explains Dave which included Ross pistons, Childs and Albert rings, REV stainless steel valves, double valve springs, bronze guides and Clevite main and rod bearings.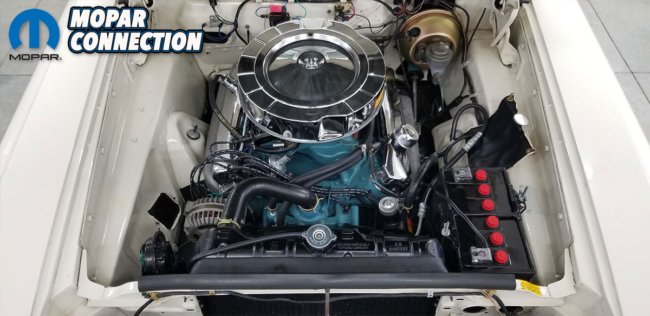 A Melling oil pump, Cloyes double roller timing chain and gears and a COMP Cams stock grind camshaft were also installed. To give it improved throttle response and power, an Edelbrock Performance four-barrel intake and Edelbrock AVS2 650cfm carburetor were installed. The radiator was restored by Glen Ray Radiators in Wausau, Wisconsin and the brake booster was restored by Dewey Booster in Portland, Oregon.
Being as the Sport Fury spent most of its life in the dry southwest states, Dave tells us that it seems to have retained all of its original sheet metal over the years and doesn't show any signs of any rust repair. During the restoration, it was re-sprayed in a coat of its original coded WW1 White. All of the original chrome, aluminum and stainless steel parts were restored and show very well with the white paint.
The beautiful Bermuda Turquoise interior was provided by SMS Auto Fabrics in Oregon and then sewn together by Legendary Interiors. Underneath, everything has been restored to factory specification. The car rides on period correct 7.50 x 14 custom Power Cushion tires with a 1-inch whitewall to give the car a true factory correct stance along with the proper factory equipped hubcaps.
Since getting it home, Dave has procured and installed a number of NOS parts on the Sport Fury to bring the car up to his liking of quality including reverse lights, reverse light back up switch, rear view mirror, side view mirror, Sport Fury trunk script, washer fluid bag, distributor vacuum advance, firewall bulkhead connector and fuel fill cap. He also installed a Mopar 34P plug set along with correct date coded plug wires provided by Lectric Limited of Bedford Park, Illinois. The correct appearing battery was provided by Jim's Battery Mfg. in Youngstown, Ohio.
Dave says, "Galen Govier certified it back in 2003 and at that time, it was number three in VIN sequence of only eight known in his registry. There has been lots of money spent on the car over the years and it shows very well. The 426 is strong and has such a super smooth idle. It's an absolute joy to drive it with the top down and it honestly gets its fair share of attention every time I have it out."