When Plymouth released their new "Duster" back in 1970, it was considered to be a cheap, sporty coupe that the average working class family could afford; a lower priced, somewhat smaller alternative to the Plymouth 'Cuda and Plymouth Road Runner. Based on the A-body platform, the Duster provided the compact-sized Plymouth Valiant with a sporty body style to attract new and younger customers to the brand. While the bulk part of Dusters were equipped with either a lowly Slant 6 or 318 V8 engine, the top dog of the Duster line-up was the Duster 340. The Duster 340 was equipped with a light, high-winding 340 small block and was marketed by the brand as "America's First Super-Low-Priced Supercar". Because they were marketed as low priced but fast, many Duster 340s lived a hard life and were driven into the ground. Most were driven hard and put away wet; eventually ending up meeting a sad demise at the junkyard.
In the Mopar world, survivor cars are considered a rare breed. These Mopars have survived the length of time and have remained untouched. Sadly, the term "survivor" has been stretched and skewed over the years and many proclaimed "survivor" cars really aren't. For example, we came across a 1973 Duster 340 the other day that was labelled as a "survivor" however it had been repainted, sported aftermarket wheels, an aftermarket steering wheel, various changed engine parts and the chrome bumpers and grille painted black. That was just touching the surface. Survivor; we think not.
For Dave Moore of Virginia, a passion for finding and collecting true survivor status Duster 340s is something that burns strongly inside him. Duster 340s are a hard car to find untouched since they were cheap and easy to modify back in the day. While there are plenty of survivor grandma-driven 1974 Plymouth Valiant four-doors around, a survivor Duster 340 is almost unheard of. We originally met Dave over on ForABodiesOnly.com when we purchased a pair of 340 exhaust tips for our old 1973 Duster just over 8 years ago. At that time, he had a beautiful white survivor 1972 Duster 340. Before that, he owned 45,000 mile Lemon Twist 1972 Duster 340 4 speed. Since then, he has sold the white Duster and purchased yet another survivor Duster 340, this time an amazing black example that he says bumps the bar way up a notch; even over his previous two! Needless to say, Dave's art of finding survivor Duster 340s is unmatched!
Dave tells us, "I purchased this amazing, original condition, low mileage 1972 Duster 340 back in August 2012. It was special ordered on March 21st, 1972 by the original owner through Glover Chrysler Plymouth in Asheville, North Carolina. The Duster had a scheduled production date of April 19th, 1972 and arrived at the dealership shortly after on April 26th. Once it was picked up, it began its well cared for and pampered life in Asheville at the hands of an extremely diligent and fussy owner."
For the next 22 years, the car led a life of luxury that few cars seldom see. In the spring of 1994 with only 27,000 original miles on it, the original owner decided to part ways with the Duster and carefully chose a new caretaker to let it carry on the pampered life it was accustomed to. After several owners later and a 7 year stint in the Floyd Garrett Muscle Car Museum in Sevierville, Tennessee, it was time for the Duster to once again search out a new home. It was purchased from the museum by a prominent collector in White Plains, New York on April 28th, 2012. The Duster would only remain in his possession for approximately 3 months before he decided to list it up for sale online; that's when Dave spotted it. Knowing his survivor cars and unable to pass up a '72 Duster 340 in this condition and originality, Dave jumped on the car and became the next caretaker.
Dave's Duster is truly a work of art and retains 100% of its original TX9 Formal Black factory paint along with 100% of its factory black bucket seat interior. While it was ordered with the V5X coded body side rubber moldings, they were removed by the second owner in favor of the more aggressive white 340 stripes. The Duster came from the factory optioned with a 727 Torqueflite automatic transmission, power front disc brakes, electronic ignition, bucket seats, carpet, 14" Rallye wheels with RWL Goodyear Polyglas E-70 tires, factory undercoat, hood insulation pad and an A.M radio.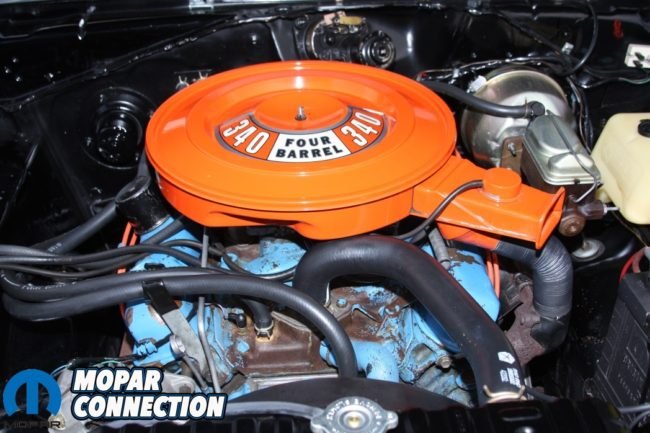 Dave tells us that the factory original front head pipes are still in place and are in very good condition. The original factory exhaust tips were replaced in 1994 with a set of NOS pieces that continue to show as new. "I put the car on my hoist and there is a multitude of details under there! The factory shocks are still in place with the reddish brown finish in the rear and black finish up front. 3/4 of the black paint on the heat stove is still there and even the little purple spring on the passenger side warm up valve is still in place! The black paint on this car is nothing short of phenomenal. The red paint on the rear brake drums looks like it was painted 6 months ago; not 46 years ago! It's amazing how everything still looks new. I could go on and on about this car!" says Dave.
The Duster is absolutely loaded with documentation that includes the buyers order form, dealer invoice with the trade-in listed, three complete build sheets, consumer information sheet, 22 years of North Carolina safety inspection records with mileage recorded, Chrysler/ Plymouth owners club card, owner's manual, warranty booklet and numerous early photos of car and the original owner. He says, "With only 35,272 miles logged on the odometer and the over the top care this car has experienced over the years, it has to be one of, if not the highest "survivor" quality 340 Dusters in existence and is a prime candidate for use as a restoration reference. I found out after I purchased it that only 1.6% of 1972 Duster and Valiants were painted in TX9 Formal Black; the least popular color!"
In closing, Dave says his desire to find more survivor Mopars is strong so he has decided after 6 years of ownership to list the Duster up for sale in hopes of finding its next proper caretaker.