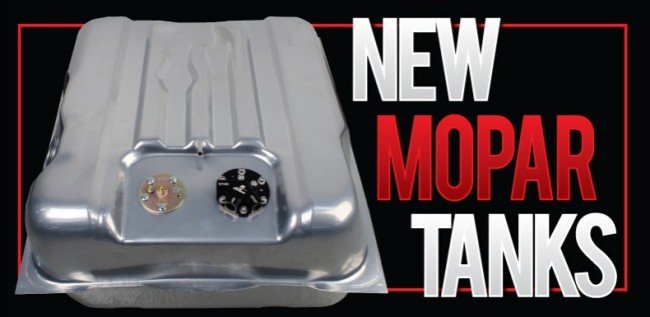 There are few names better affiliated with modern, top-of-the-line aftermarket fuel delivery systems than Aeromotive, and the company who has elevated the playing field of performance fuel injection and plumbing systems has turned its sights on the Mopar market. With the introduction of its Stealth Tank line for Mopar A and E-Body applications, enthusiasts not only can eliminate their external fuel pump (its located inside the tank), but enjoy the benefits of a properly ventilated and submerged pump thus avoiding vapor-lock and cavitation!
Here's the complete press release:
Aeromotive Adds Classic Mopar Applications to Growing Stealth Fuel Tank Line
Lenexa, KS – March , 2016 – Aeromotive's new classic Mopar Stealth tanks bring the fuel system technology you find in today's cars to your classic Mopar muscle car. By placing the fuel pump inside the tank, hot fuel handling issues, such as vapor-lock and cavitation, are eliminated. With the Stealth fuel tanks from Aeromotive, you now have an in-tank fuel pump that is properly vented and submerged in fuel at all times due to the innovative baffling system. Whether your ride is carbureted, EFI or a transplant, a Stealth Fuel Tank is the perfect upgrade.
The following part numbers are now available for classic 1970-74 E-Body Mopars such as the Challenger, Barracuda and 1970-76 A-Body Mopars such as the Dart and Duster.
• 18342 Fuel Tank, 340 Stealth, 70-74 Challenger
• 18343 Fuel Tank, 340 Stealth, 70-74 Barracuda
• 18344 Fuel Tank, 340 Stealth, 70-76 Dart/Duster
These tanks feature the fuel pump built right into the tank itself, as well as an internal baffling system to ensure the pump is submerged in fuel – even at low fuel levels and in extreme driving conditions. With these tanks you're strapping today's technology into your classic, making them perfect for modern HEMI swaps and EFI conversions, while also working perfectly with carbureted engines.
• Billet top hat with O-Ring Boss supply vent and return ports
• Fuel level sending unit of matching OEM specs
• Includes filler neck where applicable
EFI 850hp (Naturally Aspirated) 700hp (Forced Induction)
Carb 1,000hp (Naturally Aspirated) 850hp (Forced Induction))