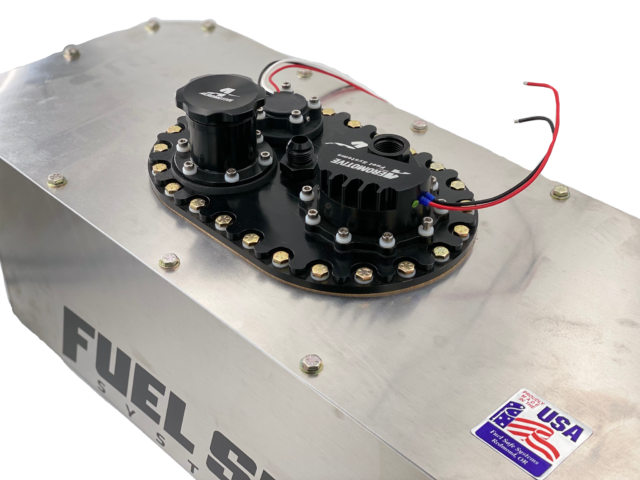 Aeromotive is the leader in aftermarket fuel systems and accessories and with products like their new Universal Fuel Cell Plate, we understand why. The new Aeromotive Universal Fuel Cell Plate saves time, gives you plenty of pump options, keeps everything compact and easy to install. 
The new fuel cell plate is compatible with majority of fuel cells with a 6×10-inch outlet plate. The fuel cell plate is engineered for use with most Aeromotive fuel pumps and allows for local or remote filling without the need to purchase an additional fill neck.
The Aeromotive Fuel Cell Plate with fuel pump and accessory mounts provides maximum safety and durability for fuel cells at least 10-inches deep. These features include integrated roll-over valve, a billet fuel filler neck with cap, and provisions for a tube-style sending unit. The fuel cell plates include all necessary hardware, return line port fittings, and gasket.
Aeromotive offers the Universal Fuel Cell Plate in two different models. The first design, part #18056, is compatible with all Aeromotive Phantom fuel systems, including Phantom 200, Phantom 340, Phantom Flex and Phantom Dual, and in-tank fuel pumps, including the A1000, Eliminator, 3.5 Spur Gear Pump, 5.0 Spur Gear Pump, 7.0 Spur Gear Pump and 10.0 Spur Gear Pump.
The second design, part #18057, has provisions for Aeromotive Trifekta In-Tank Systems with triple-pump configurations. This will help fuel those races making 1,650 FWHP on E85 and as much as 2,400 FWHP on gas.
Both #18056 and #18057 use the standard 24-bolt pattern for 6×10-inch fuel cell oval cutouts and come with anodized aluminum or stainless steel hardware and synthetic cork gasket. This will help provide maximum sealing power and longevity.