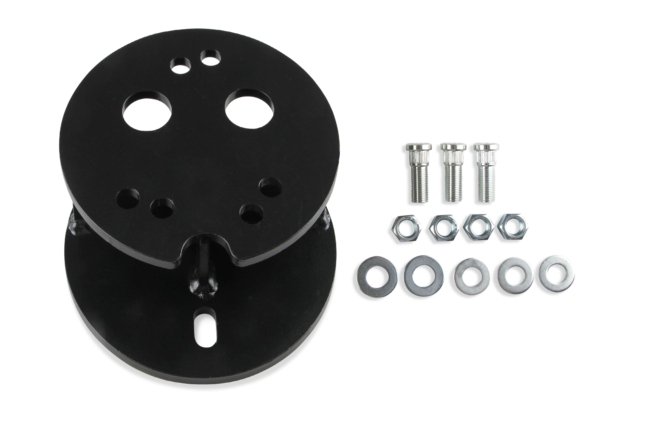 Holley is stepping even further into the off-road performance market with recent brand addition, Anvil Off-Road. Anvil provides quality off-roading products for Jeeps, trucks, and UTVs of all shapes and sizes. An ever-expanding lineup of winches, winch accessories, jerry cans, leveling kits, and lift kits add up to a wide variety of parts that are a great mix of both function and form.
This handy Spare Tire Spacer (P/N 050AOR) for 1987-2018 Jeep Wranglers is an easy way to up the capacity on your tailgate's spare tire mount. It's hard to say what kind of daggers await your unsuspecting mud-eating meats in the mud, dirt, and foliage. A flat tire can ruin an off-road run in a hurry. If your buggy is running larger-than-stock rubber, a matched spare is sometimes worthwhile insurance to make sure it stays in action.
Made of sturdy steel with a black finish, this spare tire spacer should be trouble-free for many years of off-road use and abuse. Installation is easy as just a 3/4" socket and a 3/4" wrench are needed to get it bolted in place. Of course, instructions and mounting hardware are included. Maximum recommended tire size with the spacer is 33"x12.50" so as not to damage the factory tailgate or mount.
Check out all of Anvil Off-Road's latest offerings online or talk to the experts at (866) 464-6553. Full product spec's and PDF instructions are available and there is also a blog for news, installation, and unboxing videos.