It was only a matter of time. The burgeoning Chevrolet LS engine market has become a creature unto itself, and now as the saturation of the LS market has reached critical mass, aftermarket manufacturers are beginning to sink their teeth into the third generation Hemi market (G3). And wouldn't you know it? Mancini Racing is right there with it in stock and ready to roll for you, the customer.
Hot rodders and customizers have only begun the slow process of utilizing the modern Hemi platform for their builds, so many of the modern engine swaps aren't as stylized as some of the LS and Ford Coyote swaps have been. Thankfully, with Edelbrock's new Air-Gap Dual-Quad Intake Manifold for the Chrysler 5.7L Hemi, that process can finally begin to pick up.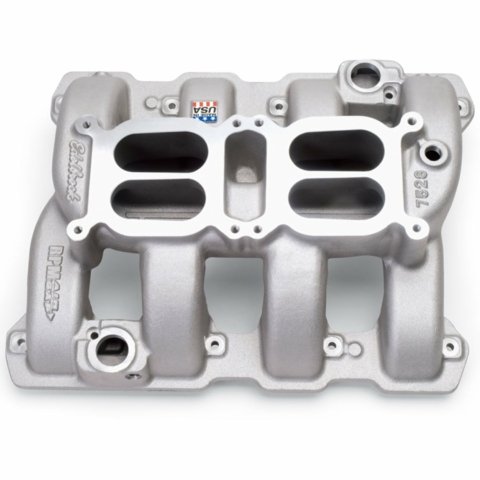 In a statement from Mancini Racing, the Edelbrock Air-Gap manifold is "…is perfect for those looking to swap this modern powerplant into their classic Mopar or street rod. The intake added over 30 ft/lbs. of torque when tested on the Mopar P4510594 crate engine. The dual-quads make great power while providing a nostalgic look."
Of course, there's not many who would want to eliminate the convenience of fuel injection and modern engine management systems, so we see many more folks using throttle body-style EFI systems with a vintage oval air cleaner than say, a pair of Edelbrock or Carter AVS carburetors. (But that might be us speculating.) Of course, stripping a new 5.7L Hemi of its electric hardware requires a MSD 6-HEMI controller ignition timing system (sold separately), but does include comes with treaded oil fill cap and PCV valve.