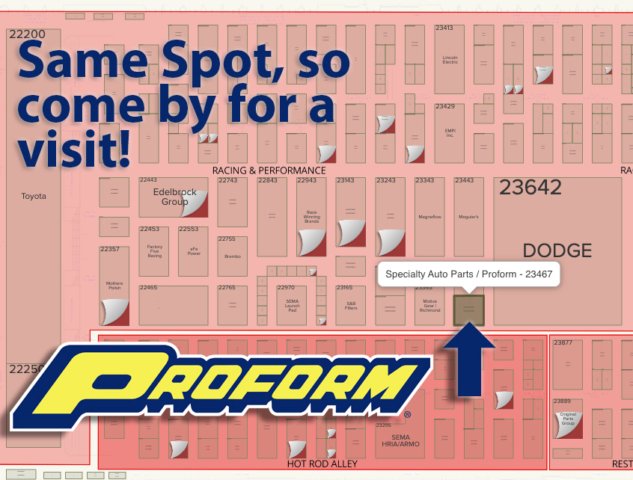 Proform Parts has done a lot for the Mopar community. Over the last couple of years they have produced some great products for Mopars specifically. They even went as far as producing licensed Mopar valve covers, breathers, air cleaners and more. Right now they are setting up their booth for the 2022 SEMA Show.
Recently Proform has released their Tundra series oil coolers and Big Block Chrysler HEI distributors. The Chrysler Big Block distributors is the perfect alternative to the stock points or even electronic ignition. Proform's distributors have an easy single wire hookup and produce 50,000 volts of spark through 7,000 rpms.
Valve cover interference is always an issue with big block distributors, especially aftermarket. For additional clearence, Proform's HEI distributor has a tapered housing with the vacuum advance removed and locked out. These Big Block HEI distributors come with a red cap and are available for 361-400 and 413-440 engines. They also offer the HEI distributor for small block Chryslers too.
The Tundra series oil coolers are universal and come in multiple sizes to fit any application. Keeping your powertrain cooler is some times overlooked. Whether you are towing heavy loads, racing all day long or rock climbing in your Jeep, the Tundra series oil coolers are a perfect fit.
They offer the Tundra series coolers in a 10, 16, 25, and 40 row models. These can help keep everything cool from power steering to transmission fluid. They are constructed from durable aluminum with a powder coat finish to prevent corrosion.
If you are attending the show, stop by their booth #23467 and check out Proform's debut of their Lighnting-Bolt alternator. They would not even give us any details but they state that it is unlike any other alternator on the market currently.